Over 40 pupils from Bridgnorth Endowed School set off for snowy Courmayeur in North West Italy.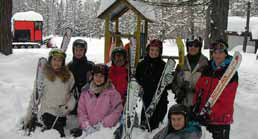 With perfect conditions, fantastic instructors and a great group of students who were well supported by excellent staff, this trip could not have been a bigger success. Every ski group from the beginners to the advanced made remarkable progress. One pupil who stood out was Jack Atkin-Willoughby; he was so technically brilliant at skiing that his instructor suggested he apply for a scholarship to become a ski instructor.
The students were delighted when they bumped in to Heston Blumenthal on the slopes. If they were going to be stranded by the snow in Italy, at least they were going to get Christmas dinner cooked by an award winning chef!