This month's local hero is a real stalwart of the community, but could so easily pass 'under the radar'. Nominated by a grateful mother, Tara Corbett is just the sort of person this monthly feature seeks to highlight and celebrate, as she endlessly gives her time to helping out with children, providing a vital local service for new mothers.
Tara, who has lived in Bridgnorth all her life, always wanted to work with children and clearly gets a huge amount of satisfaction from doing so. Together with her sister Trudi Winwood, the pair have run the Tasley Mums and Toddlers Group as volunteers for 9 years – even though their own children have long since moved on.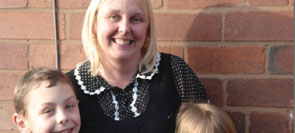 Tara explained that for many new mothers, the weekly group provides a much needed support network and for some – a lifeline. "Many new mums don't necessarily have family close by, and have often been working full time – and then suddenly they find themselves thrust into a brand new role. It can be pretty daunting especially if you don't know many people. The network provided by a mums and toddler group can foster lasting and mutually supportive friendships."
Tara and her sister clearly recognise the important role that the weekly meeting plays – and love providing the environment where adults and children can mix and meet. "It's an important first step towards socialising for very young children" said Tara, "we try to make it play mixed with a rudimentary educational theme – at the moment we are travelling round the world..!"
Tara trained as a nursery nurse in Shrewsbury after attending Oldbury Wells School, and has two jobs: at The Mount Nursery in Broseley and 3-4-5 Nursery at Castle Hall, Bridgnorth. Her infectious personality and bubbly laugh, together with her generous sense of duty make her a valued member of staff, popular with children and parents alike.
As soon as the mums and toddlers group is finished, Tara races to St Mary's Bluecoat School, where she is a Forest School volunteer. "It's a brilliant initiative" enthuses Tara "Forest School is all about getting kids outside and rediscovering their surroundings. We get them painting with mud, using natural materials such as building willow houses, toasting marshmallows and generally getting back to nature. I tend to stay on and do an afterschool club with the older children as well."
Tara clearly puts a lot of fun into all she does and loves living in Bridgnorth and helping out whenever she can, being an active member of the St Mary's School PTFA. And, just in case you are not feeling utterly exhausted at the very thought of what Tara packs in to her week, for the last 6 years she has worked one evening a week at Sainsbury's on the customer service desk. Tara laughs: "Well – I needed some adult company when my children were very small and this provides a complete change of scene. I love it and I love meeting the customers."
I came away from meeting Tara feeling really refreshed and encouraged – as I always am when I meet the local heroes – that there are so many great people in our community just 'selflessly getting on with it' and loving life as they do so.
Every month we feature someone from within the community who is, we believe, a 'local hero'. We have featured a variety of people – all of whom are worthy of the accolade for so many different reasons. If you would like to nominate a local hero please email Sally Themans at editorial@www.whatswhatmagazine.co.uk