Hake is a massively underrated fish in the UK due – in part- to the fact that all our catch is exported directly to Spain & Portugal. There they adore it, often serving it in casseroles with Clams and a Green Herb broth.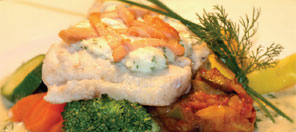 Hake is a good value fish and has a fantastically sweet and delicate flesh. In this recipe the Hake fillet is topped with a simple to make Dill Mousse and a pretty & aromatic trellis of Smoked Salmon, none of which should over power the basic character of the fish.
Ingredients
5 x 4oz Fillets of Hake (skin and bones removed)
250ml Whipping Cream
1 Egg White
3 Sprigs Dill, finely chopped
½ Onion Sliced
100ml Dry White Wine
½ Bay Leaf/Sprig Thyme
½ Lemon
Salt & White Pepper
Method
To make the mousse place one fillet of Hake,the egg white, dill, pinch of salt & pepper and a squeeze of lemon juice in the mixer and pulse briefly till you have a smooth mixture. With the blade running pour in 125ml of the cream to make a smooth mousse.
Spread the mousse on top of the other 4 fillets and then criss cross the fillets with the smoked salmon strips. This can all be done a day or two in advance and kept covered in the fridge.
Place the 4 moussed up fillets into a lidded frying pan and add the herbs along with ¼ pint of water and onion, cover with lid and bring to a light simmer on a low gas. The steam in the pan will cook the mousse and fillet in about 5-8 minutes; just make sure the liquid in the pan doesn't run out.
Remove the fillets to warm plates and keep warm.
Reduce the remaining liquid in the pan to a few spoonful's, pour in the remaining 125ml of Cream and boil briefly. Add a squeeze of lemon and taste for seasoning and then pour around the hake fillets. Serve with crushed potato, ratatouille and some green vegetables.
A very tasty and pretty dish which is easy to prepare in advance and finish just before serving.