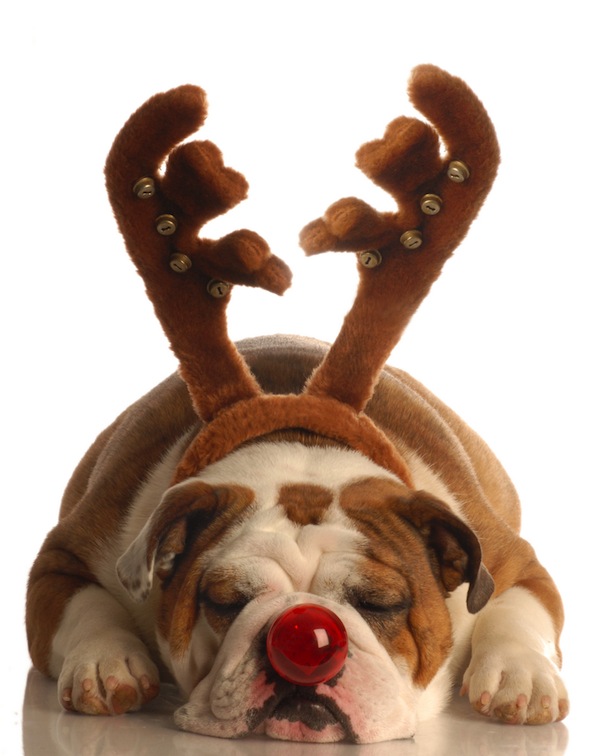 It's that time of year when we deck our halls with boughs of holly, whilst marveling at how quickly Christmas is upon us again. As a fully paid up member of the Christmas fan club I am looking forward to the season of good cheer and time spent with loved ones. But with my 'vets hat' on I want your Christmas to be a happy time for you and your pets, not a time for an emergency visit.
Rich Food
Dietary indiscretions are the most common festive problems presented at our Bridgnorth Hospital. Rich food is an easy way to make animals have bowel problems, so it is best they do not get hold of table scraps (especially stolen ones). The gastrointestinal system of domestic animals does not take well to sudden amounts of fat.
Swallowing
Even more dangerous is the ingestion of an item that can become a bowel obstruction. Items such as bones, string and decorations are particularly hazardous. Whilst the kids love the appearance of a glut of new toys, remember puppies especially like to chew and will make off with dangerous packaging before you can blink.
Chocolate
Chocolate is another festive problem as it is often in easy reach this time of year. High cocoa solid confections (such as good quality dark chocolate) contain theobromine in large quantities which can potentially be fatal. Additionally raisins, sultanas, currants and peanuts can also cause nasty problems.
Mistletoe
We should also not forget mistletoe which is obviously in abundance this time of year. This tends to have a low toxicity but can cause weakness, vomiting and diarrhoea if eaten.
Alcohol
And finally, if you raise a glass of festive spirit to family and friends, make sure your animals do not join you! Your animals are better off just drinking water.
Our Bridgnorth site will have its first Christmas with the prestigious title of Hospital this year, of which we are very proud. This means should you have any problems over the festive period rest assured we are only a phone call away and staff will be on site 24 hours a day should you need us.
Above all have a very Merry Christmas from everyone at Severn Edge Veterinary Group!
– Ryan Davis BVMS MRCVs