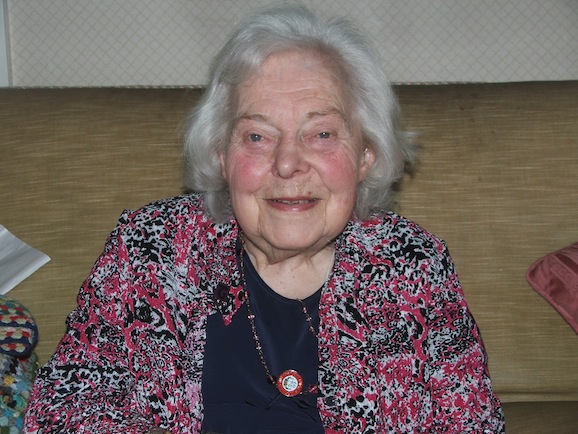 One rather chilly, late Friday afternoon in November I was ushered into the home of Mrs Muriel Grindley, to chat to her about Bridgnorth Townswomen's Guild, her volunteering work spanning 25 years, and Bridgnorth in general. Not only did the sparkle and warm of this lovely local hero's wit and personality cheer that rather chilly afternoon, I hope it can fill these pages too, in this our Christmas edition, and the month that Muriel – one of Bridgnorth's real jewels – celebrates her 94th birthday.
Bridgnorth Townswomen's Guild celebrates its 60th year in 2013, and so on the eve of this anniversary it seemed fitting to take a closer look at the parent organisation and celebrate the inauguration of Muriel as its first ever President, and member since 1954.
The Townswomen's Guild UK was founded by the splendidly named Dame Margery Corbett Ashby, when women first won the right to vote, "with the express aim of educating women about good citizenship". Its role has stood the test of time and it remains a powerful lobby on national and regional issues, with a strong focus on public affairs and a broad range of matters that effect women today. And these issues are not for the feint hearted: youth crime, challenging the laws around rape, human trafficking, prostitution, grandparents' rights, are all listed on its website as current priorities.
There is a network of guilds – with 17 branches alone in Shropshire, throughout the UK comprising "individuals with great concern and passion for their communities. Women who have excellent networks, who influence people, who get things done."
For me, that sentence sums up Muriel really; not only has she contributed a huge amount to Bridgnorth through her role within the guild, she also has great concern for her fellow citizens: "there is no reason for anyone to feel lonely in this town" she comments, "the hand of friendship is always close by and will be readily extended." Furthermore she has been passionate about the community and the local history that surrounds us; working as a volunteer at the Bridgnorth Museum – although she laughs with her wry and quick humour: "I retired when I worried I might be mistaken as one of the exhibits!" Muriel has also served for over 25 years as a volunteer at Dudmaston for the National Trust, and at The Darby Houses in Coalbrookdale.
Muriel moved to Bridgnorth from West Bromwich with her new husband Conrad in August 1940. It was in the middle of the war, and the young couple rented two rooms in St James Farm. After the heavily bombed city, Bridgnorth seemed idyllic – if not a little sleepy to Muriel who was used to busier urban surroundings. Muriel had two children and threw herself into involvement with the local community, where she has remained ever since.
Sadly Muriel was widowed young, so she had to carve out a career for herself somewhat unexpectedly. With a natural skill for crafts and handiwork, Muriel worked as a tutor at Bridgnorth College, where she taught dressmaking and upholstery. She was a popular and enthusiastic, 'hands-on' teacher who 'got things done' and will be remembered fondly no doubt by many reading this article.
Muriel has two children, 5 grandchildren and 6 great grandchildren, she lives independently and is still as passionate about Bridgnorth as she ever was: "We're exceptionally lucky to live in such a place, a market town with so much going on, and with stunning countryside on our doorstep, and friendly people everywhere you look."
Pam Smith, who nominated her, summed up the essence of Muriel Grindley; "She doesn't shirk from modern issues; she is respected within the Community. Moreover, she is a pleasure to know, has a wonderful sense of humour, an absolute wealth of knowledge about Bridgnorth and the surrounding area and it is an honour to share her company."
Happy 60th Birthday to the Townswomen Guild, and a VERY happy birthday Muriel.
The Bridgnorth Townswomen's Guild meets once a month on the first Wednesday of the month in the social room at Greenfields Court at 7.30pm. It's a friendly group and new members will be made very welcome. Please call 01746 767374 for details.