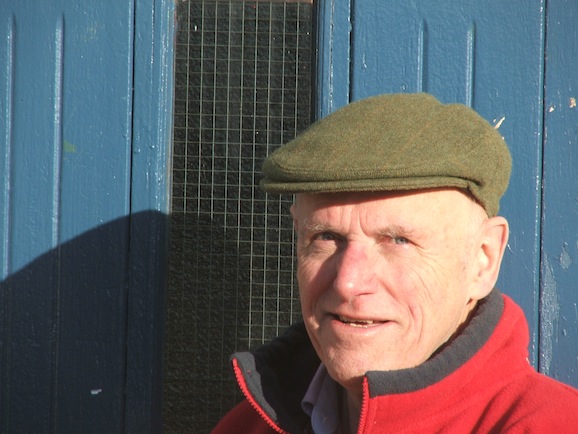 Sally Themans visits the Birchmeadow Centre in Broseley and meets one man with a vision to make this the beating heart of the town ….
My search for a local hero this month took me to the previously unvisited Broseley Wood, and the home of Peter Tyler and his artist wife Maggie Humphry. I was immediately intrigued by this quaint and quirky neck of the woods – just as Peter and Maggie had been when they first set eyes on the sweet shop which was to become their home, some 13 years ago.
An interesting and erudite fellow, Peter was a clinical psychologist for 25 years, working for the Ministry of Defence and the NHS at time of varied and increasingly expanding work with an 'intellectual stretch', something that Peter relishes. "After a lifetime of working with people with fear and phobias I needed a challenge in retirement."
Community involvement was new, but Peter felt that the time was right for such a challenge, and he, as is the case with most of us, rather fell into the position he now finds himself in. "I was involved in the Broseley cinema, so almost by default became involved in the Birchmeadow Centre, which at the time was a pretty forlorn building." The the rest is history; Peter's involvement grew and he is now passionate, visionary even, about the place.
The Birchmeadow centre was originally built as a chapel and has a history of incarnations as a few other things besides: it was a cinema and was also the somewhat infamous 'Bladen Club' – a chequered legacy – as Peter politely puts it, "there is some historical residue which today's Birchmeadow Centre is trying to work past."
Now the centre is being keenly promoted as a concert venue with cabaret style seating, hosting singer songwriter acts performing – some of whom are local, and others as far afield as The States. The French guitarist Claude Bourbon is performing in January. "It's his second visit to the centre – he really is a fantastic act, and it's a great opportunity to see quality live music right here on our doorstep" said Peter, "sadly, we don't always get the attendance levels this standard of performers warrant."
It has been an exciting time for the Birchmeadow recently. There has been sum of grant money spent through the town council and supporting grants; the bar has been completely refurbished and there is a new kitchen facility which make the venue more attractive to outside hirers of the hall, another avenue which the committee is keen to build upon.
"The prime user of the centre for many years has been the BROADs (Broseley amateur theatre group) who have kept the centre going and provided equipment, there is also a monthly cinema club, but we would welcome more regular users. It's a community facility – so we're keen the community uses it!"
Peter is keen to emphasise the work of the entire committee. "The real hero is of course Caroline Bagnall, who books all the performing acts – and generally puts them up – the centre committee must be eternally grateful to Caroline" Peter explains. "The committee work well as a team, through a considerable period of change – with the refit and building works – which came with a raft of health and safety obligations."
Peter is reflective for a moment; "What motivates me? The challenge of promoting the centre – I don't think I'm at all heroic. But I just love the Birchmeadow centre and what it offers both the local and wider population. I'm keen to spread the word about what we have in our midst; the chance to witness really good live acts, I want to get people out from 'in front of the telly' and come and experience something new – live music – which can be a real thrill."
And Peter's ambition for the Birchmeadow? "More travelling theatre groups, a wider spread of genres….really I want the Birchmeadow Centre to be at the centre of the community."