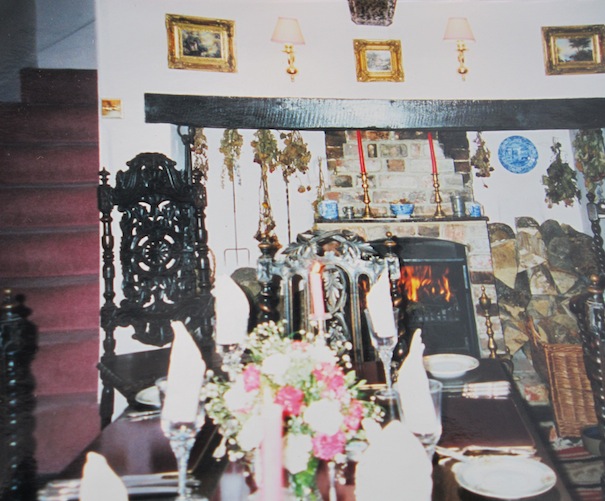 Ghosts and paranormal activities are one of those things many folk refuse to take seriously – after all, life is tricky enough without the un-dead roaming around giving us a nasty fright. I was open-minded on the subject, until I bought a tumble-down 18th century cottage in a Welsh hamlet rejoicing in the name of Penbontrhydybeddau.
Converted by the unexplained
Once renovations had been completed, I hung a pair of heavy pink velvet curtains in the sitting room, suspended on a pole. The pole screwed into brackets which had to be unscrewed if one wanted to take the curtains down. I was puzzled therefore to come down one morning to find the curtains and pole lying on the floor. It took a ladder, a screw driver and some effort to restore order. Next day, there they were again, a crumpled heap on the floor.
The poltergeist didn't like pink. Every time I reached for my pink duvet cover and its four matching pillowcases, one pillowcase would be missing, only to reappear a few days later. I never established who was unleashing this anti-pink activity upon me, but I did discover a man had shot himself in the house, and another occupant had drowned herself. Sorry as I was for their problems, re-hanging the curtains became a bore, so I took action. I painted the entire house pink, inside and outside. Take that! I don't know if it worked, because I sold the house and moved to Wiltshire soon afterwards.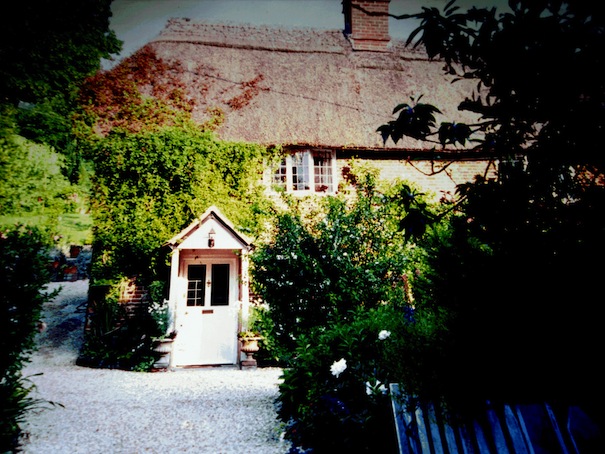 In Wiltshire I bought a 17th century thatched cottage. Originally it had been a farmhouse, but in the late 1800's had been divided into two cottages. The partition dividing the house upstairs resulted in part of my second bedroom extending over my neighbour's sitting room. The first indication we were not alone came when I was reproached for performing a clog dance in the bedroom at 10pm which had disturbed them below, watching television. But I had been working in Lincoln and didn't get home until 3am.
My spaniel Ben knew someone was with us -he often sat staring fixedly at a doorway with his hackles up. One night I was working in the dining room and I experienced the overwhelming feeling I was being watched; looking up I saw a woman in a long black skirt standing on the stairs. As I watched she just vanished.
Ludlow's ghosts
Back in Shropshire I discovered that female guests occupying Room 211 at the Feathers Hotel in Ludlow have cause to sit up all night, as they share the room with a jealous female ghost who likes to pull their hair and throw their belongings about. The occupants of rooms 232 and 233 share a ghostly gentleman and his dog who pass at will through the wall.
Ludlow is well supplied with haunted hostelries. The Blue Boar has two living upstairs and a busy poltergeist in the bar who opens doors and spins the hands on the clock. Another poltergeist is active at the Bull Hotel. CCTV cameras have shown glasses being moved about on shelves on their own. The CCTV cameras have also alerted bar staff to figures upstairs, but immediate searches reveal no-one is there. At the Wheatsheaf Inn patrons can sit by the roaring fire, but won't necessarily keep warm as this area, and the bedroom above it, are subject to sudden inexplicable icy chills.
I visited the 16th century Castle Lodge in the centre of Ludlow, where a lady in Tudor clothing has been seen walking the corridors and disappearing though walls. On the top floor ghostly footsteps are frequently reported. Sadly nothing manifested itself during my visit.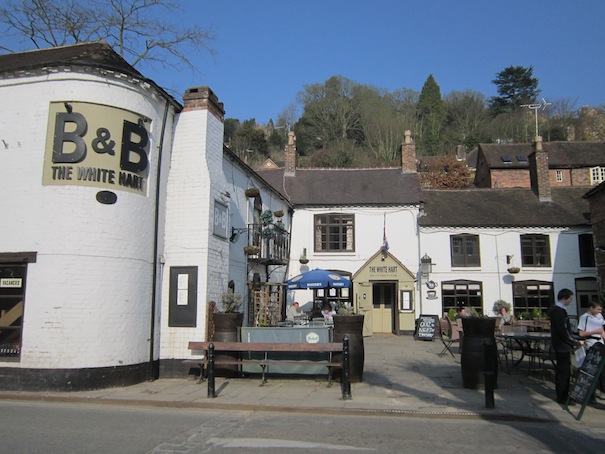 Spooks in Ironbridge
Ironbridge is also replete with haunted hostelries. The Tontine Hotel leads the pack with no less than five haunted bedrooms, all with different ghosts. Room 5 is the really scary one. Once when the hotel was full a guest slept in his car rather than share room 5 with its malevolent presence.
Just down the road the White Hart has ghosts which roam the corridors at night keeping guests awake. Things have flown across the bar and the imprint of a man's face appeared on the glass of a window and remained there for weeks.
The delightful Boat Inn at Jackfield has a number of ghosts; a young girl who appears on the stairs, an unseen person who gets out of bed at 6am and stomps around, and an old lady who sits on people's beds. An unseen presence also brushes – or sometimes shoves – past people in the bar and kitchen. However, when I visited, the river posed a more prosaic problem – the Boat has been flooded five times this year alone and the landlord was stoically cleaning up ready to open again. Shame he couldn't inveigle some of his unseen residents to help with the clean up!
– Jean de Rusett