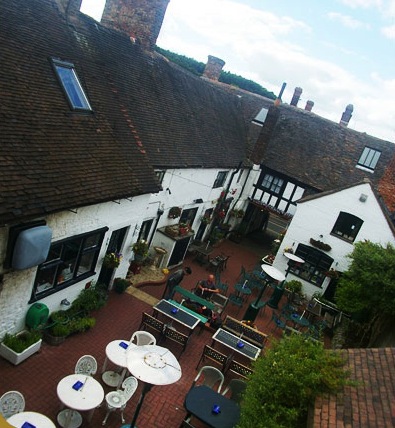 The ancient timber-framed Talbot Inn has stood in Much Wenlock's High Street, providing food and lodgings, since at least 1361. Initially it was part of Wenlock Abbey, used as a guest house and perhaps the Almoner's House. After the dissolution of Wenlock Abbey it became an inn, so for 650 years the building has continued in its original purpose – offering overnight accommodation and food. Currently The Talbot Inn is in the capable hands of Maggie, Mark and Debbie Tennant.
The Talbot was buzzing when we arrived; nonetheless the pleasant waitress had us seated by the fire, our orders taken and an impressive and reasonably priced wine, soon appeared. We had four menus to choose from: the first up offered bowl of Maggie's Hot Pot for £6.95, or we could have selected fish & chips and a pudding for £11.95. The Early Bird menu, available from 6.30pm to 7.30pm, offered amazing value – two courses for £14.95, and what choices! The seven starters included mango and chill prawns, cheesy jalapenos, home-made soup or three types of paté. The main course choices were sea bass, lamb, Wenlock pigeon, haddock 'à la Talbot' or a 10oz sirloin steak – all accompanied by fresh vegetables and three potato choices.
We opted for the fourth menu, namely the à la carte, containing eight choices of starters ranging from £3.95 to £5.50 and ten choices of main course from £12.95 to £14.95. As the prices included salad or fresh vegetable and potatoes, and the quality of the meat was excellent, these prices are extremely reasonable. My starter was nest of rosti potato topped with sour cream and smoked salmon. Janice opted for the Fish Bake, a delicious creamy selection of fish, accompanied by toast, butter and salad. I followed on with a lamb shank roasted in redcurrant and port; the meat was perfectly cooked, but I admit to being jealous of Janice's perfect fillet steak accompanied by a Shropshire sauce: why do I invariably hanker after someone else's choice?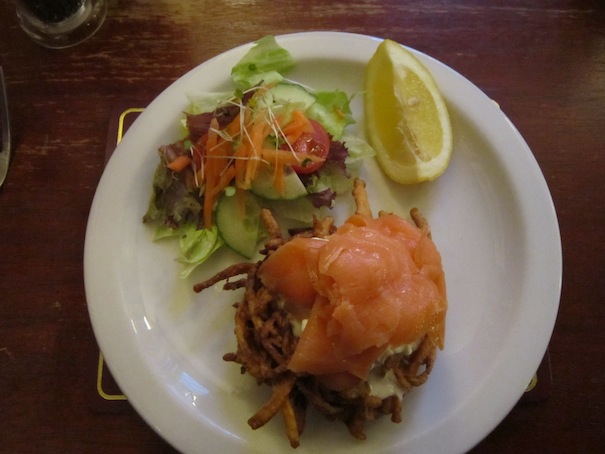 We paused before pudding, which gave Debbie in the kitchen time to accommodate a party of 18 people who walked in at 9.00pm wanting fish and chips. The eight pudding choices were £4.25 each. I had a generous serving of home-made treacle tart with ice cream, and Janice went for the 'Talbot Tipsy' – a delicious tower of ice cream, stem ginger and Amaretto. An excellent meal in convivial surroundings – I can recommend it!
The Talbot Inn, High Street, Much Wenlock, TF13 6AA Tel: 01952 727077