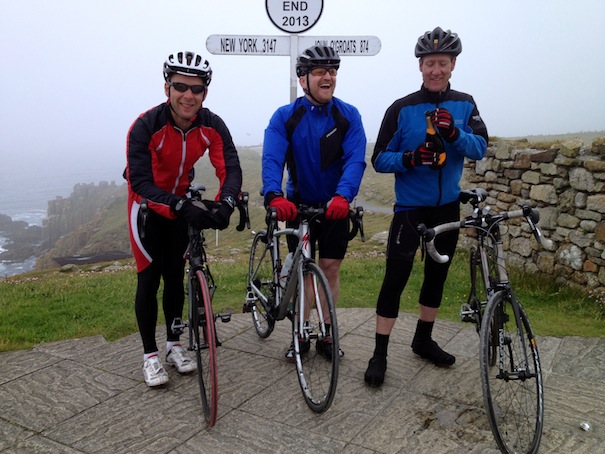 As a result of a decision made 'after a few too many beers at a friends 40th birthday' a trio of Bridgnorth friends, who have been inseparable since they attended primary and secondary school together in Bridgnorth over 30 years ago, set off to ride from John O'Groats to Lands End in June. Mark Peace, Nick Turner and Adam Bunning, who all cycled to raise money for different charities, followed a route that covered a little over 1000 miles in 10 days, taking them into Wales as well through Scotland and England. What's What! followed their progress…
Encountering some tough weather conditions, the three found some of the busy roads as much of a challenge as the riding itself.
"The last couple of miles felt a bit surreal – after being on busy, and sometimes dangerous, roads most of the trip – the road seemed to empty, leaving us to enjoy the final stretch and savour the moment" said Mark.
The team of friends have collectively raised almost £10,000 through the ride, and will be donating the money to some really good causes; Nick was riding for Bliss, the charity which supports premature babies, Adam supported Midlands Air Ambulance and Mark was fundraising for Breakthrough Breast Cancer/Prostate Cancer UK.
"We must mention our support drivers" said Mark on behalf of the team, "we wouldn't have made it without them. It was always great to reach a food stop to find familiar faces, encouragement, and all the food we could possibly wish for!"
The support drivers were Ben Scowen, Richard Pigg and Andy and Jules Rikunenko, all of whom are also friends from Bridgnorth schooldays.