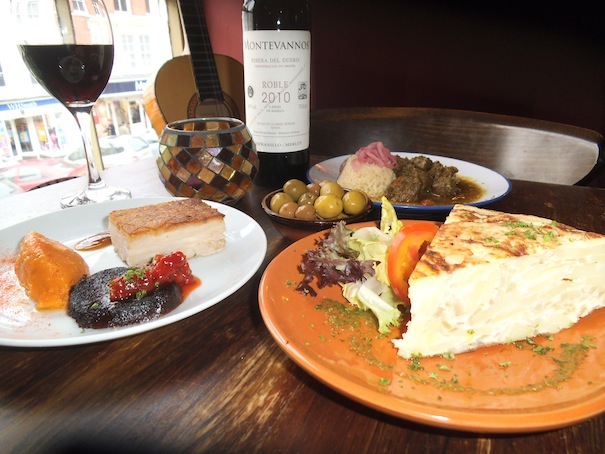 Climbing the stairs to Bridgnorth tapas restaurant Casa Ruiz is part of the magic – if you haven't been there before, there's a frisson of anticipation and the welcoming space that awaits you is a lovely surprise.
A small bar featuring a mosaic tap of mouth-watering Estrella Garcia beer is ready to pull, and the room is styled in rich, warm tones complete with Latin flourishes: fans, guitars and black lace drapes. Wooden beams, uneven floorboards and a raised section with railings all add to the quirky personality of Casa Ruiz.
In its home country of Spain, a tapas meal is usually characterised by a group of friends sharing food, drink and conversation, as the small dishes are meant to share. There being only two of us – planning nonetheless to indulge in food, drink and conversation – we opted for the lunchtime deal: £5 for two dishes, though at the suggestion of the friendly waitress, Laura, we decided to upgrade with a plate of some authentic Spanish cheeses. The menu has a lovely balance of meat, fish, vegetable and dairy-based dishes, so there's something for everyone.
The cheeses arrived first, and we were delighted we'd plumped for them: the Murcia al Vino ('drunken goat') is cured in wine for a rich, robust flavour; the Valdeon is a blue cheese that's matured for months in caves to give a strong but not overpowering flavour – think Roquefort but not as salty; and the Ibores al Pimenton is a paprika-rubbed cow and goat's cheese with spicy notes. We savoured each delicious slice as our other dishes arrived, my companion noting what a lovely difference it was to have cheeses at the start of a meal instead of at the end, when you're often too replete to thoroughly enjoy them.
Owner Amy Hockenhull recommends the spicy potatoes, garlic chicken and the gambas pil pil (garlic and chilli prawns)… but they'd have to wait for another time. I opted for the butterbean stew – rich comfort food with a pinch of spice at the finish, lifted by a scattering of fresh parsley and perfect for winter – while my companion sampled the crispy parcels of ham, cheese and chorizo, noting that the rich unctuousness of the cheese was balanced out by the spicy hit of the plentiful chorizo. We added some tomato bread and a rich, creamy cod pate, for a tableful of filling fare.
Not too filling, however, to preclude desserts. And what desserts… the crema Catalonia (stolen by the French and rebranded as crème brûlée, according to the Catalans) was rich and creamy, and my companion was unusually quiet for some minutes while she slowly devoured the churros con chocolat – crispy doughnuts coupled with a thick rich dipping chocolate – unless you count the 'mmmm's…
Casa Ruiz is already a popular spot in the evening, but with a lunchtime deal such as this one, it's one to watch in the daytime, too.
Casa Ruiz, 45 High Street, Bridgnorth WV16 4DX. Tel: 01746 218084