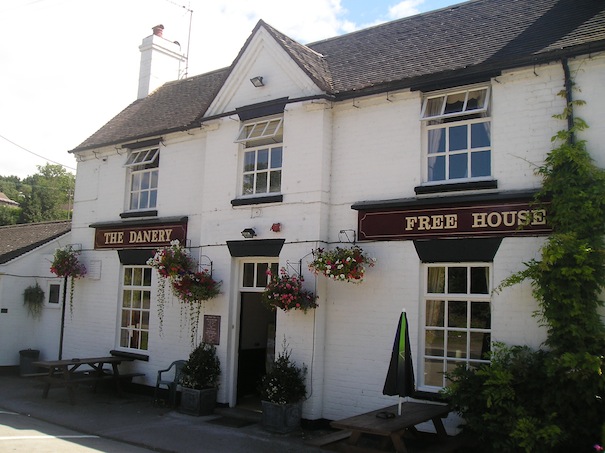 The Danery is a rare thing: it's a pub that's just as popular with loyal regulars as with the passing trade it attracts from people taking a break from their journey along the busy A442. In fact, we'd venture to say that the Danery is the kind of pub that everyone passing has either visited… or wants to.
Up to now I'd fallen into the latter camp, so I was excited by the chance to try out this unusually named and intriguing property. On the night we visited, the 'weather' was in full swing, so the crackling fire that awaited us in the cosy front room was a welcome sight. The Danery offers an authentic, traditionally-furnished space – none of your chain pub mediocrity here. The bar's hung with hops, there's a country sports theme to the artwork, coloured leaded glass and warm wood abound – and, most importantly, there's a fabulously tempting menu, created by a dedicated crew led by Ros, who runs the pub with husband Andy and daughter Kat.
Ros , European-trained head chef Robin and their fellow chefs work hard to bring a varied selection of seasonal specials to the Danery's patrons; during our visit, these included liver and onions, pork stroganoff with rice, and a cranberry and brie wellington. We spent some time deliberating over what to choose, and my companion eventually selected the cod goujons to start, with the guinea fowl as a main, while I opted for the cranberry and stilton tart followed by a brie and courgette bake.
The goujons were "incredibly light" according to my companion, the piquant tartare a perfect foil for their silky smooth mouthfeel – and Mary Berry herself would have approved of the perfectly baked pastry in the tart, which married the tang of cranberry with the richness of the Stilton to great effect.
The highlight of the evening was my companion's guinea fowl – the meat was tender and perfectly cooked, with a fruity, gingery sauce that gave it a real kick, boldly standing up to the richness of the game. The venison stuffing was, she declared, a masterstroke, and the parma ham enclosing the ensemble gave the dish an overall feeling of the utmost indulgence. My bake was rich and creamy – perfect comfort food to banish the winter blues, with a crunchy, nutty topping that gave it textural variety.
Its popularity with diners is clearly well-deserved, but the Danery's a perfect spot for a leisurely drink, too, with a beautiful beer garden… and recent conversion work has seen another bar area become The Shed, a unique family-friendly function room which, as Kat pointed out, is surely "the only shed with a chandelier in Shropshire!"
The Danery, Quatford, Bridgnorth, W15 6QJ Tel 01746 762255