Spring into summer
That long-awaited season is nearly here – and our infamous British summer is set to bring a whole new lease of life to the culinary world. From Bridgnorth asparagus to fresh Shropshire peas and broad beans, our county's abundance of fresh produce is a chef's dream. As the colours flood into the market place, menus planned in the kitchen burst into life, with light, fresh flavours the order of the day.
The Raven's Jason Hodnett presents two delicious dishes that encapsulate that ethos of combining simplicity and taste – each is perfect for those very first alfresco Sunday evenings …
Roast salmon and summer salad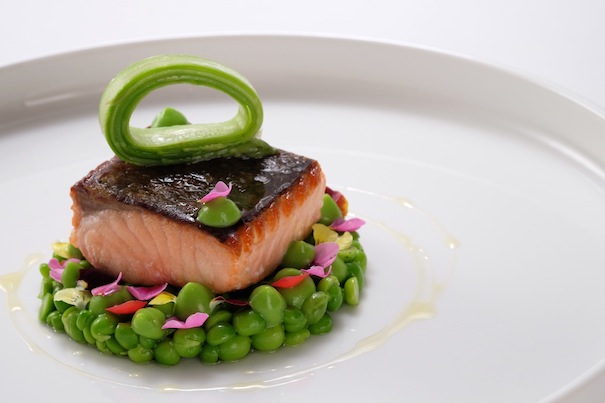 Serves 4
600g fresh salmon fillet
200g fresh peas
200g fresh broad beans
25ml good olive oil, plus extra for brushing
1 lemon, juiced, zested
4 spears asparagus
Edible flowers (such as nasturtiums, pansies); optional
Method
Remove any scales or pin bones from salmon – a good fishmonger will do this while you wait. Cut fish into four squares of equal size. Place on plate. Brush with olive oil and lightly season.
Pod beans and set aside. Pod peas and divide into two piles. Blanch first pile in boiling salted water for 1 minute then blitz in a food processor with 10ml olive oil and seasoning, to a fine puree. Set aside.
Blanch remaining peas and broad beans in boiling water for 1 minute, then immediately refresh in ice cold water. Remove skins from peas and beans; discard skins. Place peas and beans in mixing bowl. Add 15ml olive oil plus lemon juice and zest.
Gently warm heavy-bottomed pan. Place salmon skin-side down in pan, weighted down with plate to stop it contracting – this also traps steam and helps keep it moist. After 3 minutes, set aside plate and turn fish. Add butter. Cook for further 3 minutes and remove from heat. Set aside and allow fish to rest while you finish the dish.
Using a peeler, shave raw asparagus into thin strips and set aside to use as garnish. Divide bean mixture between individual serving plates and top each with a piece of salmon and asparagus strips (shown in hoop in photograph). Decorate with bean and pea puree. Scatter with edible flowers if using.
Risotto of British spelt and alliums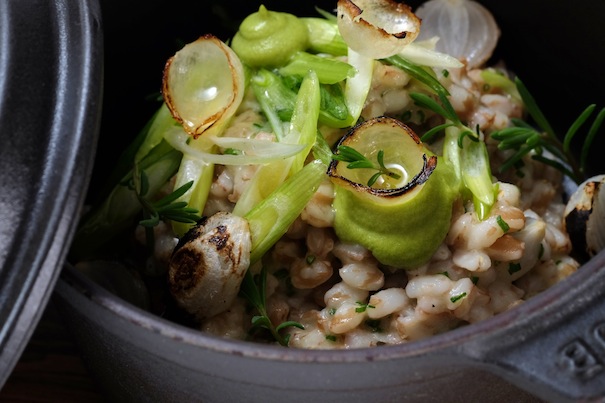 Serves 4
600g British spelt grain
100g salted butter
1.5l vegetable stock
100g button onions, halved
2 banana shallots, finely diced
1 bunch spring onions, shredded
35g chopped chives
Handful wild garlic leaves
Rinse spelt under cold running water for 20 minutes to remove any grain dust. Soften shallot in a saucepan with 50g butter and a touch of olive oil.
Boil rinsed spelt for 10 minutes then refresh in cold water. Pass spelt through a colander and pat dry in a clean tea towel. Place in a pan. Slowly add the stock, stirring continually. This will take a lot longer than rice-based risotto to cook, so be patient! Continue cooking until spelt is tender then set aside to rest.
Rub button onions with olive oil. Either scorch with blowtorch or place under a hot grill for 5-8 minutes until starting to caramelise and colour.
Stir remaining butter into risotto. Add spring onions and chives and gently mix. Just before serving, wash wild garlic leaves and fold through the risotto – this helps leaves retain optimum flavour and
colour. Serve.