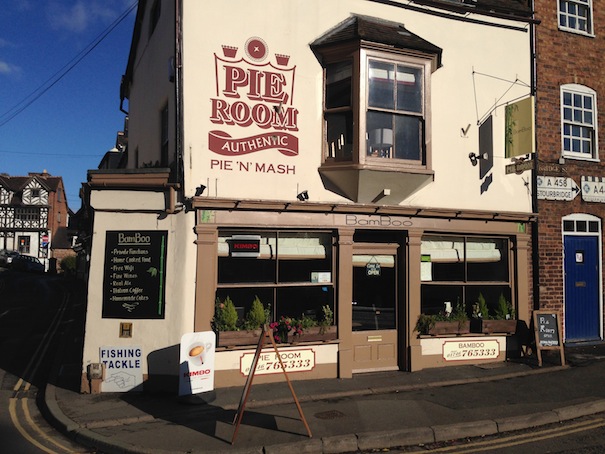 The window seat at Bamboo in Bridgnorth's Bridge Street is one of the best dining vantage points in town. Overlooking the Severn, it offered the surprise bonus of a vintage tractor run going right past us when we visited.
I was intrigued by the positive comments, particularly about the breakfasts, that I'd heard about Bamboo with its famous Pie and Mash Shop. So it was with heightened anticipation that we rolled up for Sunday lunch to meet with the new team of Jason, Paula and Karen who took the reins in September.
It immediately struck us that Bamboo is all about championing the local community. Yes they're passionate about pies, but also about using locally sourced products from local suppliers. Hobsons beer, Tanners wines, cheese from Bridgnorth Delicatessen – they even take the local theme into their sponsorship of Bridgnorth Rugby team captain Dan Griffiths, with their Captain's Breakfast and 'captain's portions'.
The Sunday lunch menu is what I'd describe as 'belt and braces' – a straightforward offer featuring honest hearty fare, nothing fancy and all main dishes priced at £7.95. There's a choice of nine pies ranging from steak and stilton to lamb and mint as well as vegetarian options such as broccoli and mushroom – all handmade by local butcher Keith Alderson. The pies are teamed with a choice of five different varieties of mash; my personal favourite was the spring onion, although the rest of my family loved the garlic mash. Diners can then choose from three different portion sizes: child, standard and captain.
On Sunday lunchtime there's also the option of a roast. I opted for turkey whilst husband and son opted for pies; steak and ale, and chicken, ham and leek respectively – and we all cleaned our plates and finished off sharing a delicious hot bread-and-butter pudding (£3.95). For families this is a great weekend option as children under eight enjoy a free roast dinner with every paying adult, or the child's pie shop meal is £4.95; alternatively, there is a Family Pie deal for £20.
The team at Bamboo are working hard, introducing breakfasts such as smoked salmon and scrambled egg, Eggs Benedict, and the expansive captain's breakfast; a lunchtime menu which includes starters and light bites, baguettes, burgers and paninis; and a full evening menu ranging from steaks to Hobsons beer battered cod and chips, as well of course as the full pie selection!
– Sally Themans
Bamboo Wine Bar and Pie Shop
Tel: 01746 765333
Open for breakfast at 9.30am Fri, Sat & Sun and 10.30am Mon to Thurs; until 3.30pm every day apart from Sun when it finishes at 12pm. Lunch and evening menus available; open until 10pm Sun-Thurs and 1am Fri & Sat.
Pie & a Pint for £8.50 on Mon-Thurs; Steak Night for £11.95 on Thurs; Fish & Fizz on Fri for £9.95.
Beer garden
Takeaway available
Children welcome