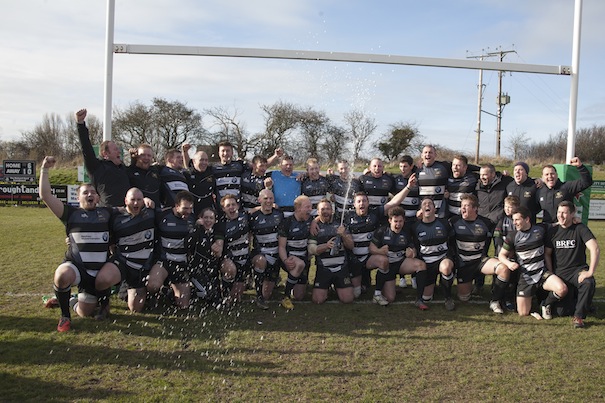 Bridgnorth rugby club are making history, having won a place in the final of the National Intermediate cup to face Maidstone at Twickenham Stadium, the home of rugby, on Sunday 3 May.
Coachloads of supporters followed the unbeaten side on the five-hour trip to Scarborough on Easter Saturday to watch the nailbiting semi-final. "It was one of the most tense matches I've ever watched!" said What's What! editor Sally Themans, who cheered on Bridgnorth All Blacks. "Having got off to a great start with Bridgnorth 10-0 up at half time, it all suddenly got very close as Scarborough notched up six points putting Bridgnorth under pressure for the last 15 minutes of the game. When the final whistle went there was relief all round – tears even!"
Club rugby director Dale Smallman said, "The performance required everyone defending our try line as if their lives depended on it… and that's what won us the game. I'm extremely proud to be taking my home rugby club to a national final at Twickenham."
It was estimated Bridgnorth had about 300 supporters in North Yorkshire, and it's hoped many more will make the trip to London.
"This will be the club's 'day in the sun' – it's an opportunity to thank everyone who's supported us and we'll throw everything at it to try to bring the cup back to Bridgnorth," said Dale.
Bridgnorth Rugby Club is 53 years old, but this is the first time the whole team has played at Twickenham – the experience of a lifetime for many.
All the very best to BRFC from the What's What! team.
Tickets for Twickenham £5 for adults and £2 for U15s, available along with BRFC Twickenham polo shirts from Stitches, Bridgnorth – call 01746 761177.
World Cup comes to Telford!
If you're gripped by rugby fever, with Bridgnorth's Twickenham debut and the Rugby World Cup in September, there's the chance to see the Webb Ellis trophy – aka the Rugby World Cup – during its 100-day national tour when it stops at Telford from 6 to 8pm on Saturday 18 July. The trophy will arrive as a conclusion to Telford and Wrekin Council's T-Party event in QEII Fields at Telford Town Park Arena.