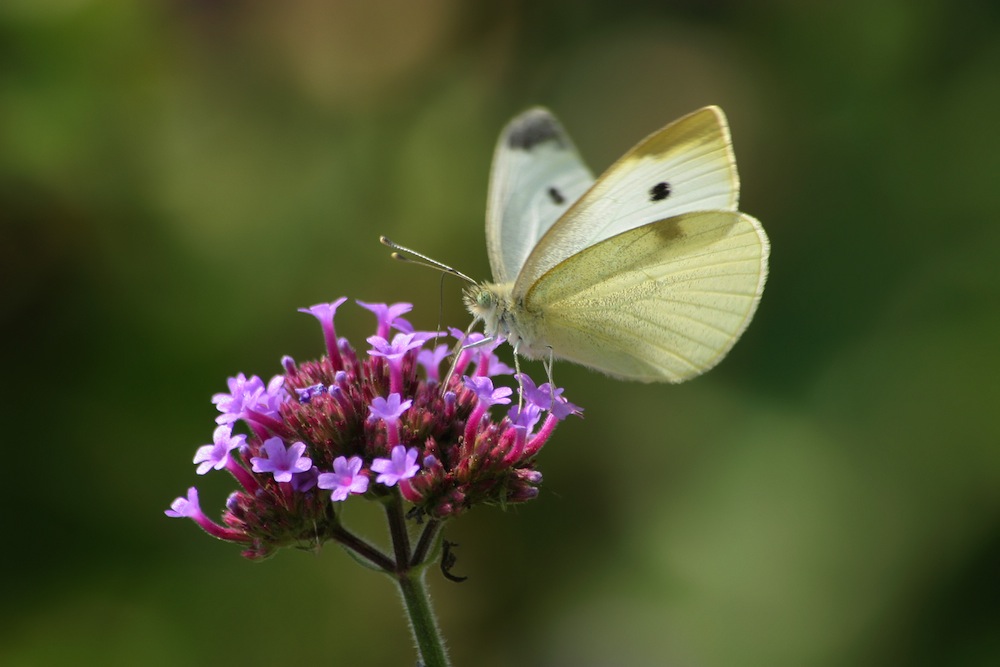 With the warm drying winds we experienced in May, it's more important than ever to ensure newly planted trees, shrubs and herbaceous plants are kept watered until they're established.
Late bloomers
There's still time to plant larger pots of geraniums, fuchsias and cosmos to fill in any gaps in borders – give them plenty of water and food to help them get established. Dead head regularly and you'll have colour right through to the first autumn frosts.
Head to the herbaceous section of your garden centre to seek out the ever-popular lupins and delphiniums, plus astrantias, centranthus and the butterfly-loving verbena bonanariensis. Stake and tie in taller herbaceous plants before they get too tall and floppy to manage. Trim back aubretia once it's finished flowering and it will flower again later in summer. Make the most of a warm sunny day and pull or hoe up any weeds lurking in your borders.
Keep your hanging baskets healthy with a weekly liquid feed or use a compost with slow-release fertiliser. Baskets are often sited at the side of a house and this means they miss out on rain showers, so always remember to keep them well watered.
Thirsty vegetables
Tomatoes and cucumbers need water regularly during hot weather. Water them in the morning for the best results – if they're damp overnight, they can run into problems with powdery mildew or botrytis. Cucumbers especially can be very susceptible to mildew. Remove any badly infected leaves and spray with a vegetable fungicide – and select resistant varieties in the first place.
Salad days
Keep sowing or planting salad crops such as lettuce, spinach, spring onions and radish in the vegetable patch to get a continuous harvest. Use very a fine netting to cover cabbages, cauliflowers and carrots against flies, pigeons and butterflies. Harvest peas and runner beans regularly while they are young and tender; freeze any excess and you can enjoy home-grown veggies even in the depths of winter. Keep beans and peas moist and spray foliage to encourage pods to set.
Bloomin' roses
Keep roses in good condition by spraying every 10 days with Roseclear or Multirose to keep aphids under control as well as dealing with powdery mildew and black spot. Gardeners are seeing more and more of the unwelcome guest woolly aphid, which appears as fluffy white cotton wool-like patches on fruit tree stems and ornamental trees. The insect hides under the fluff and sucks the sap from stems. Use Provado Ultimate Fruit and Vegetable Bug Killer, but follow the directions as it affects when you can safely harvest fruit. Watch for slug damage on vulnerable plants such as marigolds, hostas and tender new shoots.
Persistent pests
Watch out for leatherjackets, which are on the rise, causing irregular brown patches and loose areas of turf on the lawn. The grubs of the leatherjacket can appear from mid-August to the end of September; often the presence of starlings and thrushes on the lawn indicates grubs in the ground. Go online to purchase a biological nematode to deal with them; this must be applied as soon as you receive it – make sure the soil is at least 12C before you use it, though.
Looking ahead…
For new potatoes in October or at Christmas, plant seed potatoes in tubs in July and August. Growth will finish in October, but leave the tubers in their pots until required for cooking. Remember they'll need frost protection once the winter frosts appear in November and December.
It seems only five minutes since the spring bulbs were in flower, but they'll be appearing in garden centres from the end of August! If you want hyacinths in flower for Christmas, get them planted and in a dark cool place in September. Most varieties require an eight to 10 week cool period followed by a couple of weeks of warmer conditions to bring them into flower. Use a compost specifically for bulbs as it will contain charcoal to keep the soil sweet.
Happy gardening!
Gardening tips are provided by Ann Winwood of Lealans Garden Centre, Shipley