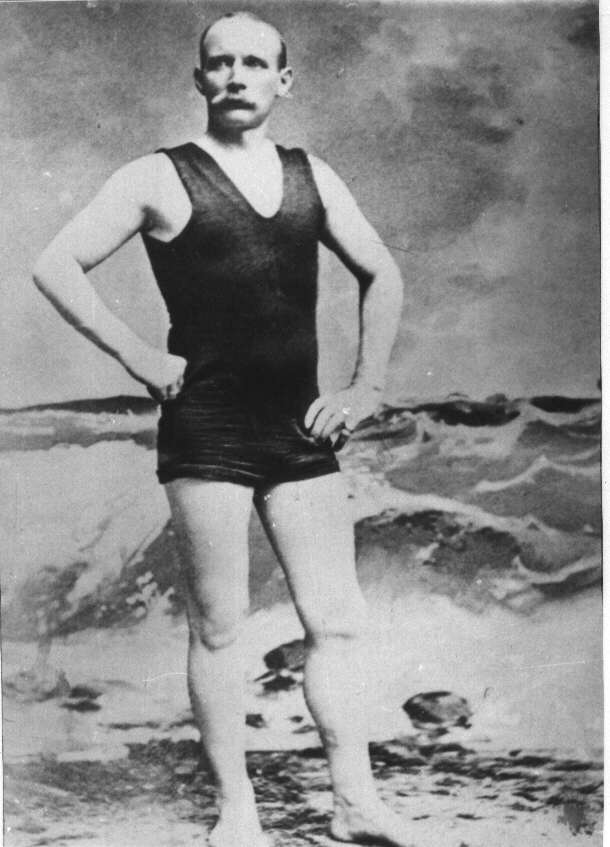 With open-water swimming one of the fastest growing sports in the UK, we cast our eyes to Shropshire's own pioneer, Captain Matthew Webb. This August marks the 140th anniversary of his historic achievement: being the first person to swim the English Channel. To this day, more people have climbed Everest than have successfully swum between England and France. Stephen Roberts takes up the story…
It took 21 hours and 45 minutes, and 39 miles of fierce winds and treacherous currents, but one of Shropshire's own made history when he emerged exhausted but triumphant on the French side of La Manche. The 27-year-old master mariner had set off from Admiralty Pier in Dover the day before, swimming regulation breaststroke. When he staggered onto dry land, he was an instant celebrity and had set the scene for thousands to follow though, after Webb's historic feat in August 1875, the Channel would not be swum again for 36 years.
Matthew Webb was born in January 1848 in the mining village of Dawley, long before Telford was even dreamt of. Revolutionary convulsions were rife in Europe, and Britain was at the height of the Industrial Revolution. He would have grand ideas of his own, it seems, though where they came from is a bit of a mystery. His father was a local doctor and a pillar of the community, but young Webb, one of eight, had something of the maverick about him and seems to have had salt-water in his nostrils from a young age. He made no secret of his desire to go to sea, not uncommon in those times but unusual for a land-locked Shropshire lad.
A bold young swimmer
What marked Webb out was his incredibly strong swimming. Having learnt in Coalbrookdale in the notoriously treacherous waters of the Severn, he enlisted in the Merchant Navy at 12 and set to sea with Cunard aged just 14. He quickly developed a reputation for being fearless; on one occasion he jumped overboard, mid-Atlantic, to try and save a drowning man. He failed but earned £100 for his courage.
The Naval career went well and in 1873 Captain Webb read of a failed attempt to swim the Channel by the American swimmer JB Johnson. This proved an irresistible challenge and he quit his post as a steamship captain and moved to London where he began training in earnest. Stamina work at Lambeth Baths was followed by outdoor swims in the Thames and the Channel itself.
Stormy seas ahead
Webb's first attempt at the Channel ended in failure when a violent storm blew up seven hours in. It was a timely reminder that the rough sea was no swimming pool – yet 12 days later, the indefatigable Webb was back on his starting blocks, smeared in porpoise oil and backed up by three support boats.
This time Webb was stung by a jellyfish after eight hours, but a dose of brandy helped him continue. The rest, as they say, is history, and the strains of 'Rule Britannia' greeted his arrival in La Belle France.
Webb returned to a hero's welcome. Arriving at Wellington rail station, he was greeted by large crowds and was escorted back to Dawley to the tones of a brass band. He would never return to a life at sea. Instead he made a living as an exhibition swimmer both at home and abroad and won the Swimming Championships of England. He also penned a book, The Art of Swimming.
A tragic end
But his fame was short lived. Webb's eventful life ended in tragedy when he was drowned attempting to swim the Niagara rapids in July 1883, aged 35. It appears he was dragged under just 10 minutes into a swim which many regarded as suicidal, but which for Webb was a typical manifestation of his love for risk and challenge. It took four days for his body to be found, wearing the same bathing costume he had worn on his Channel conquest eight years earlier.
In 1909, a memorial was unveiled to Matthew Webb in his home village of Dawley in the form of a drinking fountain. It sits at the bottom of the High Street, close to his former home. 'Nothing great is easy' it says; a suitable epitaph if ever there was one.
Webb-ed feats / In the swim
A film of the story of Captain Webb, starring Warren Brown in the title role, is due for release later this year.
The British Outdoor Swimming Society has grown from 300 members in 2006 to its current membership of over 23,000.
Since Matthew Webb's first swim in 1875 there have been 1,284 solo Channel swims and 628 relays.
The fastest Channel swim was by Chad Hundeby of the US in 1994 in a time of 7 hours 17 seconds.
Shropshire Outdoor Swimmers is a Facebook group set up two years ago by enthusiast Lynne Cook and has over 250 members. Members meet for swims around the region.
Andrew Fusek Peters (whose shots have graced the covers of What's What!) has penned a book Dip: Wild Swims from the Borderlands, which shares some great swimming places locally.
The Channel Swimming Association was founded in 1927 and provides support and authentication for Channel swimmers, as well as strict rules – such as no wetsuits!