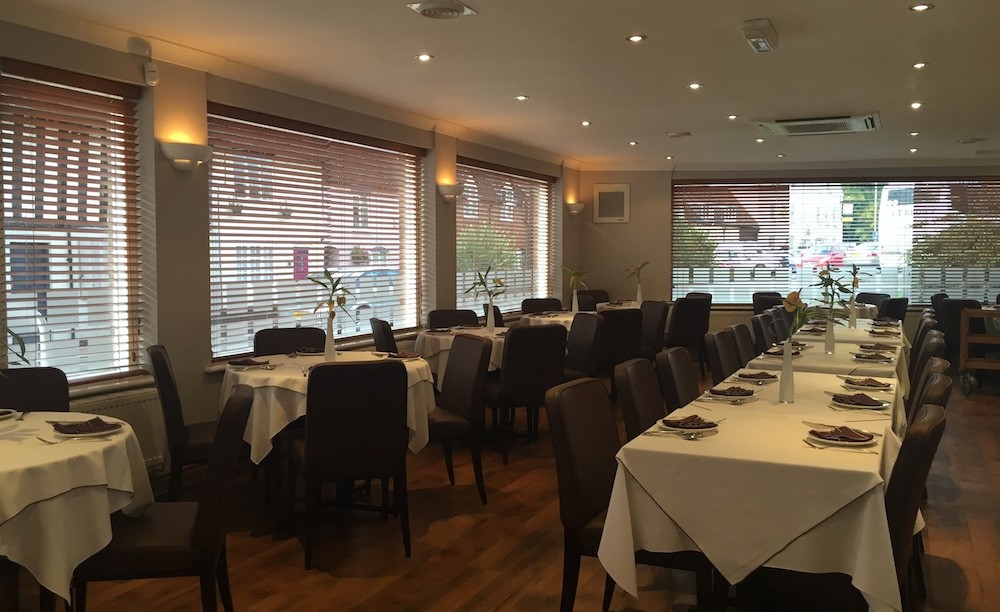 It's all too easy to become a creature of habit when it comes to choosing an Indian restaurant; an abundance of choice plus three within a stone's throw of home means I'm not terribly good at venturing out of my comfort zone. So it was a real pleasure to visit Blue Ginger in Bridgnorth's Low Town.
We were welcomed by Ali, who's been the proprietor of Blue Ginger for over 10 years. Working against a chic, contemporary backdrop, the team focus on authentic southern Indian cooking. But the menu also holds a few surprises, including seafood dishes not usually found in Indian cuisine, and fusion plates with Chinese, Middle Eastern and Italian flavours thrown in to the mix. When we were greeted with three variations on the humble poppadum, I knew these were restaurateurs who take their flavours seriously.
Determined to continue the theme of trying new things, I kicked off with a starter of mussels Khafnor, beautifully presented and cooked with lemongrass and garlic, the robust flavours complementing the seafood perfectly. My son Giles opted for Gujarati kofta, minced meatballs cooked with garlic, ginger and garam masala, which went down well. The unexpected arrival of my husband meant that Ali was able to throw in his speciality of baby octopus – delicious and decidedly unexpected.
My main course was a real showstopper in the flavour stakes: coriander relish lamb – melt-in-the-mouth meat with garlic and ginger (are you getting the idea here about some of the key flavours in southern India?). Giles had the Karahi chicken tikka, fresh and tangy with spring onions and served on a sizzling skillet. We were treated to several varieties of rice and naan bread alongside our main dishes.
Full to satisfaction, we looked longingly but didn't attempt to sample the comprehensive selection of puddings and coffees.
Of excitement as far as the menfolk were concerned was the availability of Bathams Beer from Brierly Hill – not always easy to track down. There is also a good wine list, varying from £10.95 for house selections to top-of-the-range Bollinger with many well-known favourites in between. There is also a bar area, with sumptuous cocktails mixed on the spot.
It's worth noting that the restaurant is open on Monday and Sunday evenings; and on Wednesday nights and Sunday lunches, Blue Ginger has a gourmet offer of £9.95 for two courses. Otherwise, prices vary from £6.45 for a dish such as a rogan josh to £12.95 for a king prawn speciality.
Blue Ginger
12 Mill Street, Bridgnorth, Shropshire WV15 4AL
www.bluegingerindianrestaurant.com
info@bluegingerindianrestaurant.com
01746 762111 / 765777
Open 5.30-11pm; Sunday 4-10pm