Get your finger-foods well in hand before the Big Day arrives – these festive recipes from The Raven's Jason Hodnet, star of The Great British Menu, will impress even the most discerning guest.
Christmas is just around the corner, the nights are drawing in and the heating has been turned up, so it's just the right time to try out a few fancy recipes to delight your visitors. Choux pastry is always a crowd-pleaser at parties, and my trio of gougère canapés use the same base with three delicious fillings. Ultra-versatile – and ultra more-ish – churros are a classic festive food on the continent and will be a huge hit with kids and grandparents – my version is served along with a white chocolate ganache for dipping.

Festive spiced churros with white chocolate and cranberry ganache
(Makes 20 or so)
For the churros
125g plain flour
125g self-raising flour
2 tbsp olive oil
450ml boiling water
1 tsp ground nutmeg
1 tsp ground allspice
For the coating
100g caster sugar
1 tsp ground mace
1 tsp ground cinnamon
For the ganache
200g good quality white chocolate
100g double cream
60g fresh cranberries, diced
80g honey
For the churros, begin by sieving flours, spices and a pinch of salt into a large bowl. Make a well in the centre. In a jug, mix boiling water and olive oil. Pour into the well, beating to prevent lumps. Cover. Rest in the fridge for 10 minutes.
For the coating, mix sugar, mace and cinnamon in a large, shallow bowl. Set aside.
Meanwhile, melt chocolate, cream and honey in a bowl over a large pan of lightly simmering water. Stir continuously to ensure a lump-free, velvety ganache. Allow to cool for 10-15 minutes. Stir in cranberries.
In a large saucepan, heat 1 litre of vegetable oil to 175C.
Fit a piping bag with a large star nozzle. Fill with batter. Pipe into the hot oil, using scissors to cut batter every 10cm (4-5 inches). Using a slotted spoon, carefully turn churros until golden brown all over – this should take around a minute. Strain. Coat in spiced sugar. Serve immediately with warm ganache.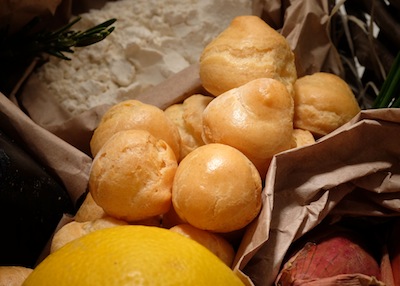 Cheddar cheese gougères
(Makes 15 or so)
250ml water
120g cheddar cheese, grated
115g salted butter
150g plain flour
4 medium eggs, beaten
Place water and butter in a heavy-bottomed saucepan. Bring to the boil. Slowly add flour and salt. Beat well until a stiff dough is achieved. Spread onto a baking sheet to cool.
Once the mixture is cool, whisk in eggs until smooth. Add cheese.
Place mixture in a piping bag fitted with a 1cm round tip. Pipe balls approx 2cm in diameter, leaving 4cm between each gougère. With a wet finger, remove any tails by pressing lightly on each ball.
Bake for 8-10 minutes at 185C until at least double in size and golden brown. Cool on a rack.
When cool, pierce a hole in each gougère and pipe in your chosen filling (see recipes below).
Smoked salmon and cream cheese filling
50g smoked salmon
50g cream cheese
1 lemon, zested, juiced
10g chives, finely chopped
In a food processor, blitz the salmon until semi-smooth. In a mixing bowl, beat cheese, juice, zest and salt and pepper. Fold through salmon and chives.
Smoked cheddar and mushroom filling
120g button mushrooms, peeled and diced
1 banana shallot, peeled and diced
1 clove garlic
1 sprig rosemary
20 ml white wine
40g smoked cheddar cheese
60g crème fraîche
Heat a little olive oil in a frying pan and sauté mushrooms, shallot, garlic and rosemary. Add he wine and cook until evaporated. Remove rosemary. Allow to cool slightly. Pulse in a food processor until finely chopped. Add cheddar and crème fraîche. Season to taste.
Bacon, brie and cranberry filling
50g bacon, finely diced
100g brie, rind removed
50g cranberries, diced
Fry bacon until crispy then drain on a cloth. Cool. Melt brie in a bowl over a pan of lightly simmering water. Add bacon and cranberries. Allow to cool for 10 minutes.