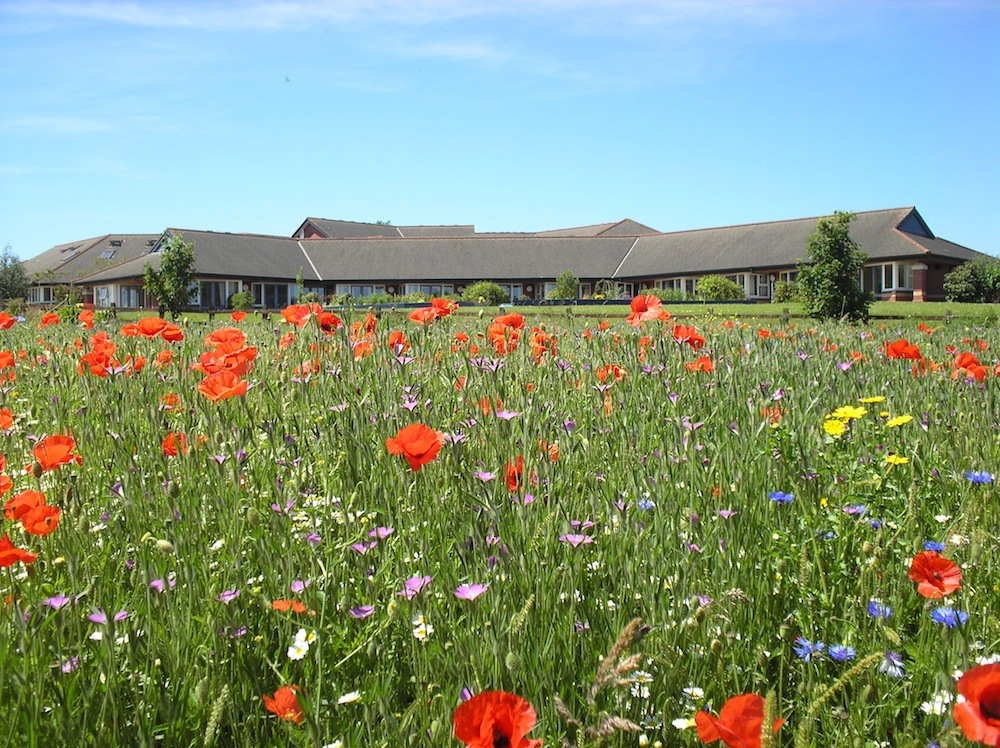 For many of us, Christmas is a time for children. And for those families who use the services of Shropshire's Hope House, it can be both magical and extremely poignant. We look at this very special charity as it celebrates its 21st birthday.
Located in Morda, near Oswestry, Hope House and its twin Tŷ Gobaith provide respite and support for children who are not expected to live beyond early adulthood. Hope House was set up with the aim of making sure those children and their families enjoy the very best quality of life and make the most of every moment.
Fundraising began in 1991 when the Hope House charity was formed; land was later purchased in Morda and work began in 1993 to build the first children's hospice to serve Shropshire, Cheshire, and Mid and North Wales. The first four beds were opened in 1995 and, by 1996, Hope House was supporting 80 families. Tŷ Gobaith opened in Conwy in 2004, and in this, their 21st year, Hope House have relaunched their brand to better reflect the range of services they deliver to local children and their families.
Area fundraiser Sarah Johnson explains, "We're here throughout the lifetime of the children we support – and often well beyond – with specialist nursing, counselling support, empathy and understanding, all delivered free of charge.
"But the support we provide to parents, carers and families is just as important. They often find it hard to cope, both emotionally and practically, and our specialist workers help them through what can be the most difficult of times."
Making a difference
Between the two centres, there are 13 inpatient beds, as well as a huge range of outpatient services, and 141 staff work with children and their families. Last year Hope House and Tŷ Gobaith supported more than 450 families, including those who are bereaved, and provided 3,660 hours of counselling time. Hope House also sends specialist staff to work with families in their own homes.
As Sarah explains, "It cost £6 million last year to provide our services – that's £16,438 per day – and 79p from every pound we receive comes from our supporters. Without them, we simply wouldn't be able to provide support for the children and families we care for."
Saying farewell
The sad reality for families who depend upon Hope House is that a time will come when they have to say goodbye to their child – and the services provided by the charity aren't available anywhere else in the county.
"Our special Snowflake bereavement suites at both Hope House and Tŷ Gobaith mean any family can stay close and say goodbye to their child in a safe and supportive environment," says Sarah. "We offer bereavement counselling after the death of a child – whether or not we've previously cared for them – and also to children who've lost someone close to them suddenly or unexpectedly."
A special Christmas for Poppy
For one family supported by Hope House, Christmas seems just the same as for any Shropshire family. Sisters Poppy and Lyla Evans can't wait to get their festive dresses on and hide giggling beneath the heap of crumpled wrapping paper Poppy loves to create each year.
"The presents don't matter to Poppy – it's the scrunching of the paper she really looks forward to," says mum Vicki. "It's the highlight of her day!"
Ten-year-old Poppy has a condition called Dravet Syndrome, a rare neurodevelopmental disorder characterised by uncontrollable seizures. She had her first seizure aged six months and was diagnosed at age five, when parents Vicki and Karl were faced with the devastating news that their bubbly daughter's future would be very different from the one they'd imagined. At around the same time, the Evans family paid their first visit to Hope House.
"We didn't really know what to expect," says Vicki. "But it was wonderful and I remember going into the play room thinking 'Poppy will just have so much fun here!'
"When Poppy stays at Hope House, we know she's having fun," says Vicki. "She calls every night to tell us what she's been doing – it's wonderful to hear how excited she is to have been swimming or playing bubbles with the other children and generally ruling the roost!
"Lyla's also part of the Hope House family; she takes part in activities for brothers and sisters such as music workshops and trips to the beach and gets to chat to other children with poorly siblings."
This year, Karl took part in the 52km Hope House Cycle Challenge, while Vicki has run half marathons and gained the support of her entire village for her Eat Cake for Children event.
"Hope House does so much for us that it feels right to give something back if we can. We try to do something every year to say 'thank you'… we're so grateful for everything Hope House does."
Helping Hope House
If you'd like to help support Hope House, you can give a one-off sum or donate regularly. £15 provides an hour of activities for brothers and sisters like Lyla; £30 enables a poorly child to have an hour of physiotherapy; and £60 enables a seriously ill child to enjoy an hour of fun in the hydrotherapy pool. To find out more, call 01691 671671 or visit hopehouse.org.uk/xmas16news