Ed Andrews introduces us to a local organisation whose aim is to conserve the counties churchyards – at the same time encouraging wildlife to thrive in these tranquil areas.
A church has stood in Alveley since the 12th century. The walls are built of locally quarried sandstone, but the essence of the building is created by the people who spend time here. This is a place of baptisms and farewells, weddings and quiet contemplation's. The rows of headstones in the churchyard remind us of the finality of death, but the words engraved on the stones talk of everlasting life. Churchyards are now increasingly being recognised as important habitats for wildlife.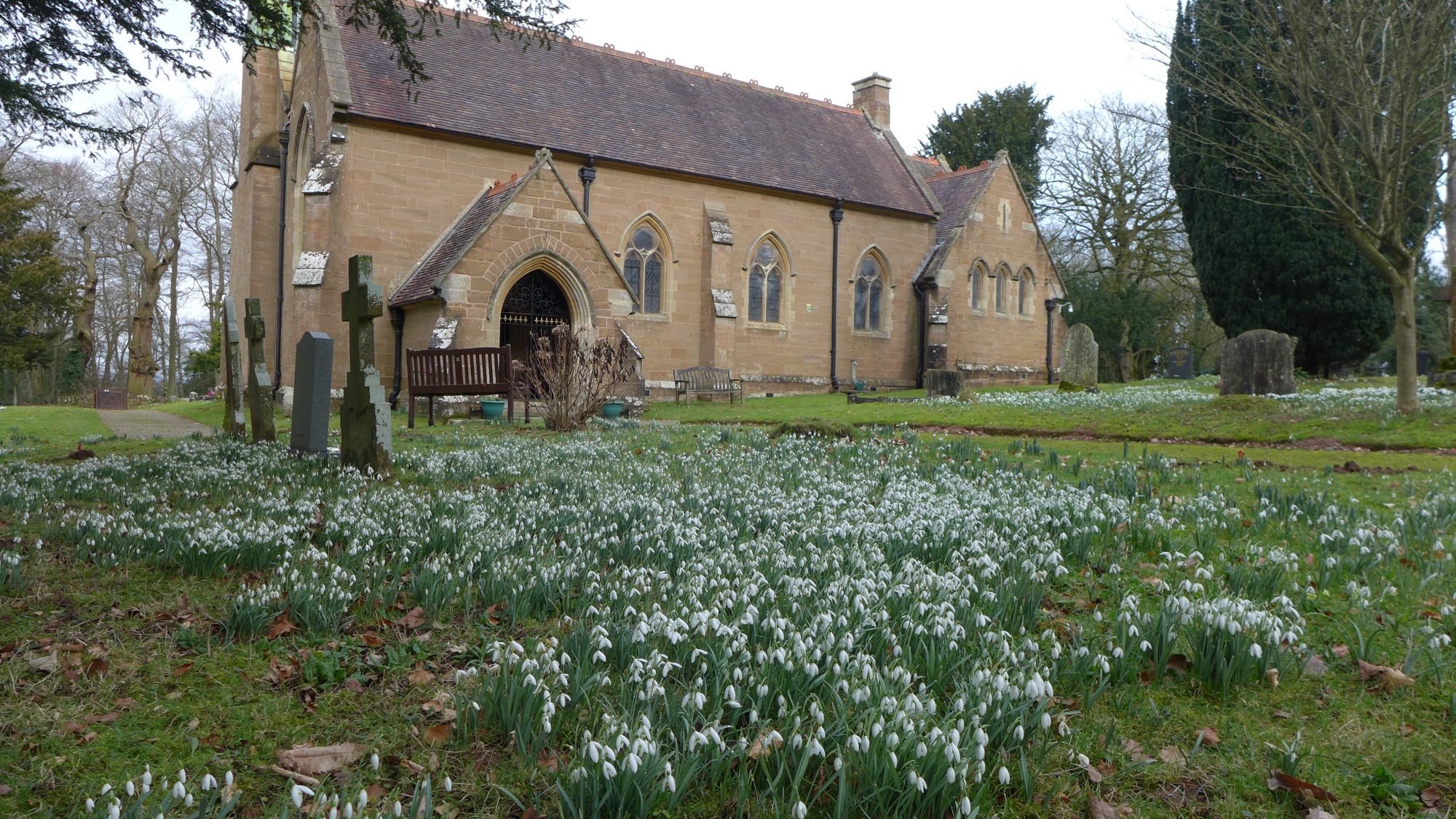 Caring for Gods Acre (CfGA) is the national charity that promotes churchyard conservation and is based in Craven Arms. They have set up the Churchyard Task Team, which is a roving group of volunteers who carry out much-needed conservation work on churchyards and burial grounds all over Shropshire. The work of CfGA is vital to raise awareness about the value of churchyards for wildlife.
Churchyards often have a range of habitats within quite a small area. Being sacred ground they have escaped the plough and the ravage of herbicides and pesticides; they represent a glimpse of how Britain once looked. Veteran trees are nurtured and churchyard boundaries are often marked by old hedgerows. One such hedgerow in Alveley churchyard has been rejuvenated by the Churchyard Task Team over the winter in readiness for the nesting season that is now upon us.
A good hedgerow for wildlife is thick and composed of a number of different tree species, offering a wide range of food for invertebrates. The branches weave together and create a fantastic nesting habitat for birds. If hedges are not managed, the trees can become gappy and sparse. The volunteers have laid the hedge at Alveley, which involved partially cutting stems (or 'pleachers') of hedge trees and weaving them between stakes. This stimulates growth from all along the pleachers as well as from the base of the hedge. The volunteers have also planted young trees to further thicken the hedge.
A brisk westerly wind suddenly blows through the churchyard. It rattles the limbs of the huge lime trees and fills the wings of a magpie and a crow that are jousting for territory: Spring is here. The hedge will soon be alive with nesting birds and small mammals sheltering amongst the leaves and branches. Through April, May and June the Churchyard Task Team turn their attention to the grassland habitats that churchyards support.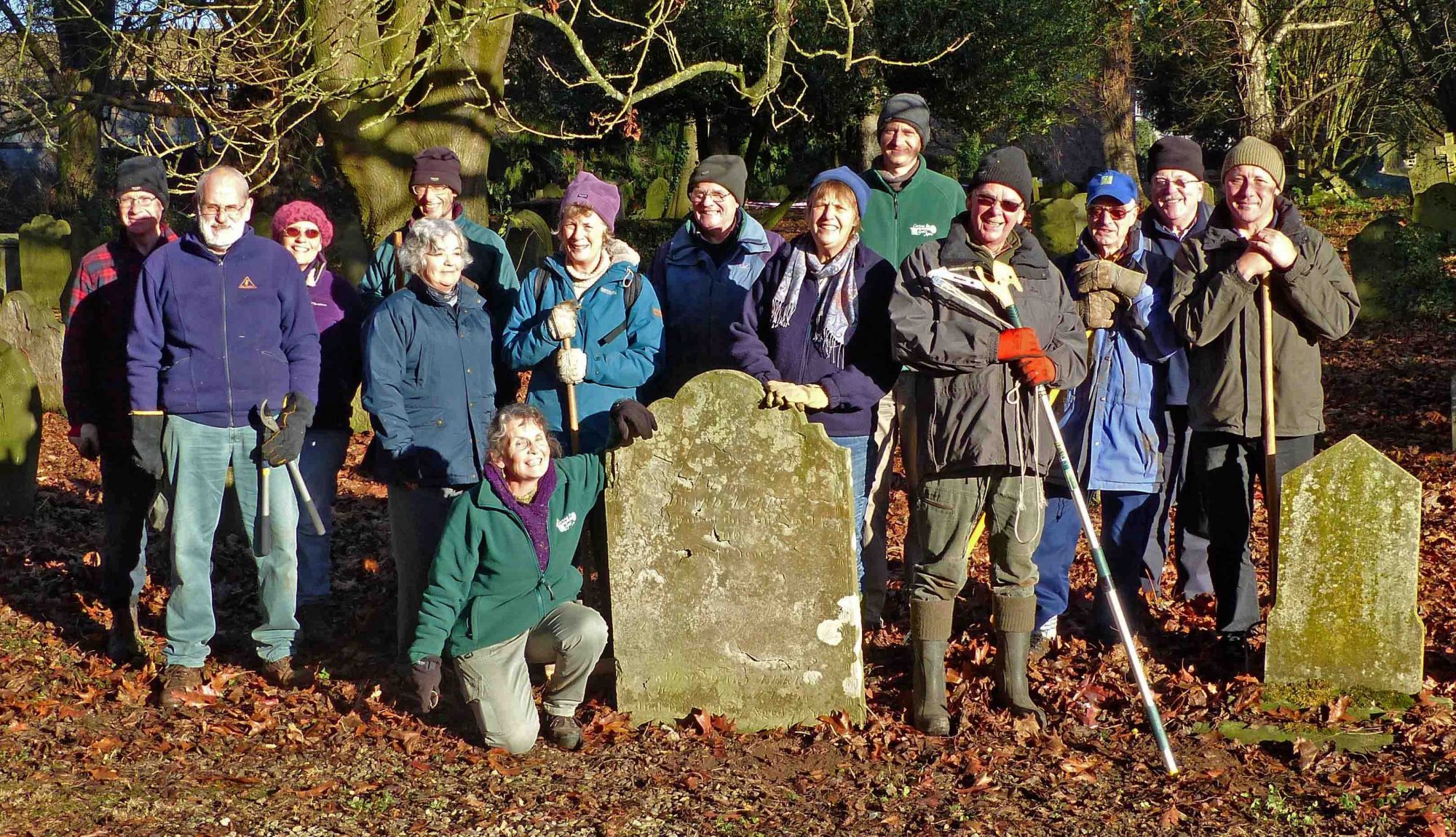 Increasingly, churchyards are managed to encourage wildflowers, with less of an emphasis on tidy mown grass and more focus on bringing colour to grey days and shady corners. Bridgnorth cemetery is renowned for its population of meadow saxifrage, a rare wildflower that will be in bloom as you read this article. Through late winter Tuckhill churchyard is studded with snowdrops and the local community make tea and cake for visitors travelling to witness the wonderful scene.
In 2014 staff from Caring for Gods Acre and members of the Strettons Area Community Wildlife Group surveyed a number of Shropshire churchyards and burial grounds. The aim was to try and work out just how many different types of plant and animal live on these sites. The old cemetery in Church Stretton was one of the sites that was surveyed. It dates back to Victorian times and is the final resting place of World War 1 soldiers, local dignatories and even a 23 year-old victim of the Titanic disaster.
The site is a mixture of open habitat and woodland edge, so has both grassland plants such as ladies bedstraw and woodland plants like bluebell along with 53 other plant species. The survey also uncovered 28 species of invertebrate, including a caterpillar of a scarlet tiger moth. When combined with birds, mammals and trees, the total number of species found in this one-off survey was 108.
The engravings on the headstones are slowly being eroded by the wind and rain, like fading memories. The stonework is stained lime green, terracotta and grey, the colours of the lichens that thrive in the clean Stretton air. In a separate survey, 74 different species of lichen were found growing on headstones at the old cemetery, further highlighting the incredible diversity of life within the crumbling walls of our churchyards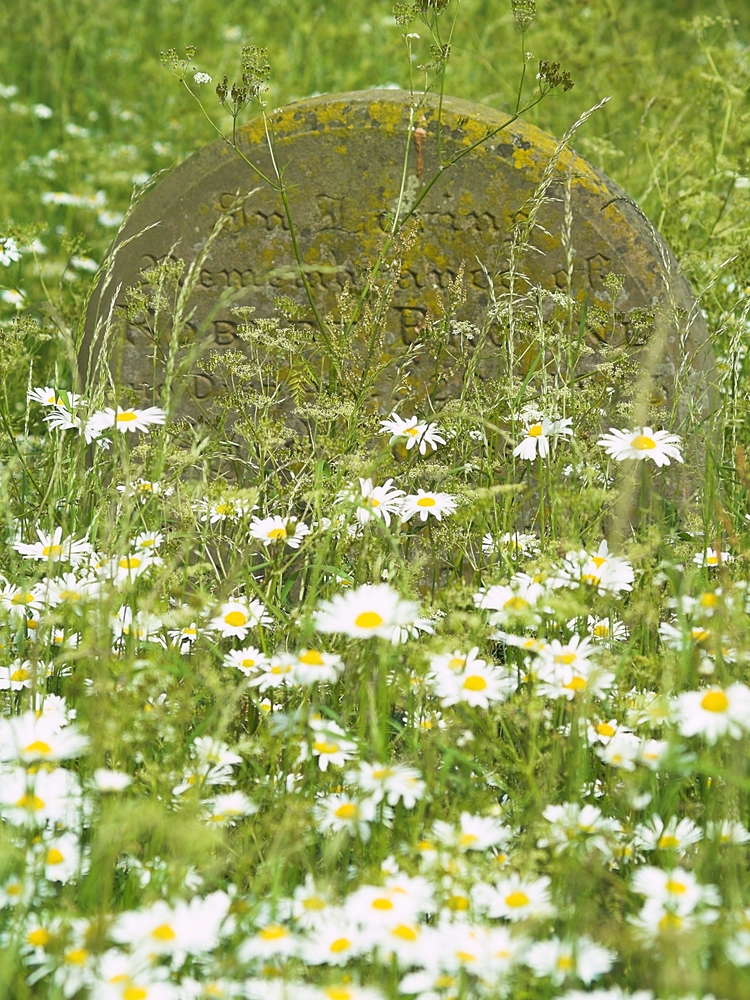 Do one thing for wildlife this month
Saturday 3rd June – Sunday 11th June is Cherishing Churchyards Week. This is a national celebration of churchyard wildlife. Events include wildlife surveys, childrens nature trails and scything workshops. This is a great opportunity to discover more about the wildlife that lives in our churchyards. For more information, please see:
http://www.caringforgodsacre.org.uk/index.php/cherishing-churchyards-week/cherishing-churchyards-week-2.html
If you would like to join the Churchyard Task Team, please contact Ben Mullen (ben@cfga.org.uk or telephone 01588 673041)