Recipes for success
Michelin-starred chef Tom Kerridge knows what it's like to carry extra weight – and he's got a few ideas about the best way to lose it. Tom lost over 11 stone in the last four years by following a low-carb diet, and his latest book aims to help others to shift those unwanted pounds.
Tom's book Lose Weight for Good was also featured in a BBC2 series as the TV chef, who has also appeared in Saturday Kitchen and Great British Menu, showed fellow dieters how to shift unhealthy excess weight using Tom's secret weapon of delicious dishes everyone will enjoy.
The reader-friendly book is packed with hunger-satisfying portions of lower-calorie dishes that taste amazing. As Tom explains, "It's impossible to stick to a diet if the food you're expected to eat is boring and doesn't fill you up.
"So I've developed lots of tasty and satisfying recipes that people will love to cook and eat, but that will also help them lose weight. I truly believe that this attitude works. I've been there myself and now I want to help others get there too."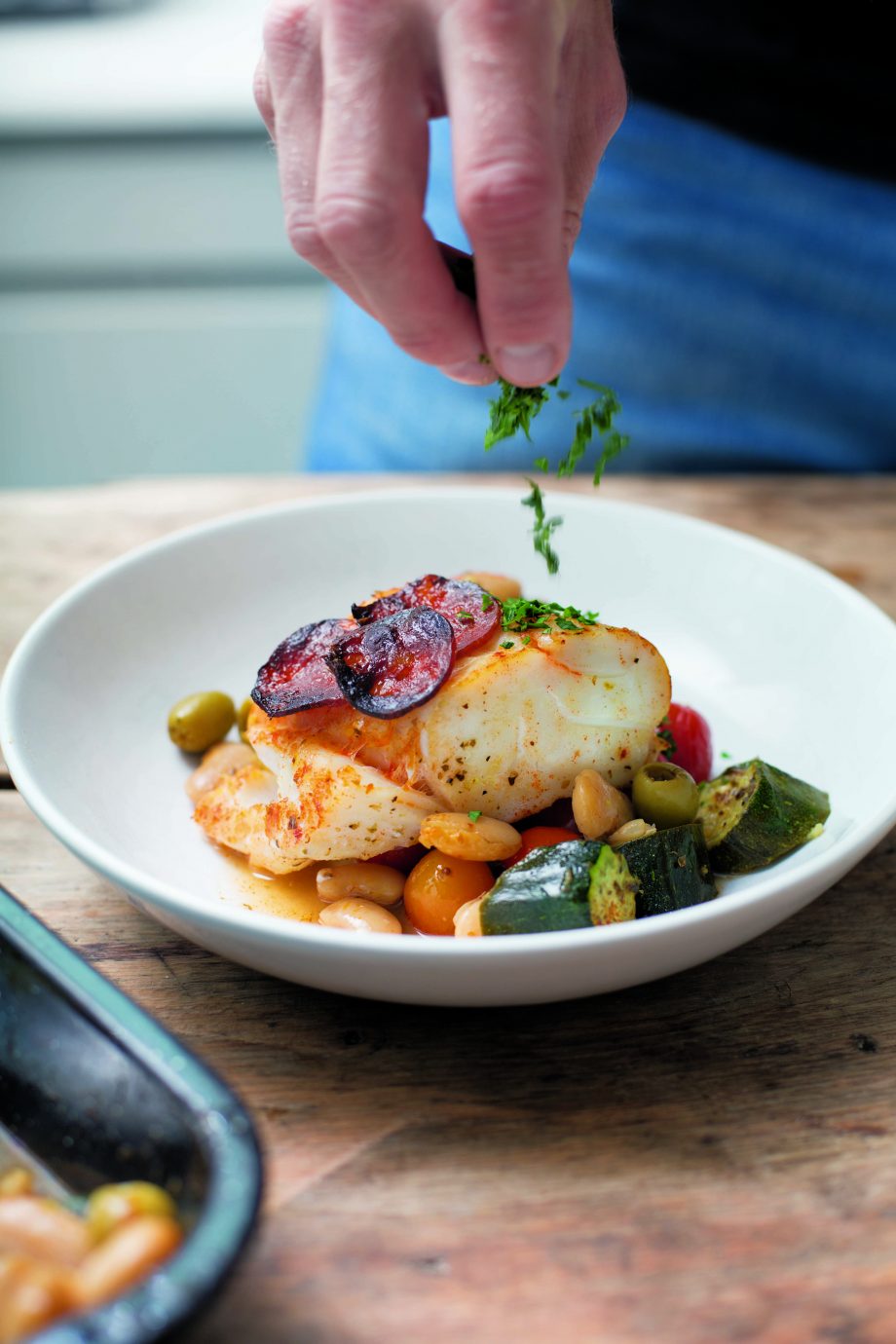 Baked cod with beans, courgettes and chorizo
"Feeling you're depriving yourself on a diet is a short trip down the road to giving up entirely. Don't do it to yourself! Although there's not much chorizo in this dish, it gives such a tasty, crispy extra layer that you won't feel you're missing out."
Ingredients
(Serves 2)
535 cal/serving
2 tsp flaky sea salt
1 tsp hot smoked paprika
2 cod fillets (200g each)
3 medium courgettes, cut into chunks
4 garlic cloves, thickly sliced
200ml fresh fish stock
1 tsp dried oregano
Olive oil spray
400g tin butter beans, rinsed, drained
200g cherry tomatoes on the vine
40g pitted green olives
8 thin slices chorizo
Finely grated zest and juice of 1 lemon
Flat-leaf parsley, finely chopped
Method
Mix sea salt with ½ tsp paprika. Sprinkle over both sides of fillets. Place on a plate, cover with cling film and refrigerate for 1–2 hours.
Preheat oven to fan 180°C/gas 4. Line roasting tin with baking parchment.
Place courgettes in tin. Add garlic. Pour over half the fish stock. Sprinkle with oregano; season. Spray with 25–30 sprays of oil. Cook on the middle shelf for 15 minutes.
Remove fish from fridge, wash off salt and pat dry with kitchen paper.
Remove tray from oven. Stir in beans. Nestle fillets into mixture, along with tomatoes and olives. Pour on remaining fish stock. Overlap chorizo slices on top of fillets.
Sprinkle zest and juice and remaining paprika over and season. Spray on another 20 sprays of oil and bake for 12 minutes, until fish is just cooked. Sprinkle with parsley and serve.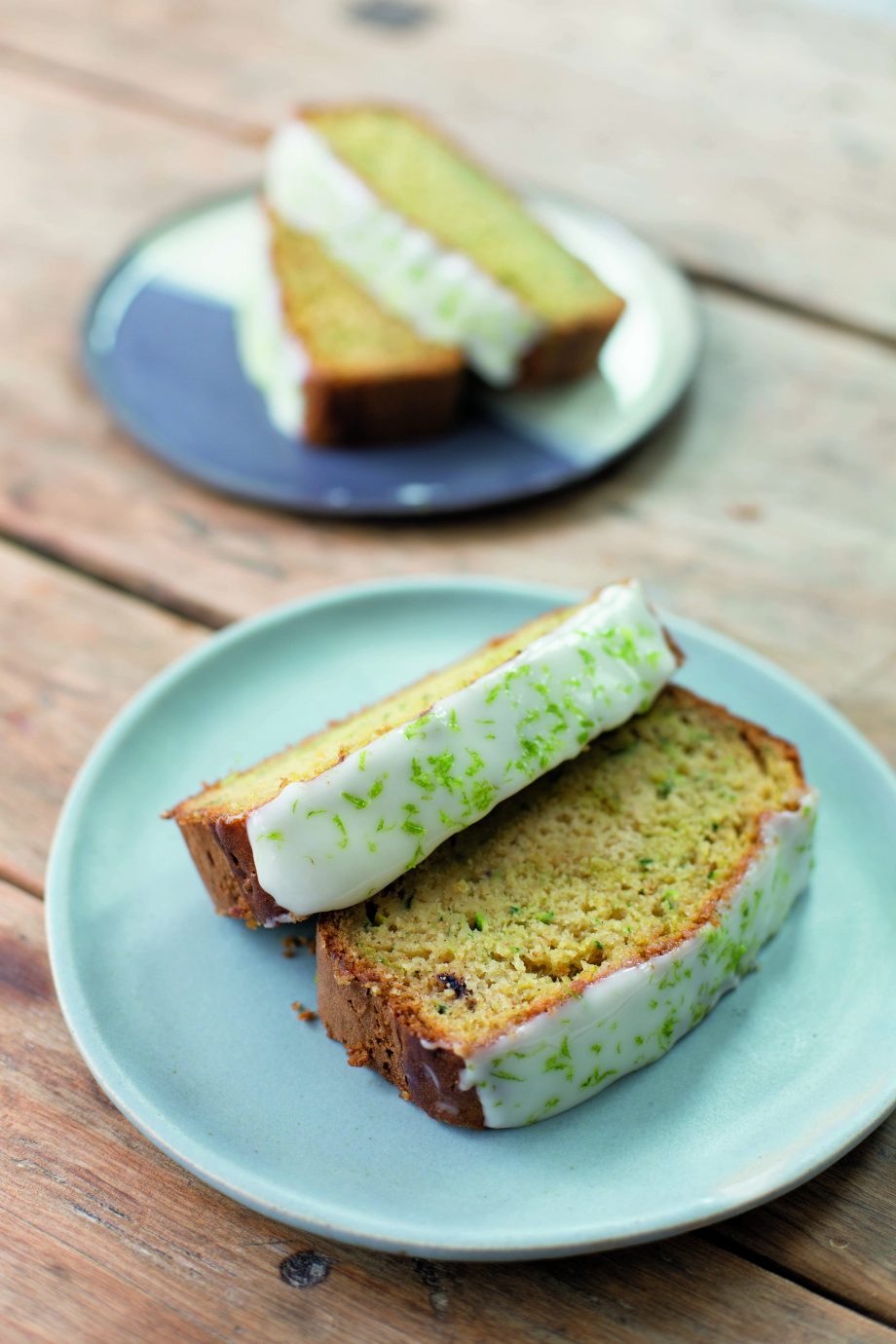 Courgette and cardamom cake
"Like the carrots in a carrot cake, courgette keeps this delicious cake lovely and moist. A light cream cheese and lime icing provides a refreshing contrast. The cake will keep in the fridge for a couple of days – bring it to room temperature to enjoy it at its best."
Ingredients
(Serves 8)
 365 cal/serving
Sunflower oil spray
250g half-fat margarine
100g caster sugar
4 tbsp granulated sweetener
3 large free range eggs
250g self-raising flour
1 tsp bicarbonate of soda
1 tsp ground cardamom
1 vanilla pod, split and seeds scraped
Finely grated zest of 2 limes
200g courgettes, grated
For the icing
100g icing sugar
1 tbsp light cream cheese
1 tbsp lime juice
To finish
Grated zest of 1 lime
Method
Preheat oven to fan 180°C/gas 4. Spray a 900g (2lb) non-stick loaf tin with a few sprays of oil.
Using electric hand whisk and large bowl, cream together margarine, sugar and sweetener until light and fluffy. Add eggs, one at a time, beating well after each.
Sift flour, soda and cardamom together over mixture. Gently fold in vanilla seeds and zest until just combined. Fold in courgettes.
Spoon cake mixture into tin. Gently level surface. Bake on middle shelf for 50–60 minutes. To test, insert a skewer – it should come out clean; if not give it a little longer.
Once cooked, leave to cool in the tin for 5 minutes. Transfer to a wire rack to cool completely.
For icing, whisk icing sugar, cream cheese and lime juice together until smoothly combined.
Spread icing on top of cake and sprinkle with lime zest. Cut into thick slices to serve.
Extract taken from Lose Weight for Good by Tom Kerridge (Absolute, £22), out now
Photography © Cristian Barnett