A new cookbook brings together simple, thrifty recipes that first made it big on social media.
Ben Lebus is a young man with a mission. Although he'd always enjoyed cooking, he was surprised to discover not everyone shared his enthusiasm: his university flatmates' culinary repertoire consisted of pesto pasta and bacon sarnies, supplemented with soup. Ben decided something needed to be done…
"I wanted to prove you didn't have to be rich or talented to cook a healthy, delicious meal," he explains. "So I started to write a blog with a series of recipes that would feed us all for under a tenner. I filmed 20 of the recipes to share online, came up with the name MOB Kitchen and launched the channel in August 2016."
Success didn't come overnight, and Ben was about to throw in the tea towel when he teamed up with a videographer friend, reformatted the videos for Instagram and Facebook, bought a few props – and suddenly, MOB Kitchen became 'a thing'… MOB Kitchen, the book, includes brunch options, speedy dishes, quick meals and more elaborate recipes ('flash MOB'). It even has its own playlist on the music app Spotify!
The ultimate hungover sandwich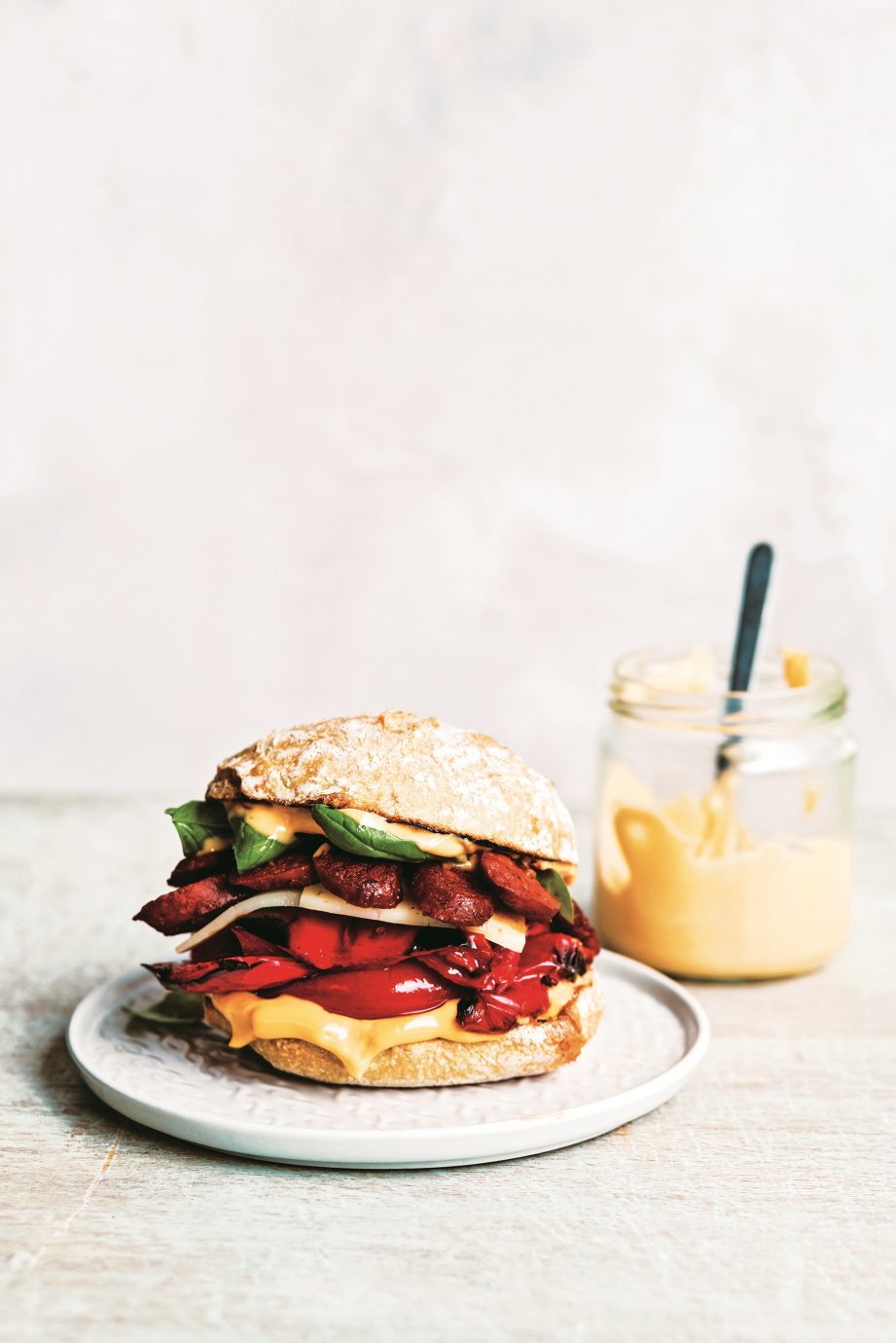 Ingredients (Serves 4)
4 red peppers
1 x 250g chorizo ring
mayonnaise
4 small ciabatta rolls
fresh basil
200g manchego cheese
salted butter
olive oil
1. Preheat oven to 180°C fan (200°C/400°F/Gas Mark 6).
2. Chop peppers into big chunks and add to a roasting pan. Drizzle with olive oil, season with salt and pepper and roast for 45 minutes or until charred and soft.
3. Meanwhile, crumble chorizo into a frying pan. Cook over a medium heat until the chorizo is crispy and the oil has rendered out. Add the chorizo and 2 tablespoons of chorizo oil to a bowl. Add 5 tablespoons of mayonnaise and mix together.
4. Loading time. Warm the ciabatta rolls in the oven. Halve them. Lather on some chorizo mayo. Then add a layer of peppers. Then add a couple of basil leaves, followed by some
manchego slices. Spread some salted butter on the top half of the ciabatta, place it on the top and take the biggest bite your mouth can manage.
Chicken pho-mo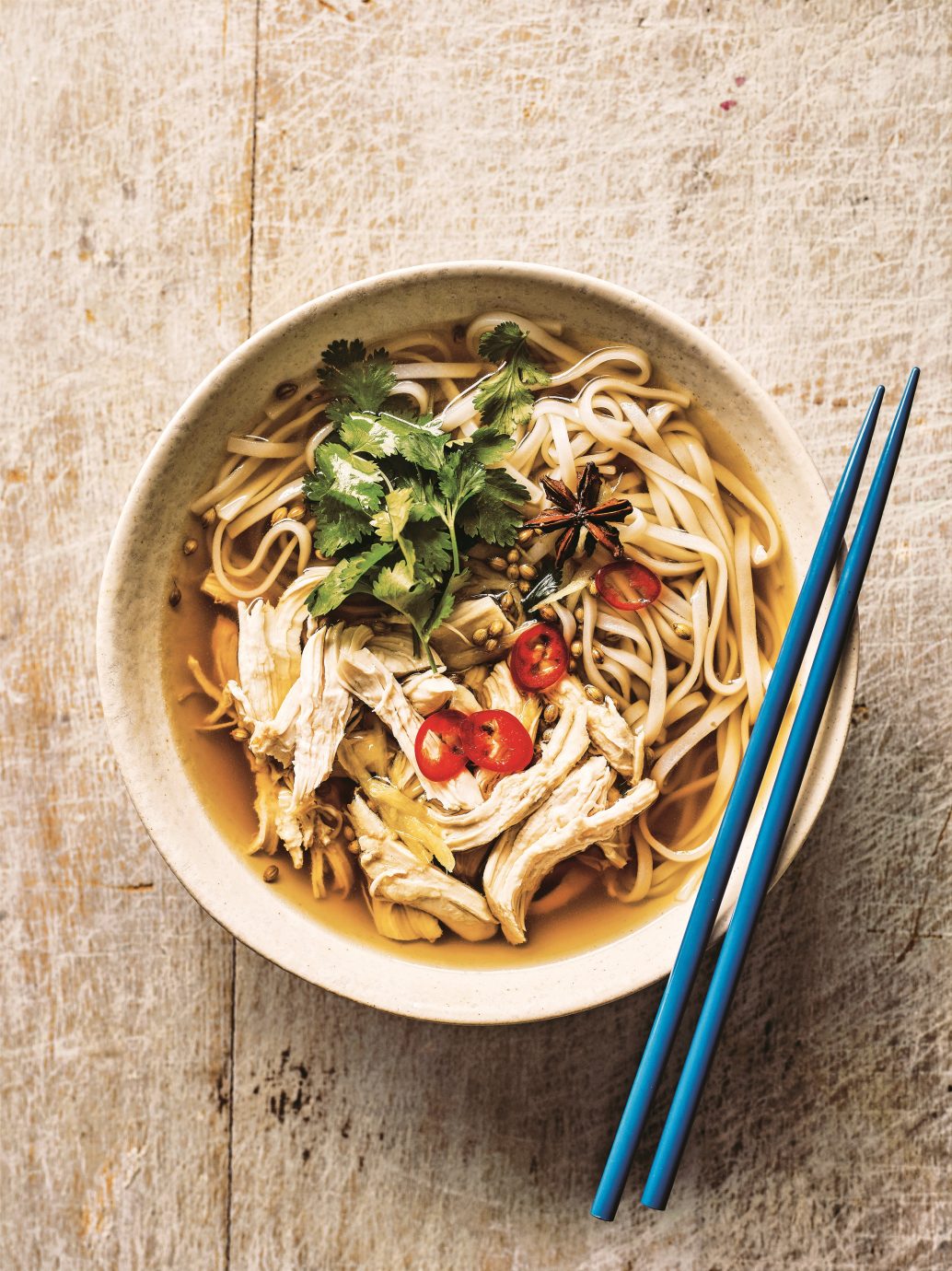 The most warming, flavourful broth. And if you've got a cold, this recipe will knock it out of the park.
Ingredients (Serves 4)
2 chicken stock (bouillon) cubes
2 star anise
1 tbsp coriander seeds
1 tbsp fish sauce
2 tsp lemongrass puree
5cm fresh ginger, peeled, grated
1 x 500g pack diced chicken breasts
300g rice noodles
fresh coriander
1 red chilli, sliced
1. Add 1 litre of water to a large pot. Add stock cubes and mix them in. Add star anise, coriander seeds, fish sauce, lemongrass puree and ginger. Then plop in the diced chicken breasts.
2. Cook over medium heat for 10 minutes or until the chicken is cooked through. Remove chicken and shred it on a board. Add noodles to the soup. These should take 2 to 3 minutes to cook through.
3. Once ready, add some rice noodles and shredded chicken to 4 bowls. Add a handful of fresh coriander, a few slices of red chilli and then pour over your soup.
4. Get a spoon and tuck in!
MOB Kitchen: Feed 4 or more for under £10 by Ben Lebus (Pavilion Books £14.99)
Images courtesy of Haarala Hamilton