As the culinary director of the Stafford London and a collaborator with top chefs such as Jason Atherton, Ben Tish has been forging his own path in the world of haute cuisine for 20 years.
His first book, Grill Smoke BBQ, was a hymn to the fulsome flavour of outdoor cookery, and his latest offering also pays homage to fresh flavours that zing with life. Moorish focuses on influences from the very southern tip of the Mediterranean region, featuring dishes from Sicily, Andalucia and the Balearics.
We bring you three of Ben's tempting recipes, which are all perfect for this sunnier season…
Charcoal-grilled peaches with goat's cheese, honey and almonds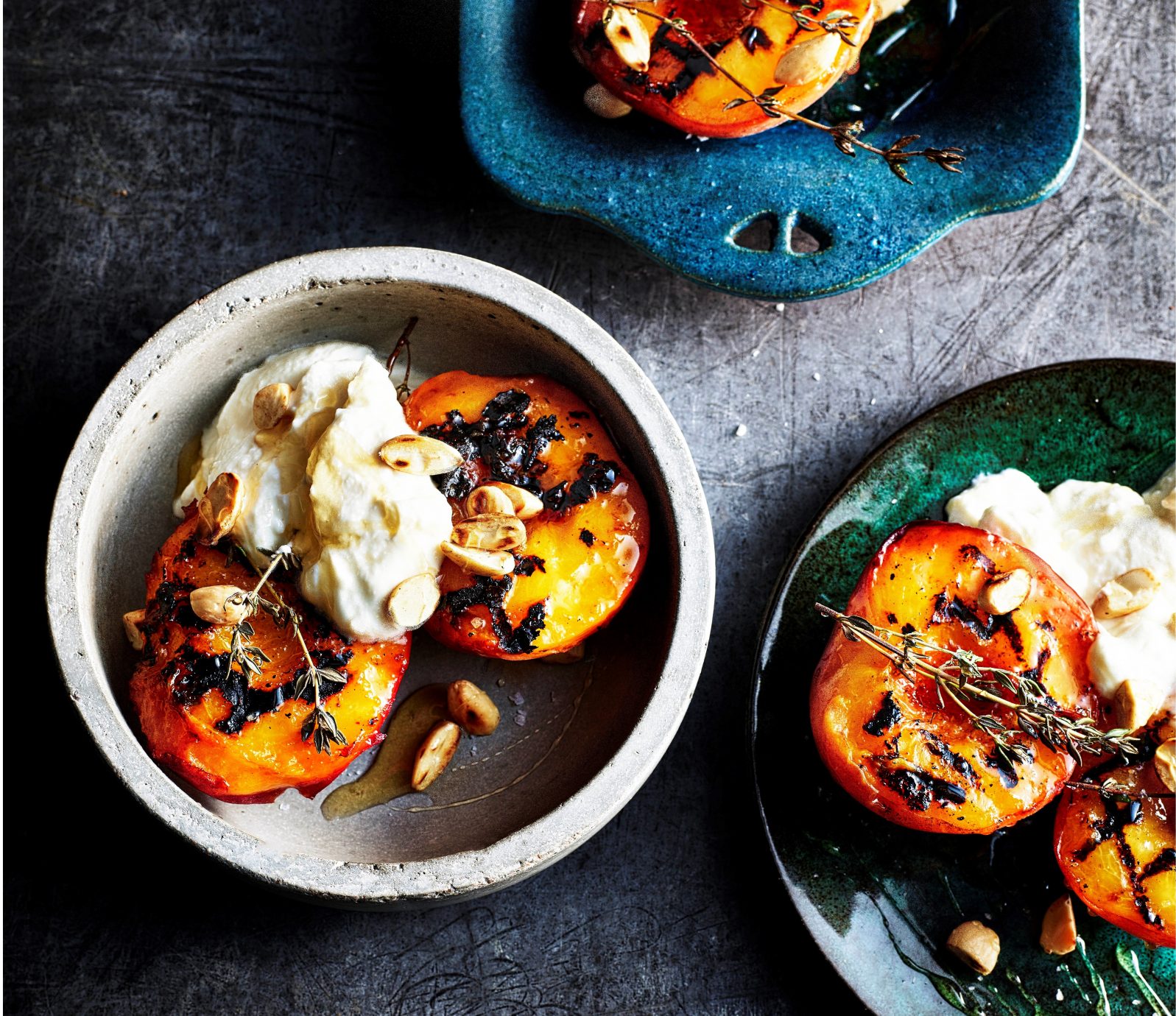 "I love to cook stone fruit over the barbecue – the sugars slowly caramelise intensifying the fruits' sweetness while lightly singeing and smoking the edges…"
INGREDIENTS (Serves 4)
60g blanched almonds, halved
extra virgin olive oil, for drizzling
4 firm white or yellow peaches, halved, stone removed
8 sprigs thyme
120g soft, fresh goat's cheese
2 tablespoons chestnut honey or quality runny honey
METHOD
1. Prepare and light a charcoal fire in a barbecue – the coals should burn down to an ashen grey before cooking. Alternatively, heat a ridged grill pan over maximum heat on the hob.
2. Toast almonds in a small dry pan until lightly golden. Season with sea salt, drizzle over some olive oil, then set aside.
3. Dab cut side of peaches with kitchen paper to soak up excess moisture. Drizzle with a little oil. Place cut side down on barbecue or grill pan. Cook for 4–5 minutes or until caramelised and lightly singed at the edges. The juices will drip on to the coals and create a little smoke that will flavour the peaches.
4. Turn peaches over. Lay a sprig of thyme on each cut side. Cook for 2–3 minutes to soften on other side.
5. Divide peaches and goat's cheese among plates or bowls. Drizzle honey and scatter almonds on top. Serve as a starter or a cheese course.
Watermelon and blue cheese with toasted walnuts and moscatel vinegar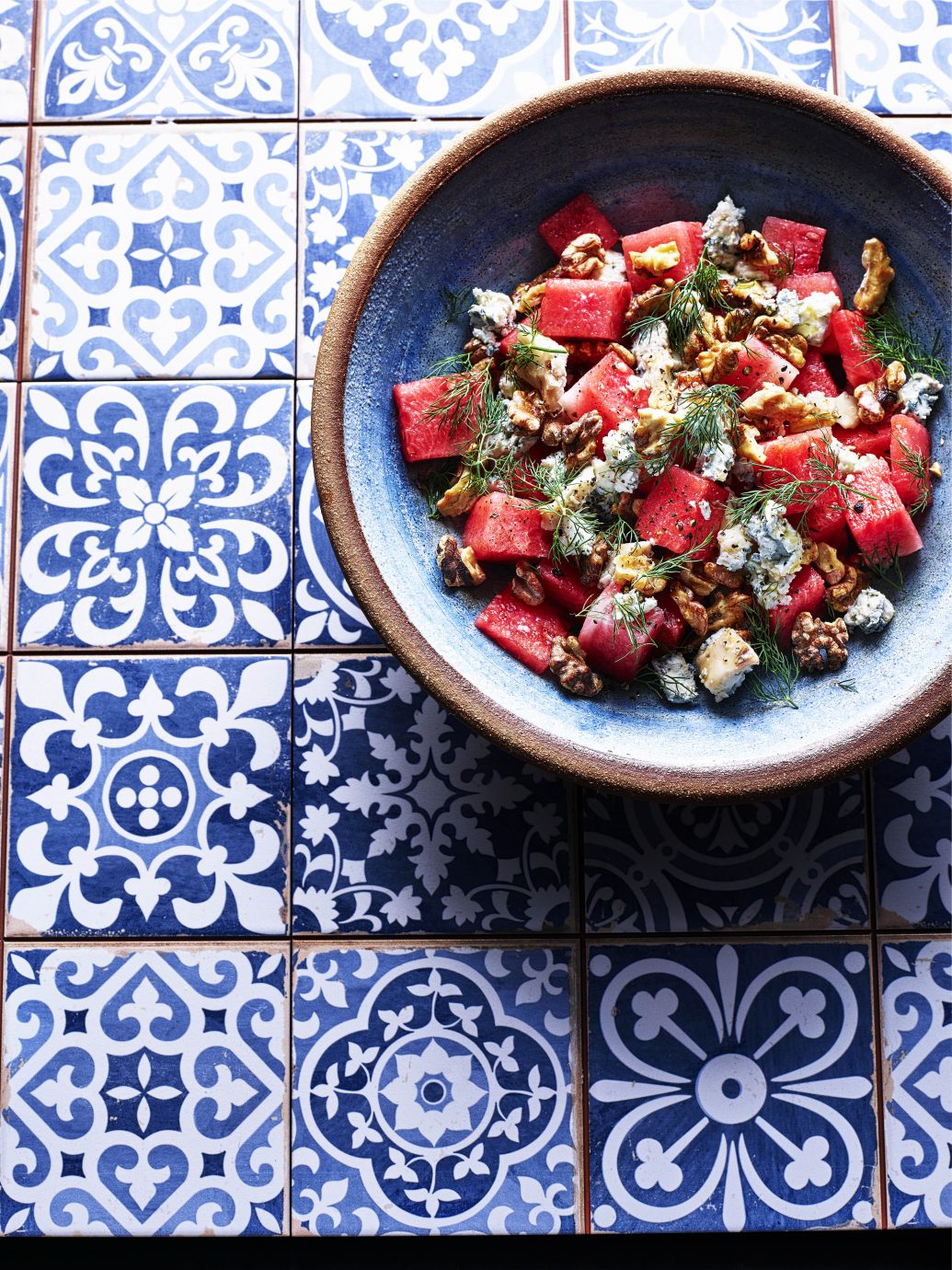 "Moscatel vinegar, or Muscat grape vinegar, is a delicious sweet vinegar with a gently sharp edge. A white balsamic would be a good alternative."
INGREDIENTS (Serves 4–6)
½ small, heavy watermelon (800g–1kg) with unblemished smooth, shiny skin
50ml moscatel vinegar or white balsamic
100g walnut halves
70ml walnut oil
handful of herb fennel or dill fronds
150g salty blue cheese (such as Gorgonzola, Picos Blue, Roquefort)
1. Peel melon, removing white flesh under the skin. Dice coloured flesh into 2cm pieces. Place in a bowl. Season and toss in the vinegar. Set aside.
2. Place a sauté pan over a medium heat. Break walnut halves into pieces into the pan; toast for a few minutes, tossing, until they are fragrant and have started to release their oil. Season liberally with salt. Mix with watermelon.
3. Add walnut oil and fennel fronds. Crumble in cheese. Briefly mix together and serve on its own, with warm flatbreads, or as part of a mezze-style sharing meal.
Mackerel and salted grapes with cucumber, yoghurt and fennel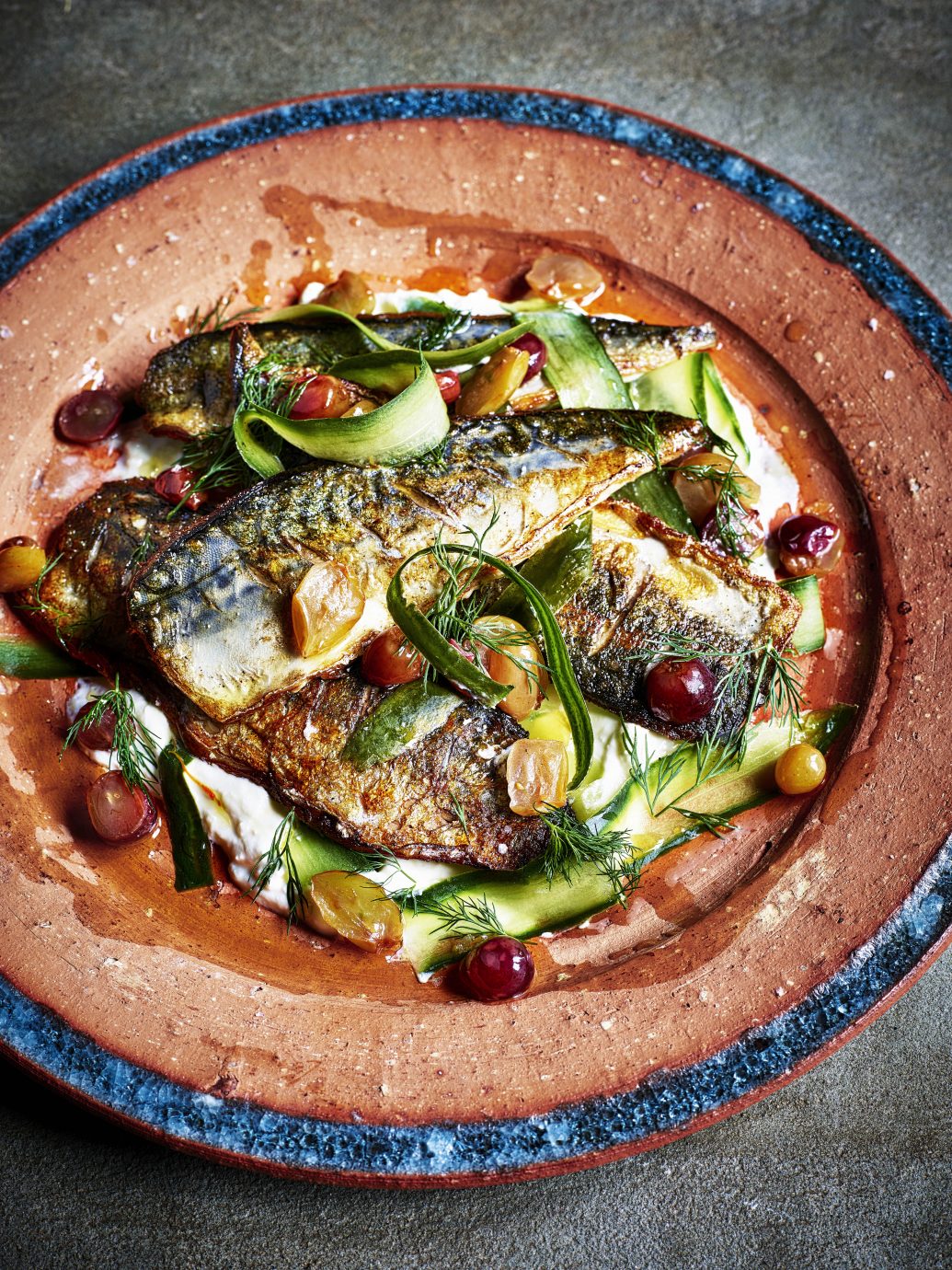 "Try to get the small, firm, pickling cucumbers for this dish though a regular cucumber will do but you'll need to take out the watery centre…"
INGREDIENTS (Serves 4)
4 very small cucumbers or 1 medium cucumber
2 teaspoons caster sugar
½ teaspoon saffron threads
80ml white wine vinegar
16 green seedless grapes
16 black seedless grapes
olive oil
4 mackerel fillets, skin lightly scored with a sharp knife
100ml thick Greek yoghurt
a handful of herb fennel or dill
METHOD
1. Preheat oven to 120°C/100°C fan/Gas Mark ½.
2. Trim cucumbers, then peel in strips. If using a medium cucumber, trim and peel it in strips, then cut it in half lengthways and scoop out the watery centre. Cut each half across in half. Place cucumbers in a bowl.
3. Put sugar, saffron and vinegar in a pan with 90ml cold water. Bring to the boil. Remove from heat and cool. Pour over cucumbers. Cover and leave to pickle in the fridge for at least 1 hour.
4. Meanwhile, cut grapes in half lengthways. Place on a tray, drizzle over a little olive oil and sprinkle with sea salt. Place in oven to dry out for 30 minutes – the grapes should have shrivelled slightly. Set aside to cool.
5. Heat a large non-stick sauté pan over a medium heat. Add a glug of olive oil. Season fish. When oil is hot, place fish skin side down in the pan, carefully pressing down to flatten as fillets will bow. Cook for 4 minutes or until skin is browned and crisp. Flip. Cook further 2 minutes or until just cooked through.
6. Spoon yoghurt onto serving plates. Add cucumber, grapes and mackerel. Sprinkle over fennel and serve.
Moorish by Ben Tish (Bloomsbury Absolute, £26)
Images courtesy of Kris Kirkham