As a Michelin-starred chef with personal experience of dieting, Tom Kerridge
knows that cooking good food is the first step on the road to both weight-loss
and better performance. In Lose Weight and Get Fit he shows how you can eat
well, shed the pounds and kick-start a more active lifestyle.
As Tom says: "For me, losing weight was less about reaching a target weight
and more about getting fitter and healthier. I reckon that setting fitness goals
alongside weight-loss goals is a win-win formula for lasting success – and here
are the recipes to help you." His home-cooked recipes for British classics,
international dishes and family favourites are generous, flavour-packed and
nutritious while still lower in calories.
This book is for everyone who knows they want to lose weight and do some
more exercise, but also needs the motivation to get started. With chef's
techniques for the best lower-calorie cooking, plus tips for stepping up to fitness
targets, Tom will give you the inspiration you need to lose weight AND get fit.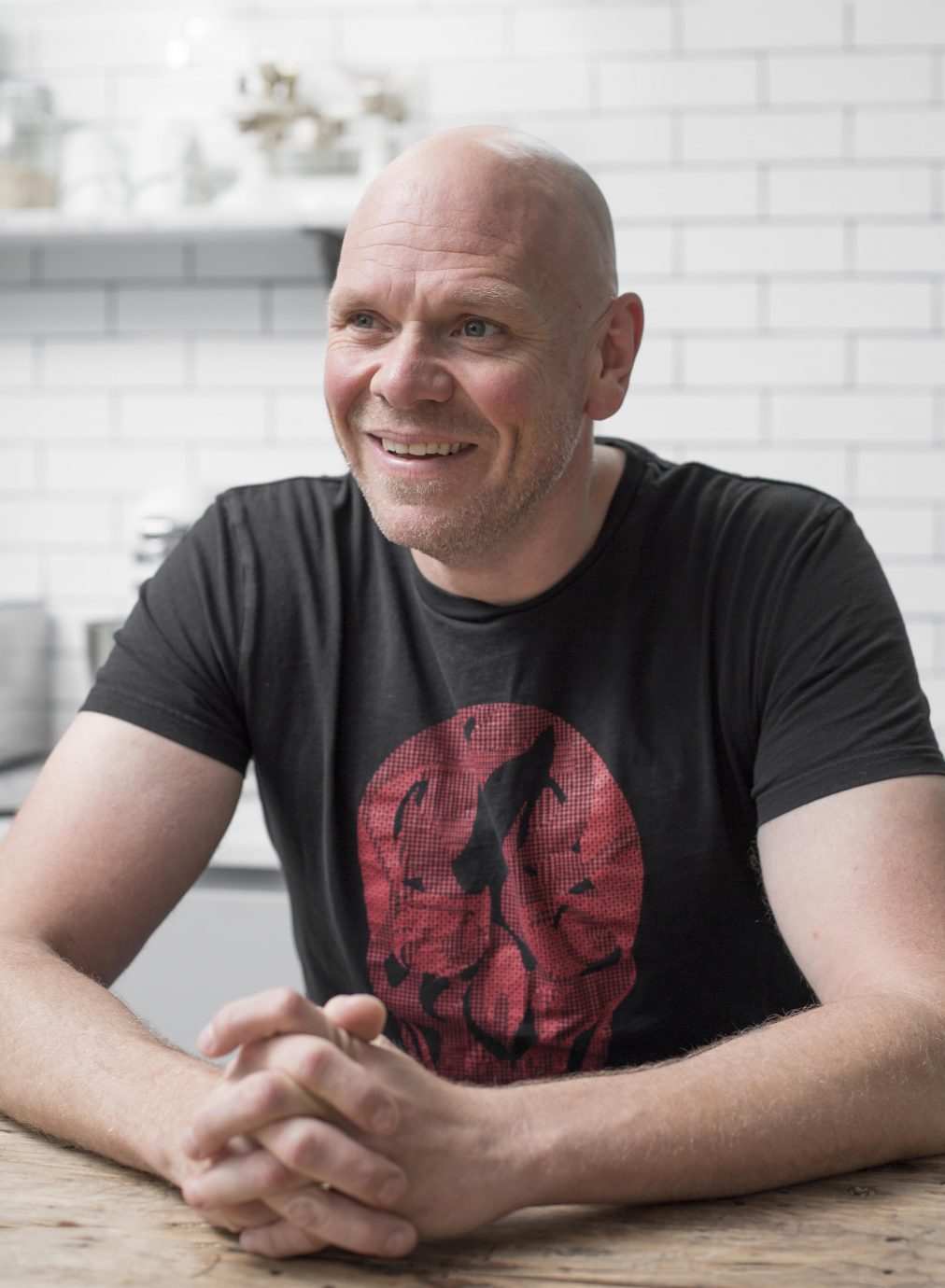 TUNA COBB SALAD BOWL
This is a good example of the kind of salad that you can throw together using ingredients that might already be in the cupboard and fridge. Feel free to swap things around depending on what you have. The one thing I'd say you need to keep is the baby capers – they may be tiny but they add so much flavour.
SERVES 4
4 large free-range eggs
400g tinned tuna in spring water (drained weight)
Juice of ½ lemon, plus an extra squeeze for the avocado
1 tbsp baby capers, rinse
50ml light mayonnaise
350g Iceberg lettuce, shredded
150g carrots, grated
8 cherry tomatoes, halved
½ cucumber, halved lengthways and thickly sliced
200g drained tinned sweetcorn
8 radishes, quartered
1 ripe avocado, peeled, quartered and stoned
Sea salt and freshly ground black pepper
For the dressing
3 tbsp extra-virgin olive oil 1½ tbsp red wine vinegar 1 tsp Dijon mustard
1 Place a small saucepan of water over a high heat and bring to the boil. Carefully add the eggs and cook for 7 minutes. Remove the eggs and immerse them in a bowl of cold water to cool quickly.
2 Flake the tuna and place in a bowl with the lemon juice, capers and mayonnaise. Season with salt and pepper to taste and mix well.
3 Lay out 4 containers and cover the base of each one with shredded lettuce and grated carrot. Top with the tuna mayo, cherry tomatoes, cucumber, sweetcorn and radishes. Squeeze some lemon juice over the avocado slices and add these to the containers.
4 For the dressing, whisk the ingredients together in a small bowl and season with salt and pepper to taste. Spoon over the salads.
5 Peel the cooled boiled eggs, then halve and season with a little salt and pepper. Add the eggs to your containers. Serve straight away or seal and keep in the fridge. Eat within 2 days.
BONUS The colourful veggies in this salad provide a huge range of nutrients that are anti-inflammatory and help muscles to recover after exercise.
Per serving:
460 cals
37g protein
27g fat
14g carbs
7g fibre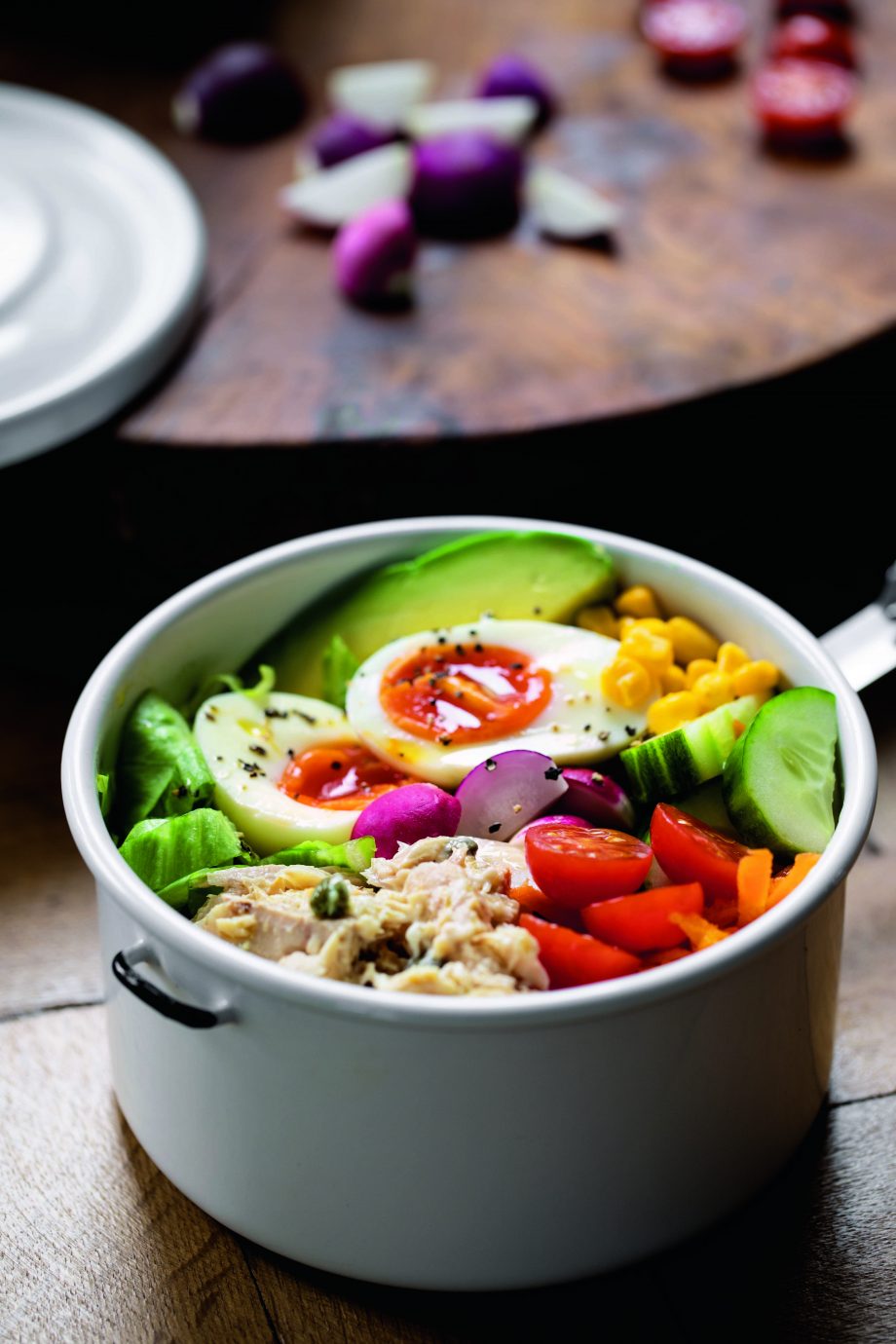 CHOCOLATE CHIA PUDDINGS
Chia seeds are a great way of thickening and enriching a dish. Dark chocolate adds a sophisticated note, while shop-bought custard ensures this deliciously rich and creamy pudding is quick and easy to make.
SERVES 4
500g light custard
100ml whole milk
1 vanilla pod, split and seeds scraped
30g good-quality cocoa powder
50g dark chocolate (70% cocoa solids), roughly chopped
1 tbsp granulated sweetener
4 tbsp chia seeds
180g raspberries
1 Pour the custard and milk into a medium saucepan and add the vanilla pod and seeds, cocoa powder, dark chocolate and sweetener.
2 Place over a medium-low heat and heat slowly, whisking gently until the chocolate is completely melted – this will only take a couple of minutes. Remove from the heat and discard the vanilla pod.
3 Add the chia seeds to the chocolate mixture and whisk again until well combined.
4 Divide half the raspberries between 4 small jars or glasses (about 280ml capacity). Spoon the chia mixture into the glasses and place in the fridge for 2 hours to chill.
5 Pile the remaining raspberries on top of the puddings to serve.
BONUS Chia seeds are full of healthy omega-3 fatty acids, protein and fibre – which all help stave off hunger. And dark chocolate contains antioxidants which help you to recover after a workout.
Per serving:
301 cals
11g protein
33g carbs
13g fat
8g fibre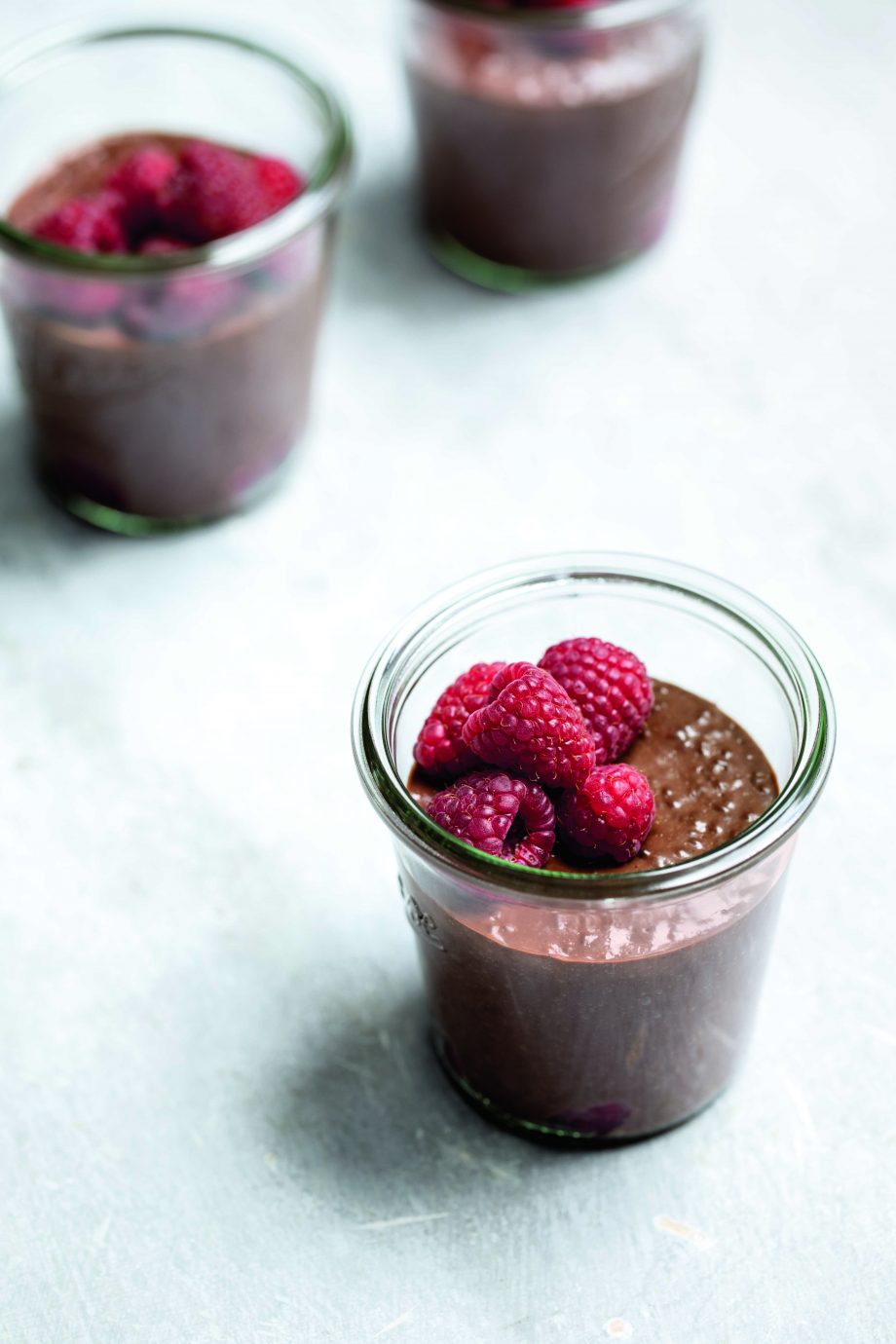 CHILLI AVOCADO TOAST
We all know that avocado on toast is one of the most popular breakfasts – it's been around for some years now – but adding a layer of hummus and spiking it with some chilli will turn it up a notch. Enjoy!
SERVES 2
2 large slices wholemeal or brown sourdough bread
2 tbsp hummus
1 ripe avocado
80g cherry tomatoes, thickly sliced
4 pickled chillies or peppadew peppers, thinly sliced
1 red chilli, thinly sliced
A small handful of basil leaves
½ lime
Sea salt and freshly ground black pepper
Togarashi or dried chilli flakes, to sprinkle (optional)
1 Toast the sourdough bread and spread thickly with the hummus.
2 Halve the avocado, remove the stone and gently loosen the skin away from the flesh, using a large spoon. Thinly slice each avocado half, gently flatten with the palm of your hand and lift onto the toast.
3 Sprinkle with salt and pepper and top with the cherry tomatoes, pickled chillies, red chilli and basil leaves.
4 Squeeze over the juice from the lime half and serve at once, sprinkled with a little togarashi or chilli flakes if you like.
BONUS Avocados are loaded with heart-healthy fats. Don't be afraid of eating fats when you're on a diet, they help you feel full. Just limit your intake – of saturated fats in particular – and try to avoid fatty processed foods.
Per serving:
367 cals
7g protein
29g carbs
23g fat
7g fibre