Alice Pritchard—known to so many people in Bridgnorth simply as Akela—has been involved with the Cub Scout movement for over 60 years, and has been leader of the Castle Cub Pack in Bridgnorth for 26 years—spanning two generations of cubs who have come under her care.
Hailing originally from Chicago, Chemistry teacher Alice met her husband Huw when she was visiting Shropshire and teaching at Acton Burnell. Huw was teaching at Oldbury Wells Boys School, and both were members of the Shropshire Teachers Mountaineering Club—and the couple met on a trip to Snowdon. They married in the States, moving back to Bridgnorth in 1973 to raise their two children, Bethan and Jamie.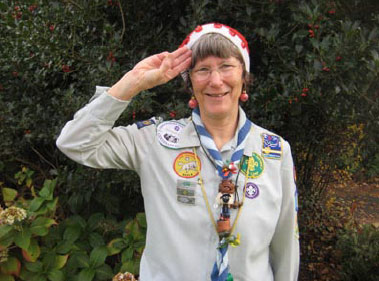 Alice had always been a member of the Girl Guides and Explorer Scouts in the US, and when Jamie reached cub age in 1984 she was delighted to take up the post of Akela for the Wednesday evening pack, and has never looked back; taking the pack from strength to strength, with regular much loved camps, loads of outdoor activities and outings—all with, as Alice laughs "a quirky, American twist".
Alice recognises the strengths of the Cub Scout movement; "In a world when everything is governed by risk assessments and Health and Safety concerns, at cubs children can be children", and Alice is not afraid to stand up for this traditional stance as she lists cubs' favourite things; "carving wood with pocket knives, building fires, making dens in the woods, doing their own cooking—and eating it—following trails and hiding." She's quick to reassure that all activities are carefully supervised by fully trained leaders—but I know that cubs love these things because two of my children were in Alice's cub pack and they simply loved Alice's' sense of fun and being able to do things sometimes not allowed elsewhere. And Alice in turn loves cubs; her affection is simply put and genuine; "Cubs are sparky, enthusiastic and sometimes surprising, and above all, they keep me young." Originally called 'Wolf Cubs'—hence the reference to Kipling's Jungle Book characters, (Akela means the Big Wolf), the Scout movement was founded in the late Nineteenth century by Baden Powell, who wrote his book "Scouting for Boys" in the belief that boys would like to learn some of the outside skills he himself had picked up during the Boer War. The movement was hugely popular and became an international phenomenon, with Girl Guiding following suit. Nowadays, girls can join the cubs and scouts; indeed Alice was the first Akela to take girls into Cubs with her first girl enrolling some twenty years ago, which she describes as lending a 'civilising influence' to the pack.
Now retired from teaching, Alice can be found helping out at the Oxfam shop in Bridgnorth three afternoons a week, singing in Kidderminster Choral Society and helping out with the other cub packs—she is, in her own words, really just a big cub herself.
In an era when there is much hand wringing about our couch potato, X-box and Facebook obsessed young people, it's great to know that this somewhat quaint and wholesome activity is thriving and filling an ever important role. That there are people like Alice, and fellow Akelas, Trevor Padget and Paul Fensome, who give their time and energy tirelessly to keep these traditions alive.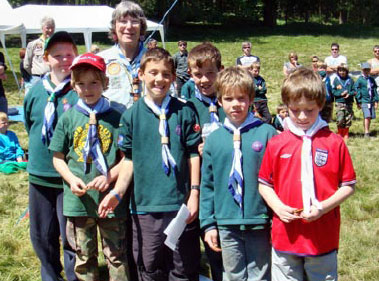 Looking through the photos of the latest cub camps to get pictures for this article I am reminded that childhood is a precious time, and those who give their time enabling these youngsters to live it to the full truly need celebrating.
Boys and girls aged 8—11 years are welcome to join the area's cub packs, to find out more about cubs in the area, ring 01746 763031.