A while back I was asked to do an English/American Wedding Breakfast menu for 130 guests in a Marquee, on a farm near Bridgnorth. The Bride was from Texas and didn't want Standard English Roast Beef so this is what we came up with.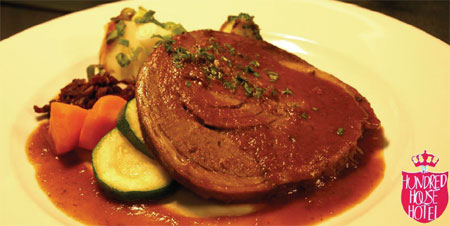 Brisket is a shoulder cut, comes rolled and should have about half an inch of fat covering it to keep it moist during cooking. Keith Alderson of Bridgnorth rears and hangs his own beef and is always spot on for us.
6lb Beef Brisket
1 tablespoon coarse salt
1 tablespoon chilli powder
2 teaspoons of sugar
1 teaspoon of freshly ground black pepper
1 teaspoon of ground cumin
2 tablespoons of marjoram/oregano
1 tablespoon of dried garlic
Take the brisket and douse with the spice mix, wrap in cling film and leave overnight. You now need to smoke the beef for 3-4 hours. We use a Bradley smoker and hot smoke it. You can go online and find lots of different types or make your own.
Place the beef in the smoker on a rack with a tray underneath of 2 inches of water and 3 sliced onions to catch the beef juices.
Smoke and cook at 150 degrees for 4 hours then cover with foil and cook until tender, another 3-4 hours in an oven at 150 degrees. It should now be very tender and will almost mash with a fork. Leave to cool and set, possibly overnight. Once set cut into 6 oz slices.
To make the Barbeque Sauce, take 2 sliced onions, 2 ribs of sliced celery, 2 sliced green peppers, 4 cloves of
garlic, sliced, 4 tbsp vegetable oil and 2 teaspoons of chilli powder. Place in a solid based pan and cook gently until tender.
Add;
20 fl oz chopped tomatoes
4 tbsp ketchup
3 tbsp Worcester sauce
1 lemon juiced
3 tbsp vinegar
2 cups of liquid from the tray from the smoked beef
3 tbsp brown sugar
1 tbsp mustard powder
5 fl oz pineapple juice
Salt & pepper
Stir and cook the sauce for about 40 minutes and then blend until smooth. Adjust the seasoning to achieve a balance between sweet versus sour, fruity versus Smokey and spicy.
Reheat the brisket slices in the sauce and serve with cheesy mash, braised red cabbage and green vegetables. This makes a great warming treat on a cold, winter's day.
Recipe courtesy of Stuart at The Hundred House