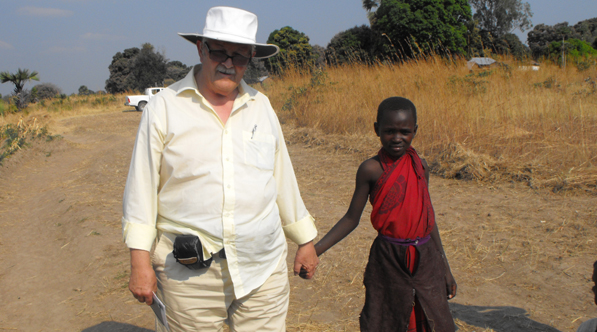 This month Sally Themans meets local hero Derek Cole to find out more about the Bridgnorth Africa Project…
Meeting Derek Cole is a real pleasure, here is a local character who, in his 50 years of living in Bridgnorth, has put so much into the community it's difficult to know where to start.
Since his retirement as a secondary school teacher, Derek has been volunteer in many roles: Playgroup teacher, driver for an elderly people's club, sandwich delivery man, plus a long term involvement with Cartway Church and the Bridgnorth Walk. But it's his unstinting work with the Bridgnorth Africa Project, spanning 36 years, that I wanted to know more about and share with the readers of What's What!
The 'Africa Project' was the brainchild of John Tuer, at the time deputy head of Bridgnorth Endowed School who, together with a number of people involved with various local churches and inspired by the Christian Aid movement, wanted to set up a link between Bridgnorth and Africa. This was in 1976 and, with the help of the Commonwealth Office and the British Tanzanian Society, the group formed a link with the community of Sikonge in central Tanzania.
The first visitors to Sikonge from Bridgnorth were Bill Fea and Albert Massey, who were met by local elders who said: 'These men are sent by God, let us work with them in his name'. This has been the spirit in which the two communities have worked together ever since, the Bridgnorth people are referred to as 'Watupendao' – the white people who love us.
The impact that Bridgnorth has had on the community of Sikonge has been far reaching as Derek explained. "Sikonge District is large in comparison to other local areas and has grown enormously during our association. There are now two secondary schools, one funded by the government and the other, at Kamagi, funded and built by the Bridgnorth Africa Project and completed 18 months ago."
It was inevitable that Derek would want to get involved with the project, he studied African Studies at London's School of Oriental and African Studies, speaks Swahili and visited Sikonge in 1999 and 2008. "We only take on projects that are really required by the village, they come to us with proposals and we respond. We are able to do this through generous support, donations, fund raising and legacies, and our main focus is on education and clean water."
Last year the project's work in the area amounted to a spend of £41,000 on various projects, from the building of a new sixth form centre to the provision of a leprosy centre. The area is currently blighted by drought and emergency food is being provided. In 2009, £22,000 was spent providing, amongst other items, mosquito nets to counter the threat of malaria. The project has some ongoing commitments – it pays the salaries of one teacher and one health worker.
Derek told me that one of the most moving and distressing experiences when he visited was attending the funeral of a child who had died as a result of drinking unclean water. "Many of our projects are small – just digging a well to provide clean water has a huge impact".
Bridgnorth has made a difference in Sikonge for 36 years, and it's a sustainable difference. The project is all about tolerance and working together, it transcends and unites the Christian churches in Bridgnorth, and in Sikonge it unifies the Lutherans, Roman Catholics, Shia and Ismailia Muslims. Those, like Derek, involved in the project have just got on with the ongoing good work in a quiet and understated way, and it's startling to know that through their unstinting work, in a corner of Africa, the word 'Bridgnorth' has such an affectionate connotation – 'the people who love us'.
There are various ways to help the Bridgnorth Africa Project, to find out more Derek can be contacted on 07817 971 523 or 01746 764359, or email derek@farmlands.entadsl.com. The easiest way is to buy the BAP Quiz Book which Derek compiles every year, available from Bridgnorth Library.