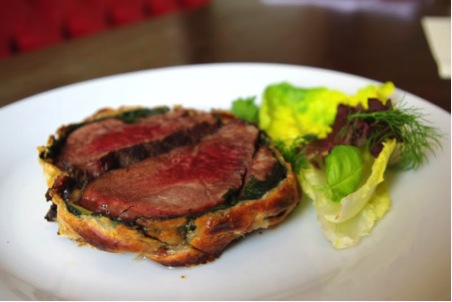 Traditionally, Beef Wellington uses the whole fillet of beef – the problem with this is that the pastry invariably burns before the meat inside is cooked. At the Boyne we developed this recipe so that we can make individual portions.
Serves 4
Ingredients
4 individual 6oz prime beef fillet
tsp full of wholegrain mustard
salt and pepper to taste
butter for frying
1 bag of baby leaf spinach
8oz of closed cap fresh mushrooms, finely diced
1 small onion or shallot
1 packet of pre-made puff pastry
1 egg for egg wash
Heat a frying pan with a little butter. Take the beef fillets, rub with the wholegrain mustard, season with salt and freshly ground black pepper and place in the hot pan. Keep turning the fillets until the outside of the meat has browned but not cooked. Once sealed, take the fillets out and set aside to cool.
To make a mushroom duxcelle, in the same pan fry off the shallots until soft, then add the mushrooms. The duxcelle will absorb the juices that come out of the meat when cooking without making the pastry soggy. This will take about 10 minutes to make. Once made, take out and set aside to cool
Cook the spinach in the bag in a microwave for one minute, open and pat dry with a cloth.
Cut the block of puff pastry into four equal pieces and roll out each into a rectangle about eight inches by 10 inches.
Take one tablespoon of the duxcelle and place in the centre of the puff pastry, place a fillet on top. Cover the top and sides of the fillet with spinach.
Whisk the egg and with a pastry brush cover the exposed pastry. Then fold it to make a parcel. Glaze the outside and place on a greased baking tray. Repeat the process for the remaining fillets.
Place the tray in a pre-heated oven at 200 degrees centigrade and bake. 20 minutes for rare, 30 minutes for medium.
When cooked slice off the pastry on each side of the fillet, carve each parcel in half and lay each slice on a plate.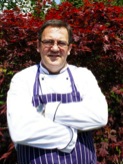 This month's recipe is courtesy of Kevin Geyton, Chef/Patron of
The Boyne Arms