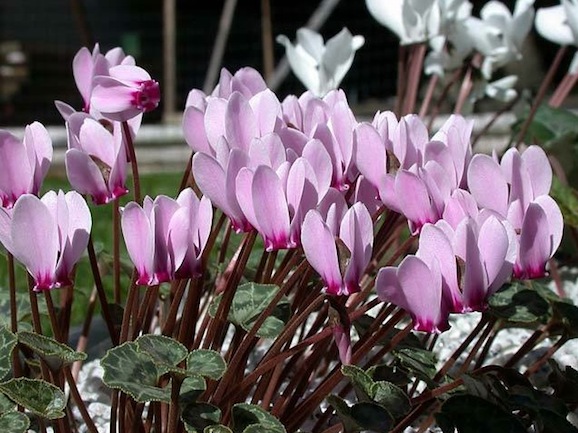 Autumn is just around the corner . . .
With the first frosts likely any time now, it's time to sort out the garden for winter and start to prepare for next season.
Remove any summer bedding and put on to the compost heap. Geraniums and fuchsias can be trimmed back and potted up for the winter. Make sure they are placed somewhere frost free – a spare bedroom, utility room, conservatory or garage that has some slight heat in the winter. Remember, if we get a winter with temperatures below freezing point over a prolonged period, an unheated garage will not hold sufficient heat for storing plants that are frost tender.
September and October are ideal for aerating the lawn with a fork or special tool, then apply Scotts Autumn Lawn Food to nourish your lawn through the winter months. Reseed any bare patches. The larvae of the daddy long legs/crane fly (leatherjackets) can become apparent in lawns during August and September, they will attack on most soils but in particular damp soils and heavy clays. If you see signs of damage, spray with Provado Lawn Grub Killer immediately.
Check for lawn disease
There are two diseases of lawns which are becoming more widespread. The first is Red Thread which appears as circular pink or bleached patches in grass, expanding into large patches of dead grass. Red threadlike strands form near the tops of leaf blades. It is seen more in warmer conditions in summer and early autumn. The second is Fusarium, a fungal disease of turf. It appears as dull brown patches spreading rapidly. This again can be prevalent in the autumn. If you spot either spray immediately with Lawn Disease Control by Bayer.
Plant bulbs deeply
When planting bulbs in containers outside, it's worth putting in at least two layers of bulbs, slightly staggered one above the other. This will ensure a bigger display of flowers. Plant the bulbs deeply enough to allow you to plant winter and spring bedding on top. Pansies, violas, polyanthus, wallflowers and bellis are all suitable for planting in tubs or into the garden for winter and spring colour.
Autumn flowering cyclamen will give a bright and cheerful display up until we start getting severe frosts. If you want the real hardy cyclamen make sure you buy the 'hederifolium' form, which will withstand any winter weather – ideally plant them in a shaded or semi shaded spot.
Plant spring flowering bulbs in the garden as soon as possible, so that roots can develop whilst the soil is still warm. The only exceptions to this rule are tulips which can be planted late – into December if you wish.
Harvest onions and potatoes
Harvest onions and potatoes now – lift up onions and allow to dry out where they've been growing if the weather is fine, before storing. Potatoes should be stored in a cool but frost-free environment, hessian sacks available from garden centres are ideal for this purpose. Sow green manure crops now on to empty parts of the veg patch as a soil conditioner.
Pick early apples and pears as they become ripe. Eat the earlier varieties straight away, but the later ripening ones can be stored for later use. Cover autumn fruiting raspberries against birds. The old fruiting canes can be pruned out during the winter months as the autumn varieties fruit on new season's growth each year.
Over-wintering onions, shallots and Broadbean Aquadulce (Claudia) are now in stock, plant them as soon as you can and you'll get an early maturing crop next year. Garlic cloves can either be planted directly outside or started off in pots and planted out later.
Dead head roses
Dead head roses, trimming back any very long growths. Remove any foliage with rust or blackspot, making sure you dispose of it rather than putting on the compost heap. Autumn flowering asters are very susceptible to mildew so spray them regularly with a suitable fungicide to keep it under control.
Once tomatoes and cucumbers have finished, clear them out on to the compost heap so long as they aren't diseased and then clean out the greenhouse before putting in over wintering plants. It is a good idea to insulate with bubble as it helps to keep out the cold. Check over heaters ready for the first frosts. As you bring in plants to over- winter watch out for vine weevil larvae, especially on fuchsias. If you do see signs of them, drench the compost with one of the chemicals available for their control.