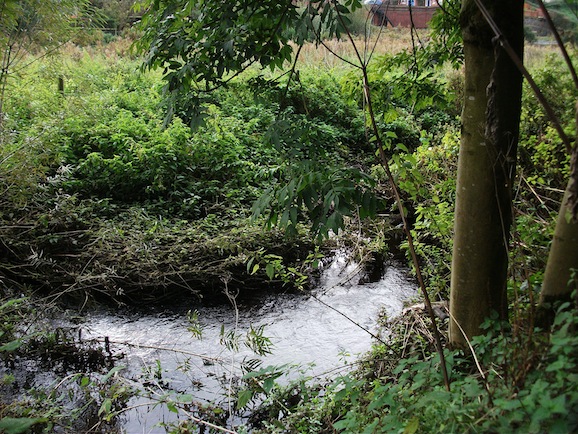 I leave Bridgnorth on a typical cool autumnal morning, the sky heavy with cloud. As I drive north through Shropshire, the weather slowly improves. By the time I reach Whitchurch, the sun is shining and illuminating the golden yellows of the maple leaves that decorate hedgerows at this time of year. Bright mornings in the autumn seem to have a particular sparkle.
I have an appointment with a lady who is passionate about the conservation of one of our fastest declining mammals. The water vole was made famous in the book The Wind in the Willows. I have travelled to Whitchurch because the town is one of the few places in the country with a healthy population of water voles that seem to be holding their own.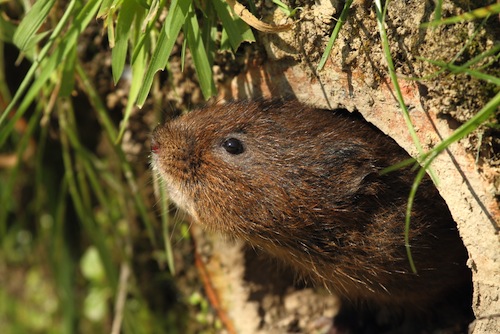 Kate Long is a member of Whitchurch Community Water Vole Project. The group have been in existence since the late 1990s and have over 12 regular members. They are all volunteers and get involved in surveys as well as practical work to improve water vole habitat in the Whitchurch area. Possibly one of the most important things that the group has done is to raise the profile of water voles. They have done leaflet drops and attend public events to inform local people about water voles and how to conserve them.
Kate has been fascinated by water voles since she was around 7, when she spotted a vole swimming along a stream whilst on a family holiday. She takes me to a field at the end of her road. To the untrained eye, it appears to be nothing special. It is tussocky and ungrazed. Along one edge runs a railway track and on the other side of the field is an industrial estate. In the middle of the field is a small brook, not more than a couple of feet wide. It is surrounded by the brown stems of willowherb and other marginal vegetation.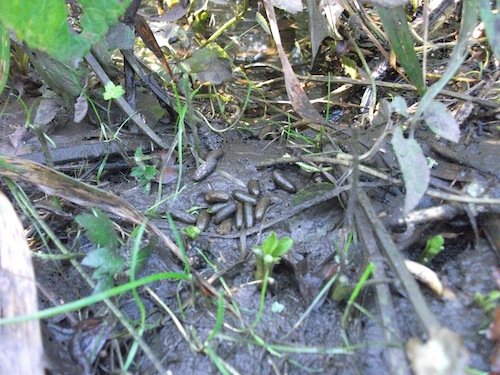 Despite its humble appearance, this field is home to a very healthy population of water voles. As we arrive at the waters edge, Kate immediately spots some fresh droppings. I am surprised at the size of them. They are a similar shape and size to a tic-tac sweet! Kate explains that the voles will mark their territory by leaving droppings in key places. We then spot a burrow. Water voles will nibble the vegetation from around the entrance to their burrow. They also do not leave a pile of spoil. These signs are a useful way of distinguishing between holes made by voles and those made by rats.
There are several factors that make the brook a good place for water voles. Kate explains that the brook rarely floods because the surrounding fields soak up water and regulate water flow. This point is important as water voles are not actually very good swimmers. When streams suddenly flood, the animals can drown. The marginal vegetation is also key to the success of the vole population. Voles need vegetation in which to hide and also on which to feed.
At this time of year, the voles will be preparing for the long cold winter. For most of the year the animals are territorial. In the autumn, their hormone levels become suppressed so that they can group up with un-related animals. They huddle together in their burrows to survive the winter, feeding on high calorie foods such as roots and tubers. New studies by Xavier Lambin at Aberdeen University have also suggested that voles use rotting waste material as a source of heat. Despite all this, the icy fingers of winter still steal many voles each year.
The second site that we look at is Greenfields Local Nature Reserve, located right next to a housing estate! As we examine areas of bare mud exposed in the recent floods, we spot some wonderful vole footprints. They have a distinctive 'star' shape.
One of the main problems for water voles is the abundance of mink along rivers and watercourses. These voracious predators can fit into a vole burrow and quickly decimate a population. In areas where water voles are present, the mink need controlling. Farming can also cause problems for voles. Overgrazing and poaching of watercourses by livestock reduces the marginal vegetation. Chemical run-off from the fields can also pollute the water.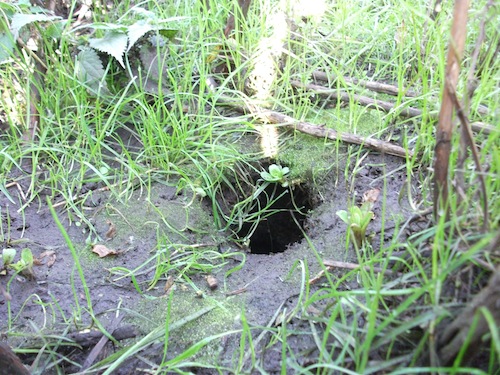 Kate explains that another huge threat to water voles in Whitchurch is populations becoming isolated preventing inter-breeding. If new development blocks the corridors of habitat that link populations, this can spell disaster for the animals. In The Wind in the Willows it is the stoats, weasels and ferrets from the Wild Wood that are the threat to ratty. Unfortunately in the modern countryside, there are many more dangers threatening these wonderful animals. Water voles need all the friends that they can get. At least in Whitchurch, they have people like Kate and the Community Water Vole Project to champion their cause.
Do one thing for wildlife this month
The success of Whitchurch Community Water Vole Project is an example of what can be achieved when people come together to save their local wildlife. All around Shropshire, groups are working hard to conserve particular groups of animals. Did you know that we have a Shropshire Mammal Group, Shropshire Ornithological Society, Shropshire Butterfly Group and a range of other local natural history societies? Why not take the opportunity this month to join a group that you feel passionate about? These groups rely on volunteers and when we work together, great things can be achieved!