Serve up a Strawberry Ace…
With so many strawberry varieties available, all in different shapes and sizes, take advantage of this year's 'berry' juicy crop with these recipes for a succulent summer treat.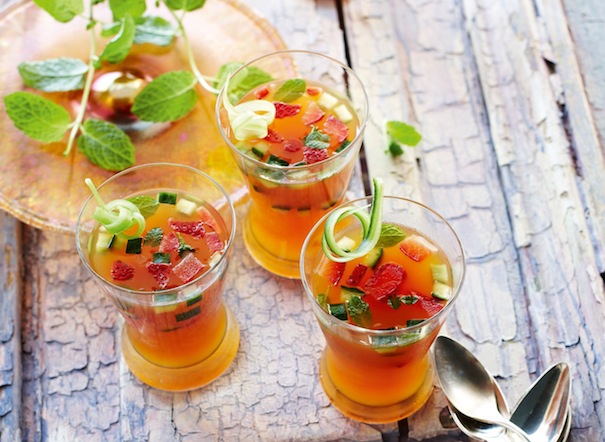 Pimm's jellies o'clock
(Serves 6)
Ingredients
200ml cloudy lemonade
100ml ginger beer
200ml Pimm's No 1
100ml freshly squeezed orange juice
A squeeze of lemon juice
100g caster sugar
4 leaves of fine-leaf gelatine
¼ cucumber, peeled and diced
150g strawberries, peeled and chopped
1tbsp finely shredded mint
Method
Mix the lemonade, ginger beer, Pimm's, orange juice, lemon juice and sugar in a pan, and bring to simmering point.
Meanwhile, soak the gelatine leaves in a bowl of cold water for 10 minutes.
Remove the pan from the heat. Squeeze the excess water out of the gelatine and drop it into the hot Pimm's mixture. Stir to dissolve.
Pour the liquid into a large jug and, when cool, transfer to the fridge until barely set (this may take up to four hours). Mix the diced cucumber, strawberries and mint into the jelly mixture and divide between six glasses. Transfer to the fridge and leave to set fully overnight.

Wimbledon Cake
Ingredients
3 large eggs, separated
100g caster sugar
zest and juice of 1 orange
75g semolina
100g strawberries
1 passion fruit
150ml whipping or double cream, whipped
Icing sugar, for dusting
Recipe requires one deep, round 20cm (8in) cake tin, and non-stick baking parchment
Method
Preheat the oven to 180°C/Fan 160C/gas mark 4. Grease the tin then line the base with non-stick baking parchment.
Measure the egg yolks, sugar, orange zest and juice and the semolina into a bowl and beat until thoroughly blended.
In a separate clean bowl, whisk the egg whites until they are stiff but not dry, then gently fold into the orange and semolina mixture. Turn into the prepared tin.
Bake for 30-35 minutes, or until well risen and the top of the cake springs back when lightly pressed with a finger.
Leave to cool in the tin for a few minutes then turn out, peel off the parchment and finish cooling on a wire rack.
Reserve a few strawberries to decorate the top of the cake, then slice the remainder. Halve the passion fruit and scoop out the pulp; reserve. To fill the cold cake, cut it in half horizontally and sandwich the slices together with the sliced strawberries, passion fruit pulp and whipped cream. Just before serving, decorate with the reserved strawberries, sliced or left whole, and sift some icing sugar over the top.