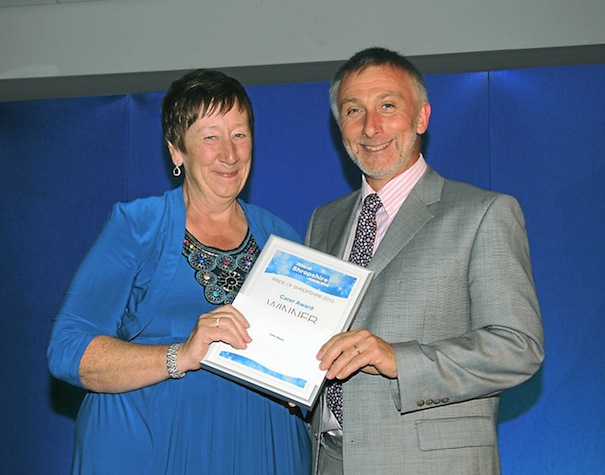 Pat Magner, a familiar face around Bridgnorth, won the Carer of the Year award at the recent Pride of Shropshire event held at Shrewsbury Town Football Club. A former What's What! local hero, Pat had been nominated by our own editor Sally Themans, who told the organisers, "As a foster carer, Pat gives children in her care hope and comfort, a home, and the security of being loved when they're at their most vulnerable. Over the past 28 years, Pat has taken in tiny babies only a few days old, as well as older children who have suffered tragically in their early lives."
Carl Jones, assistant editor of the Shropshire Star, who compered the ceremony, said, "The Pride of Shropshire Awards are a great opportunity to turn the spotlight on unsung heroes who've made an outstanding contribution to their communities, showing courage, determination and generosity."
Pat thanked What's What! for nominating her, saying, "The evening was a lovely experience and it was something special to be part of. I couldn't believe it when they announced the winners. I am, however, not the only foster carer who deserves an award – so many others work so hard. I'm lucky that I just love what I do."
Just to remind readers about Pat and her achievements, here's an extract from our 2010 Local Hero story:
Pat Magner will be a familiar cheery face to many in Bridgnorth… the lady who appeared to be eternally pushing a pushchair. "Will her children ever grow up?" I used to think when I saw her at the school gates. Well, the answer is that her own five children are all grown up now, but in the past 28 years in her role as a foster carer, Pat has taken in and provided a welcoming, safe and loving home environment for many – often very young – children in care.
Although admired and respected by so many people in Bridgnorth, Pat shuns the limelight. She loves doing what she does and is modest about her role. But as her friend and neighbour Sarah Jones pointed out, "Pat inspired me, her own children, and a lot of other people in the town to become carers of some description – whether it's childminding, fostering, nursing, teaching or even, like Pat's son Andrew, a care officer working with young offenders." The ripples of the 'Magner effect' reach far besides those vulnerable children who have been fostered directly by Pat and her husband Chris.
Chris remarked, "Pat is like a child whisperer – she just has a natural way with children – and with her, children have always come first and children are at the heart of what really matters."
To have dedicated your life to helping bring up scores of children, whilst at the same time inspiring your own children to follow this example of love and generosity, so that they too, can help to improve the lives of children, and encouraged friends and neighbours to do likewise though quiet example truly makes Pat Magner a very remarkable woman.