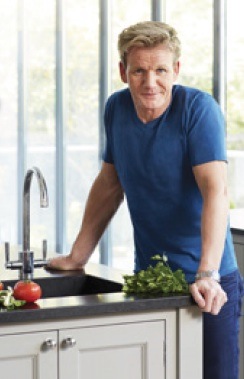 Gordon Ramsay is adding to his stable of cookbooks with a new guide to home cooking.
"I want to show that cooking can be fun," says Ramsey. "It's about encouraging people to take a fresh look at familiar ingredients, and throw in some new ones to create a delicious meal. I want people to have confidence in the kitchen."
Gordon maintains that home cooking should be stress-free.
"When you cook in a professional kitchen you must ensure every element is perfect," he says. "At home, you're cooking for your family and friends. It should be fun and, if something's not perfect, it's OK, you can keep practising!"
Here's a taste of things from Gordon's book with two recipes to try at home…
Homemade fish fingers (Serves 4)
500g white fish fillet, skinned (pollock is perfect)
4 sprigs of dill, leaves only
100g panko breadcrumbs (available at Sainsbury's)
4tbsp plain flour
2 free range eggs, beaten
Sunflower oil, for frying
Knob of butter
Slice fish into chunky fish finger shapes, down fillet rather than across it. Sprinkle lightly with salt. Cover. Refrigerate for 20-30 minutes to firm up.
Finely chop dill. Mix with breadcrumbs in a shallow bowl. Put flour into another shallow bowl. Season. Put eggs into a third bowl.
Using kitchen paper, rub any excess salt off the fish. Dust fish in flour and shake off any excess. Dip in egg, making sure all the sides are coated. Allow any excess to drip off, then cover in dill breadcrumbs. Roll fish between hands before cooking. This will get rid of any hard edges that might burn in the pan
Place a large heavy-based frying pan over a medium-high heat and add enough oil to lightly coat the bottom. When hot, shallow-fry the fish fingers on each side for 3 minutes. Add butter towards end of cooking to help crisp up and turn a deep golden colour.
Drain on kitchen paper if necessary and season with a pinch of sea salt before serving.
Baked spicy Mexican eggs (Serves 6)
Olive oil, for frying and greasing
1 red onion, peeled and diced
1 wide green chilli, sliced
2 garlic cloves, peeled, finely sliced
1tsp cumin seeds
1 x 400g tin chopped tomatoes
1 x 400g tin cooked black beans, drained and rinsed
4-6 corn tortillas, halved
6 free range eggs
50g cheddar, finely grated
2 pinches chilli flakes, or to taste
Small handful of coriander, finely chopped
Preheat oven to 180C/Gas 4. Heat grill as well if you have an oven grill function.
Place a frying pan over medium heat. Add a glug of olive oil. Add onion, chilli and garlic with a pinch of salt and pepper. Sauté for about 6 minutes or until until tender and dark golden. Add cumin. Cook until aromatic. Stir in tomatoes. Simmer for 5 minutes. Add beans, heat through for two minutes, then set aside.
Grease a baking dish with a little oil and sprinkle with seasoning. Line dish with tortillas, overlapping and raising slightly above the edge of the dish. Pour in tomato mixture. Make six little wells in it.
Break an egg into a cup and pour it into a well so that the yolk sits neatly in the middle. Repeat with remaining eggs. Sprinkle with cheese and chilli flakes and season.
Place dish two-thirds of the way up oven so that the grill (if on) can colour the cheese. Bake for 8 to 10 minutes, or until egg whites are cooked through, yolks runny and cheese melted and golden. If you don't have an oven grill, bake for a further 3 to 4 minutes.
Scatter with coriander before serving.