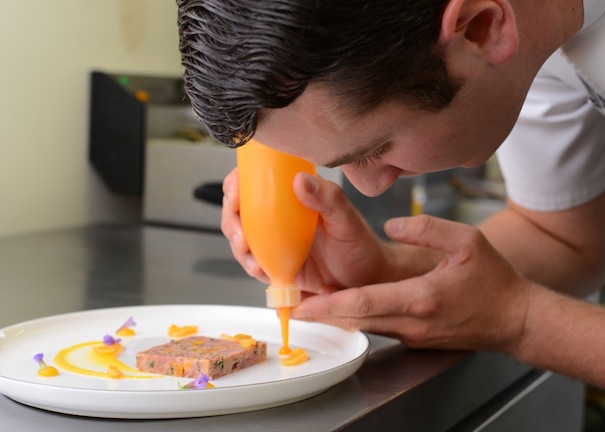 Much Wenlock's flagship dining venue has maintained consistently high standards since owner Kirk Heywood took the helm 23 years ago – and the arrival of talented chef Jason Hodnett seems to be driving standards even higher.
The Raven has a fascinating past. The building has in its time housed almshouses for the poor of the parish, the town's forge, and, during the 17th century, a coaching inn that formed part of a state-of-the-art national transport network! Upon entering through a carved portico, diners move through an airy foyer to a warm, cosy bar filled with absorbing memorabilia; a lovely space in which to gather over an aperitif before dinner.
We retired to the dining room, with its crisp, white furnishings, quirky glass lanterns, and crackling log burner, with high hopes for an enjoyable evening. The waitress was knowledgeable and attentive with just the right balance of friendliness and respect.
For starters, my companion ordered the slow-cooked duck with chorizo, goat's cheese and sesame, while I selected the parsnip soup. The duck was tender and flavoursome; my friend had been interested to see how the cheese would marry with the other flavours, but declared it an excellent foil for the spicy chorizo. The soup was full bodied and perfectly seasoned, with a crunchy garnish to add texture.
Most of The Raven's ingredients are sourced locally and, for those with an interest in provenance, providers are listed on the menu. The partridge, from Francis' of Ludlow, proved irresistible for my companion, while I was intrigued by the mushroom linguine 'with crispy pancake'. The partridge was accompanied by scorched plum and red wine scallop, presented within a swirl of sweetcorn cream – this careful selection of the freshest seasonal vegetables and meats is very much part of The Raven's trademark. The linguine arrived with a crown of crispy herb pancake – an ingenious textural foil to the smooth, earthy fungi and beautifully cooked linguine.
To finish, my companion selected the 'lemon meringue pie'. This modern take on a classic family dessert was a real showcase in pastry skills, with a crumble-coated lemon curd 'dumpling' alongside mini meringues and a tangy crème homemade lemon ice cream. For me, the 70% chocolate with sweet almonds was a decadent delight, every mouthful to be savoured, and a fitting end to an evening of delicious food and delightful conversation.
– Kerri Tyler
The Raven Hotel & Restaurant, Barrow Street, Much Wenlock Tel: 01952 727251