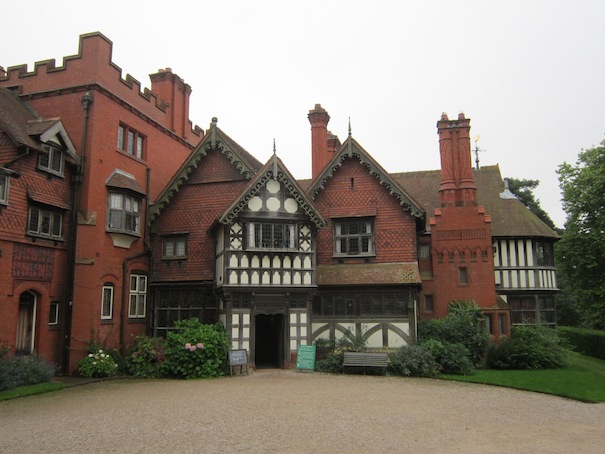 Wightwick Manor and Gardens will be decorated for a traditional Christmas throughout December. Between 7 and 9pm on Mondays 9 and 16 and Tuesdays 10 and 17 December, get into the festive feeling with carols in the great parlour. Cost £1o including mulled wine and mince pies.
History is one of my passions in life, so naturally I am an enthusiastic and regular visitor to the National Trust's portfolio of historic properties. One of the joys of living in Shropshire is that we have an abundant choice of properties to explore and enjoy. I make frequent use of my membership in Shropshire and neighbouring counties, but I had been studiously avoiding Wightwick Manor.
'Why?' you may well be asking. Well, it was the knowledge that Wightwick Manor was Victorian that put me off. I have an inbuilt horror of the way Victorians felt it was fine to throw every known type of architecture into one often overly grandiose building, producing a hotchpotch. It seems bizarre that, hot on the heels of the glories of the Georgian period's architecture with its pleasing sweeps and balance, the nation's aesthetic taste took a nosedive, with Victorian 'improvements' cropping up all over the place to ruin a building.
But finally to Wightwick Manor I went, complete with my 'architectural baggage', and I was, I have to admit, intrigued by the house. It's hard not to admire its mixture of antique and art deco furniture, its William Morris wallpaper and hangings, its superb collection of Pre-Raphaelite art and lovely gardens. Plus the food served in the stables café offered some of the best quality and presentation of any NT property in the region.
Wightwick Manor was originally a pretty mellow red brick 17th century house, whose estate became engulfed by Wolverhampton's expansion. In 1887 Theodore Mander, a prosperous paint and varnish manufacturer, and his wife Flora St. Clair traded up in grand style, from a semi in Wolverhampton to the Jacobean Manor, which had been divested of its estate but still retained large and attractive gardens.
But the house as it was simply wasn't grand enough: the aspirational Manders were moving up the social ladder and needed a larger building in which to entertain important guests, so, right on the doorstep of the old house, up went the Victorian edifice.
As you approach Wightwick, you are confronted with a long rambling half-timbered building; at first sight a glorious and pleasing Tudor house. My initial delight was quickly subdued when I turned the corner and came upon the main entrance. Here it was — the Victorian hotchpotch in all its exuberance. Tudor timber framing jostling with a harsh red brick tower topped with crenulations, soaring 'barleycorn' chimney stacks, Sussex pantiles, leaded light windows — all mashed up together. What were they thinking?
It seemed that the house was in two sections, as the Manders had extended over the years. From an upstairs landing window you can see where the 1893 addition was joined to the original house. This extension contains a grand Baronial type hall, a billiards room, and bedroom suites for guests — and a new, large, elegant dining room. The servants must have been thrilled by this new dining arrangement, as the kitchens remained at the other end of the house and food had to be transported some distance. Whether anyone got a hot meal in that house is a mystery. Looking at the two menus displayed in the dining room, with abundant courses of sophisticated and complex food, I spared a thought for the poor staff who had to get it there… and marvelled at the number of toasts listed — the guests must have all been legless by the time they got through that lot!
Its interiors are what Wightwick is famed for. Throughout the house almost every wall is covered in William Morris paper or hangings, and much of the soft furnishings were also produced by his firm. According to the NT, it's 'one of the few houses where the work of William Morris, among the greatest figures of 19th century design, can still be seen used as he intended'.
The original house was built for comfort: bathrooms and central heating were included — quite an innovation in 1887 — although latterly the central heating was perhaps not used much. Anthea Mander grew up in the house and continued to live there with her parents after they gifted it to the NT in 1937. Apparently the only time the house was warm was when it was opened to visitors on Thursdays and Saturdays! The rooms in the original house are not overpoweringly large; they have a homely sort of feel, with lovely plasterwork ceilings. In contrast, the vaunting interiors of the Victorian addition are, true to Victorian form, all for show and grandstanding.
– Jean de Rusett
Wightwick Manor and Gardens, Wightwick Bank, Wolverhampton, WV6 8EE Tel: 01902 761400. Open throughout the year: call for opening times.