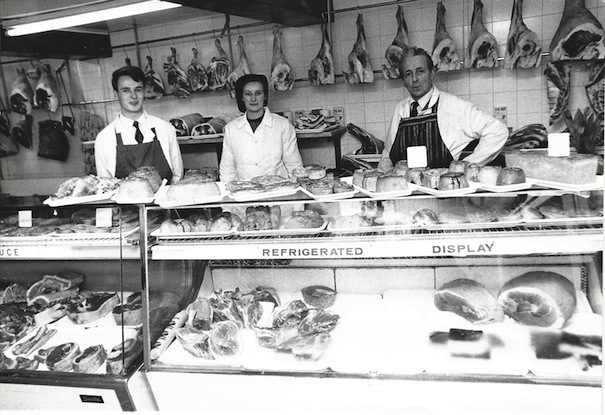 Paddy Ryan arrived in Much Wenlockin 1963 by way of Wexford, Carlisle and Penkridge – and his family are now still very much part of the town.
Much Wenlock, and indeed its wider environs, have for the past 50 years been blessed with one of the best traditional family butcher's firms in Britain. In 2009, A Ryan and Son won the coveted BBC's Food and Farming Award for Best Local Retailer. It's not hard to locate this local landmark – just look for the queue of customers spilling out onto the pavement of the High Street, waiting to be served by the knowledgeable and cheerful staff.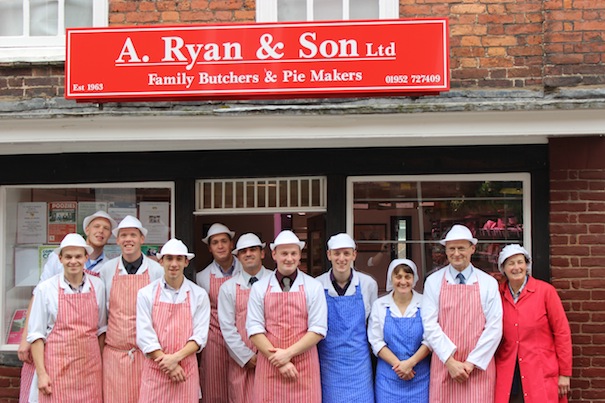 Our story starts in County Wexford… but not for long. Young Anthony Ryan (always known as Paddy) left Ireland in 1938, having trained as a butcher and gained employment with the Pioneer Meat Company of England. They sent him first to their premises in Carlisle to become part of their meat-packing management team. However, before the young trainee had made much of a mark, Herr Hitler marched into Poland and Paddy got swept up into World War 2.
By the time he was demobbed five years later, Pioneer Meats no longer had a position for him. So Paddy shut his eyes, stuck a pin in a map of Britain, and found he was destined for Penkridge in Staffordshire, where he secured employment with the local butcher. He had by this time met and married a young lady named Iris and they later moved to Bridgnorth, and thereafter to Much Wenlock, arriving in 1963. Paddy had passed through the town in 1942 whilst stationed in Bath with the Army – and had in fact mentioned Wenlock in glowing terms in letters to Iris. The premises on the High Street was a hairdressing salon at the time; converting the building for butchery use revealed an ancient timber framed building with a Georgian façade.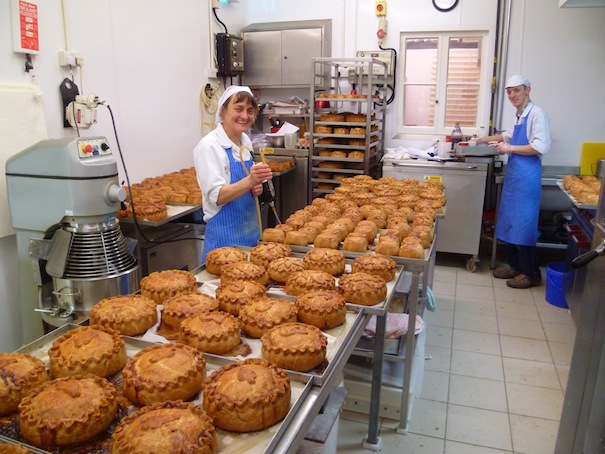 Paddy and Iris had three children, Paddy Jnr, Jennifer and Henrietta, and the family settled down happily in Much Wenlock, finding the locals friendly… so much so that the second and third generation Ryans all live and work in the town today. Paddy Jnr joined the firm in 1968, working alongside his father and sisters, learning the trade in time-honoured fashion – starting at the bottom and working his way up, until he took the reins of the business in 1982 after his father died.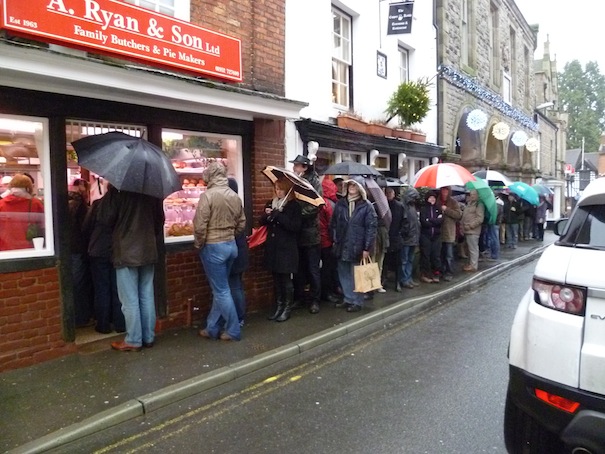 The business took a new turn following Paddy's marriage in 1983 to Sue, a home economics teacher at William Brookes School. Not only did they produce the next generation – Mike and Sam were born in 1984 and 1986 respectively – but Sue wanted to use her baking skills to bring a new dimension to the business and she started making Cornish pasties (yes – she's Cornish!). Their popularity led to Ryan's expanding her range, necessitating an extension doubling the size of the premises in 1988 to accommodate a bakery with three huge ovens. This space enables Sam and Sue to produce 48 varieties and sizes of pork, beef and game pies, plus lasagnes, quiches, sausage rolls – as well as cooking all their own meats. This is a labour of love: Work starts at 5.30am in the shop (except around Christmas when a 2.30am start is called for) and by 9am the team have usually baked at least 400 assorted pies and ready meals.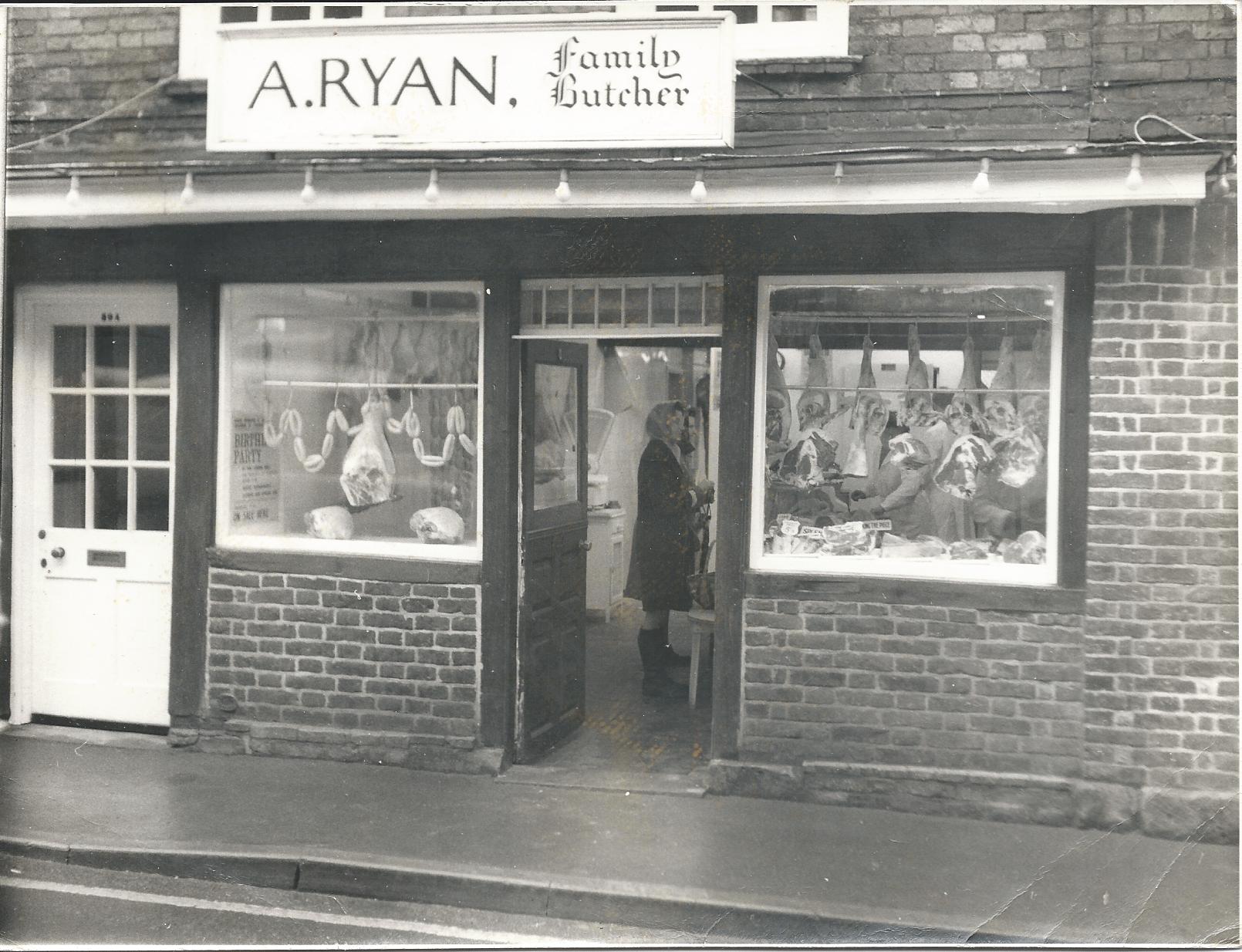 Paddy, and now Mike too, concentrate on the meat side of the business. They frequently visit the local farms from which they buy their pork, lamb and beef to check on conditions and select cattle for slaughter. As befits a traditional family butcher, Paddy prefers British cattle such as Herefords, Welsh Black, Aberdeen Angus and Devon Reds for the sheer quality of their meat, but it is becoming harder to source these breeds as many farmers are turning to the continental breeds, which grow larger and better suit the wider market. Apart from the quality of the breeds Paddy chooses, all his beef is hung for between two and three weeks, which allows the meat to mature and develop a depth of flavour.
Pork is Paddy's favourite meat: he enjoys exploring its endless 'manufacturing' possibilities. The Ryans make their own faggots, bacon and sausages, plus all the usual pork joints. They don't smoke their bacon but cure it, offering four varieties: my favourite is cured in salt and molasses, producing dark, sweet flavoured, bacon.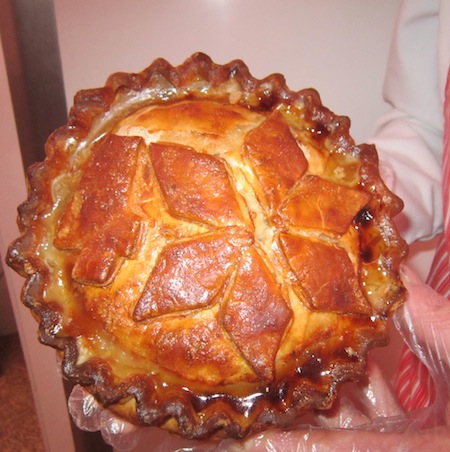 In Paddy senior's day, butchers tended to specialise, and his son talks of shops which sold just offal, black pudding, tripe and cows heels. Paddy couldn't offer me a cow's heel, but, emphasising his traditional family butcher roots, he can supply offal, black puddings and tripe: the latter he assures me is full of trace element minerals and is good baked in the oven with onions. Hmmm, well, someone seems to like it – he certainly sells plenty!
So, had it not been for Hitler and WW2, Paddy Ryan's of Wenlock would never have come into being. For that, as I tuck into my tasty Wenlock-made, very British sausages, I offer up some thanks.
– Jean de Rusett