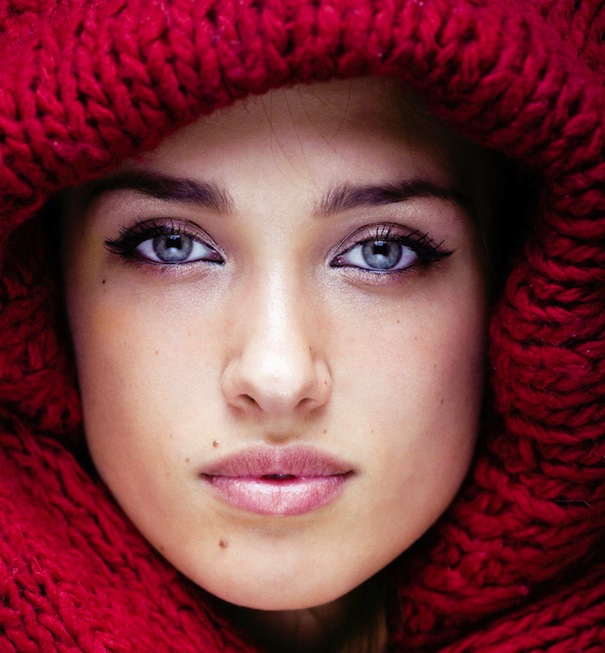 It's that time of year when we ramp up our party beauty regime but put skincare on the back burner.
Blame the weather. Swathed in layers, with limbs in tights to keep warm, it's easy to forget about your flesh until the return of spring.
Almost a quarter of women admit to neglecting their skin in the winter, according to a recent survey by skincare expert E45.
Most suffer from symptoms such as sensitive skin (27%), snakeskin-like legs (21%) and dry elbows and knees (25%).
"As the colder weather sets in, the low humidity in the air enhances its drying effect on the skin," says dermatologist Tabi Leslie.
"This, coupled with the increase in central heating and us trying to warm up with baths and showers, can really suck the moisture from our skin."
Step up your maintenance and winter-proof your skin for the frosty months ahead.
Chapped hands
Winter woe: Removing winter gloves to unveil red, chapped and angry-looking hands.
Exposed to the elements, hands often bear the brunt of cold weather, and dry hands are especially common in winter if you're prone to symptoms of sensitive skin like inflammation or eczema.
"Dryness and chapping can be caused by exposure to dry winds and cold water," says Leslie. "Sufferers with very dry skin are also more susceptible to sensitivity from soaps and other products."
Maintenance:Keep a tube of hand cream in your bag to keep hands hydrated on the move, and try to use immediately after washing hands. Before bed, use a rich formula that can soak in overnight to leave palms feeling soft by morning.
Red faced
Winter woe: No matter how much foundation you slap on, those red cheeks and Rudolph nose just won't disappear.
When you go from inside to outside in the winter, you're challenging your skin to adapt quickly from hot to cold and cold to hot.
"Unfortunately, this process causes the capillaries in the face to contract and expand rapidly leading to broken veins and skin redness," explains Dr Ariel Haus, a Harley Street dermatologist.
Maintenance: Protect your skin from temperature variations with Vitamin C. Try a hydrating serum containing vitamin C and antioxidants to minimise and soothe damaged skin whilst nourishing and protecting.
Snake skin
Winter woe: When you undress at night, your clothes are covered in an unsightly speckling of dead skin.
Cold winds and central heating both take their toll on your skin, sapping it of essential moisture.
"Many people experience itching, flaking and dryness in winter," says Dr Sam Bunting, a cosmetic dermatologist.
"The outer layer of our epidermis needs to maintain adequate moisture levels in order to preserve its function as a protective barrier."
Maintenance: Step up your skincare routine with intensely hydrating products. Apply your moisturiser to damp skin within two or three minutes of getting out of the bath or shower, to lock in moisture and minimise dehydration.
Cold customer
Winter woe: You feel like you've constantly got the shivers and only a steaming hot bath will help.
Ease up on the hot tap. When baths and showers are hotter than they should be, it can increase skin sensitivity.
"Hot water will strip your skin's barrier, increase circulation and heighten nerve responses in the skin – all contributing to increased sensitivity and prolonged flushing," warns Candice Gardner of International Dermal Institute.
Maintenance: Reduce your water temperature, ideally to tepid or slightly warm. If the very idea gives you a chill, at least cool the temperature down when cleansing your face, as the skin tissue on the face, neck and chest is more vulnerable to developing sensitivity.
Flaky Scalp
Winter woe: It's snowing … on your shoulders due to an abrupt case of dandruff.
Like the skin on your body, your scalp can become dehydrated during cold snaps. Upping the central heating can also create a sudden imbalance.
"An irritated dry scalp can throw your hair out of balance causing flaking, redness and all round upset," reveals Norris Ogario, founder of Ogario hair salon.
Maintenance: Soothe your scalp with a nourishing conditioner or hair mask that's free of harsh synthetic ingredients to help replenish lost moisture. Wearing a hat can also help protect your hair during the winter.