Lorraine Pascale's latest role is as a judge on Sky Living's new cookery show, My Kitchen Rules, with Michelin-starred chef Jason Atherton. Pascale has been something of a career chameleon having dipped her toe in hypnotherapy and car mechanics before eventually pursuing a food career. Despite her new position, Lorraine doesn't carry on the judging off-screen. "If someone's cooking for me, I just eat it," she says. "I don't criticise or judge. It's not all about the food. It's about connecting and talking to people."
Here are two recipes taken from Pascale's latest book, A Lighter Way To Bake.
Baked store-cupboard chicken with lime, honey & soy
Ingredients (serves 4)
8 chicken pieces, skin removed (drumsticks, thighs or a mixture)
8 garlic cloves, peeled, gently crushed
1tsp chilli powder
Leaves from 3-4 sprigs of thyme
Juice of 1 lime
Salt and freshly ground black pepper
A few mint leaves
For the glaze:
3tbsp honey
1tsp English mustard powder
½tsp soy sauce
½tsp Worcestershire sauce
Zest of 1 lime
For the sauce:
300ml chicken stock
2tsp cornflour
Salt and freshly ground black pepper
Method
Preheat oven to 220C (Fan 200C/gas mark 7).
Toss the chicken on a large roasting tray with garlic, chilli, thyme, lime juice and salt and pepper. Place in a single layer. Pop into the oven to bake for 25 minutes.
Meanwhile, mix honey, mustard, soy, Worcestershire sauce and lime zest in a small bowl.
Once chicken has been cooking for 10 minutes, remove and brush over half of the glaze. Repeat with remaining glaze after another 10 minutes of cooking. Cook for 5 further minutes, or until chicken is piping hot in the centre and cooked through.
Transfer to a serving plate and cover with foil to keep warm.
Put roasting tray on a high heat on the hob. Pour in all but about three tablespoons of the chicken stock, stirring all the time and scraping up any yumminess from the bottom of the tray. Blend cornflour with remaining stock until smooth and pour into the tray, stirring constantly.
Let this bubble away for two to three minutes or so, stirring occasionally, until reduced and thickened. The sauce may have a few lumps, which you can just sieve out before serving. Season to taste then remove from the heat.
Serve two pieces of chicken per person with a little sauce poured over and a scattering of mint leaves on top. Delicious with some brown rice and vegetables.
Blueberry & limoncello drizzle cake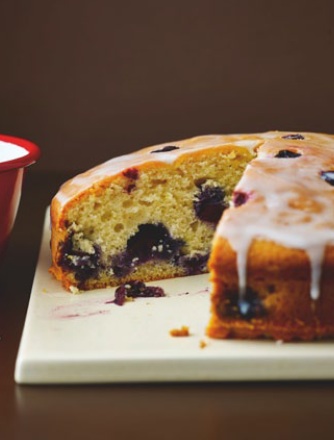 Ingredients (serves 12)
For the sponge:
Spray oil (vegetable or sunflower spray's fine)
125g caster sugar
100g unsalted butter, softened
100g full-fat Greek yogurt
2 eggs, lightly beaten
250g self-raising flour
4 egg whites
2tsp baking powder
½tsp vanilla extract
Finely grated zest of 2 unwaxed lemons (if waxed, wash them in hot, soapy water and dry them to get rid of the wax before using)
200g blueberries
For the topping:
50g icing sugar, sifted 2tbsp limoncello (or lemon juice for an alcohol-free version)
Method

Preheat oven to 170C (Fan 150C/gas mark 3) and set shelf in the middle. Spray a 20cm round, loose-bottomed, deep cake tin with oil, line bottom with baking parchment. Set aside on a baking sheet.
Put sugar, butter and yogurt into a food mixer or large bowl and beat like mad with a whisk until well combined. Now, this is not going to go all light, fluffy and pretty like its full-fat cousin, so you're just looking for some semblance of uniformity (it will have quite a few little lumps in, but that's OK).
Next, add the two whole eggs and half of the flour and beat for a good few minutes, until blended and a little smoother.
Whisk the egg whites until light and frothy. Fold them into the mixture with the rest of the flour, baking powder, vanilla and zest. Beat until you have a smooth batter. Stir though half the blueberries.
Pour into the tin. Smooth evenly with the back of a spoon. Arrange remaining blueberries, flat side down, on the top in a few lines across the centre. Pop into the oven for about 25-30 minutes or until a knife inserted into the centre comes out clean. The top should be a light golden brown and the sponge will feel firm to the touch.
Meanwhile, to make the topping, put icing sugar into a small bowl. Stir in the limoncello (or lemon juice) until smooth and runny mixture. Set aside.
Once cool, place it on a serving platter or cake stand. Slowly spoon the topping all over the sponge and allow it to pour over the edges beautifully. Cut into 12 wedges and serve. If making in advance, store it in the fridge.