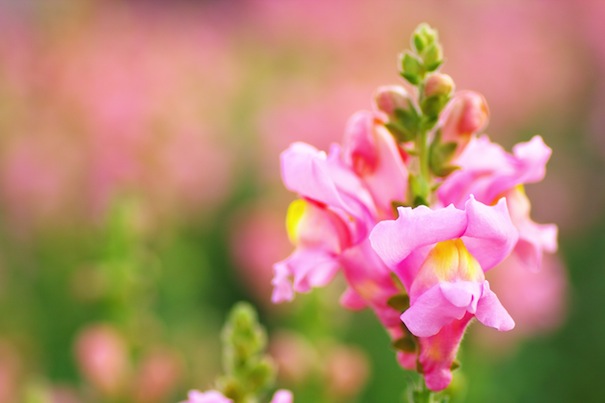 Action stations!
We've seen some good spring sunshine, but do still watch out for the odd late frost in the first part of May that can spoil fruit blossoms and kill any tender plants put outside too soon. Now's the time to get busy in your garden!
Veg out
There's plenty to plant out and do in the vegetable plot. Plant small quantities little and often to maintain a steady supply of veg throughout the summer. Sow or plant salad crops fortnightly. There'll be a full range of vegetable and herb plants available now in garden centres. If your ground is still on the wet side, start plants off in pots and plant into the ground a few weeks later once it's dried out more. Wet ground stays colder for longer, so warm it up by covering cultivated areas with cloches. Sow seeds under the cloches; once germinated, remove the covers during the day so that heat doesn't build up and scorch young plants. Don't plant out tomato plants or cucumbers until it's warmer at night – they need night temperatures of approximately 15C. Runner beans shouldn't be put out till the end of May.
A fruity feeling
Watch out for 'leaf curl' on peaches and nectarine; remove any damaged leaves and burn. Plants can be sprayed with a fungicide as the buds begin to swell, then again 14 days later. Spray gooseberries regularly against American mildew and sawfly – they can strip a plant almost overnight.
Charming containers
Start making up hanging baskets and tubs, using a good multipurpose or tub and basket compost that has added moisture control and slow release fertilizer. Browse the various types of baskets and liners until you find one that suits you. For a mixed basket, you need one good sized plant to put in the centre – geraniums or upright fuchsias are ideal for this job – surrounded by a mixture of trailing geraniums, trailing fuchsias and any of the large range of hanging basket plants available today. Once planted up, stand them outside on warm days to get established but bring them inside at night. One new idea for planting baskets this year is the new 'Trixi' plant – this is a rooted plug plant which contains three different plants which will grow together forming a mass of colour through the summer months – meaning you need fewer plants per basket. I saw them at Ball Colegraves' open day last summer and they were definitely had that 'wow' factor!
Watering and feeding
Water regularly – every day when the sun starts shining – and feed weekly with a plant food such as Miracle Grow or Phostrogen. Dead head often and your plants will give colour right through to the autumn. Top dress or liquid feed borders regularly. This is especially important this year as many soil nutrients have been leached away with all the winter rain.
Consider adding a water butt to one of your downpipes and use washing up and bath water – the soap won't hurt your plants, but it will help in the control of any aphids.
Summer bedding plants such as antirrhinums, asters and lobelia followed by marigolds, begonias, impatiens and geraniums can be planted outside from late May. Water well to get established then feed fortnightly and dead head regularly – keeping an eye out for slug damage.
The green green grass of home
As the weather heats up, your lawn starts growing… Weeds and moss can be treated with products such as Scotts 'Evergreen Complete' which will fertilize the lawn as well as killing weeds and moss. Never be tempted to rake out moss before killing it; you'll just make the problem worse. The moss treatment and lawn food I mentioned last issue – MO Bacter – can be applied any time from March through to September, bearing in mind that the fertilizer releases over a three-month period.
Jobs to do
Hoe borders frequently, preferably on a sunny day so any weeds that are beginning to get established will wilt and die off quickly; regular hoeing also allows air into the top layer of soil encouraging root growth. There's still time to put a mulch round plants, apply a top dressing of general purpose fertilizer beforehand – Growmore, Bonemeal or Fish, Blood and Bone.
Prune spring-flowering shrubs once flowering has finished – forsythia and flowering currants, for example – to produce nice long growths for next spring's flowers. Once clematis montana has finished flowering, prune back to encourage new compact growth.
Erect stakes, canes and plant supports round herbaceous plants now before they get too tall and flop over. Plant herbaceous plants in borders in groups of three or five for instant impact. Once aubretia and arabis have finished flowering, cut back all the foliage and fresh new growth will appear in a few weeks, often leading to another flush of flowers later in the year.
Spray roses fortnightly throughout the growing season against black spot and mildew using Roseclear Ultra or Multirose 2.
Happy gardening!
Gardening tips are provided by Ann Winwood of Lealans Garden Centre, Shipley.