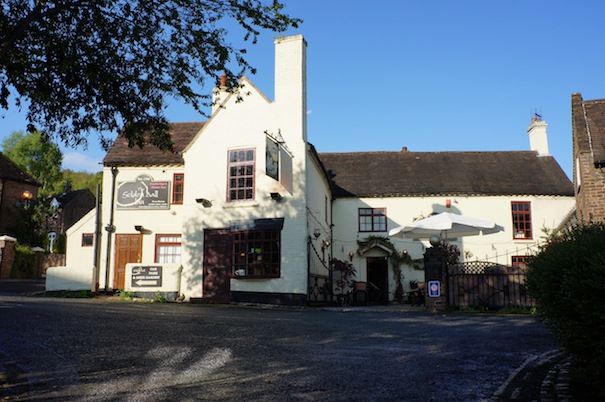 A legendary Ironbridge dining venue is better than ever, as Kerri Tyler discovered on a recent visit.
Set on a hillside overlooking Ironbridge Gorge, the Golden Ball is a true destination dining pub. It's a fabulous spot for a special meal with loved ones, but its friendly atmosphere makes it a popular drinking hole for locals, too – and its leafy vantage point gives it the feeling of being a hidden secret known only to a select few.
The truth is though, that this pub's success is no secret. It's one of the oldest pubs in Shropshire, and almost certainly the oldest in Ironbridge, and has offered consistently tasty dishes to faithful patrons for decades – and a change of management has given the menu a new lease of life.
Neither my companion nor I had visited the Golden Ball since manager Helen took over around a year ago – but we quickly realised we'd been missing out. The menu is written up on a large board to allow for the seasonal changes that the team make on a regular basis. They use as much locally sourced produce as possible, including meat from Broseley's Simon Gibbons. On our visit, starters included Tuscan prawn salad and creamy mushroom bruschetta, while on offer as mains were a hearty beef and vegetable casserole with mash and an oven-baked salmon supreme with wine and crayfish sauce.
My companion couldn't resist the allure of the chicken stuffed with garlic, chorizo and cream cheese, while I dithered for a while before selecting the aubergine with olives, feta and cherry tomatoes. We shared a decadent starter – creamy camembert, roasted to oozing perfection, and studded with garlic and rosemary for added punch – and took the time to muse upon our surroundings.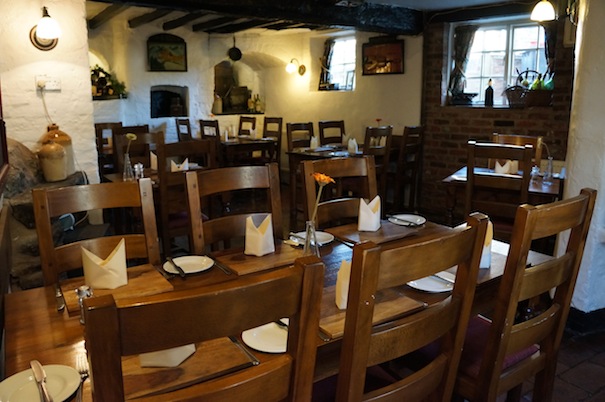 The pub has a split-level main bar for drinking and dining, done out in dark wood with many of the features that mark a long, rich history. The dedicated dining area is set off to the side of the main bar, and contains bric-a-brac with a brewing theme. Two alcoves set in the brickwork are filled with flagons and dried hops, and a water pump and wood stove provide conversation points.
Our own conversation sparked into life as our main courses arrived, looking every bit as good as the menu had promised. The chicken was tender and tasty, and stuffed with a perfect blend of spicy chorizo and smooth cream cheese, and the tomato and basil sauce surrounding it revealed chef Jess's talent for balancing flavours and textures – the same talent that saw her selected to cook as part of the catering team for the 2012 Olympics. My aubergine was packed with goodies – no skimping here on tasty bits, as rich olives and salty feta tumbled out from the soft flesh in abundance.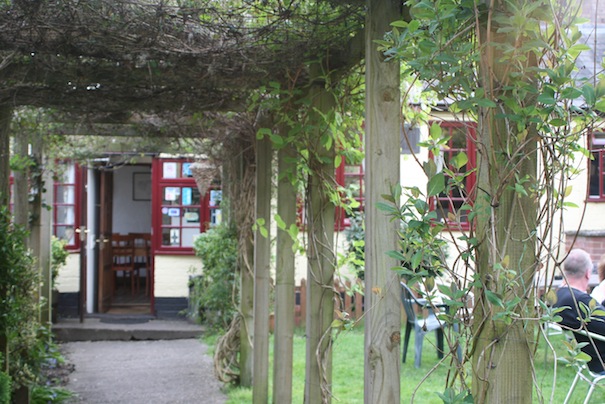 The dessert menu makes tempting reading – each is homemade, from the apple and cinnamon pancakes to the jam and coconut sponge. We elected to share a plum tart with homemade custard. The creamy custard was speckled with vanilla, and the batter of the pudding hinted at almond without overwhelming the tart sweetness of the plums.
As we walked out to see a huge silver moon sinking into the wooded vale below, we resolved not to leave it so long before returning to this very special Ironbridge inn.
Golden Ball
www.goldenballironbridge.co.uk
01952 432179
Mains around £8.50 to £11.95 (£21 for T-bone steak dinner); plus bar menu
Family friendly * Beer garden * Dogs welcome