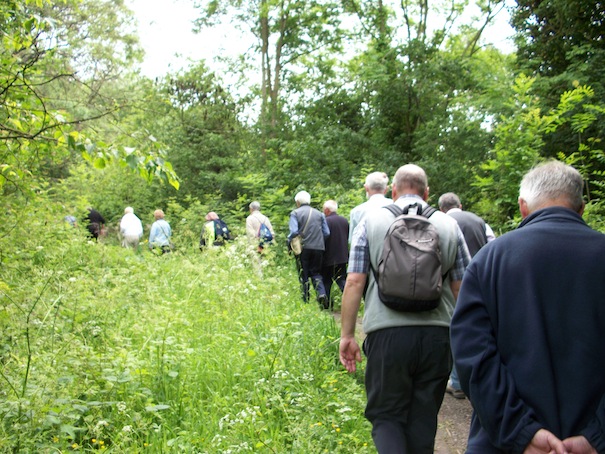 Shropshire in May and June is at its most glorious. Here's a guide to some of the many festivals, walks and activities that will help you make the very most of our peerless surroundings….
Get walking!
Get Walking Week is a nationwide event hosted by the Ramblers Association with the aim to encourage people to get active in the great outdoors – everyone is welcome and all the walks are free. It runs from Saturday 3 to 10 May. Here are some highlights but visit ramblers.org.uk for more. It's best to call the walk leader for details… and remember… one short walk may lead to many more!
Sat 3 May – Telford Town Park. A walk on paths by pools and woodland via Southall, Stirchley Village and St James Church. Four miles. Meet 10am at Telford Town Park Information Centre. Greg 01952 605391
Sun 4 May – Pulverbatch. Stroll over fields via part of Shropshire Way and on lanes around Pulverbatch. Lovely views. Five miles. Meet 10am at car park at site of castle. Dave 01952 247243
Mon 5 May (Bank Holiday) – Ironbridge. Meet 10am at the Ironbridge (car park at south end of bridge) for a historic wander crossing the bridges of the Severn Gorge, via riverside, disused railway tracks and woodland. Five miles. Anne 07903 325011
Wed 7 May – Worfield. Follow field paths, tracks and lanes via Rindleford. Pretty river valley and bluebells in abundance. Meet 10am at Worfield Village Hall. Five miles. Pam 01952 460828; 07977 452664
Thu 8 May – Little Wenlock. Walk along fields, paths and lanes, two stiles. Includes Bench Walk and Braggers Hill. Meet 10am at Little Wenlock Community Hall. Five miles. Chris 01952 242346 and Betty 01952 244902
Fri 9 May – Little Dawley. Walk paths and tracks through Rough Park, Coalbrookdale and Lightmoor. Five miles. Meet 10am at Castle Pools car park off South View Road. Cary 07879 447804
Sat 10 May – Edgmond Area. A gentle walk along well-used paths and quiet lanes passing places of interest. Return via Newport Branch of Shropshire Union Canal. Meet 10am in car park of Recreation Ground near to village hall in Edgmond. Five miles. Greg 01952 605391
Ironbridge Walking Festival – Hundred mile challenge launched!
Now in its ninth year, the Ironbridge Gorge Walking Festival will take place from Saturday 3 to Sunday 11 May. On offer are 50 free, varied and rewarding walks in and around the World Heritage Site. This year sees the first 100 Mile Ironbridge Challenge with participants finishing seven specified walks on seven different days with the combined mileage topping 100 miles. To mark the centenary of the start of WW1, a guided walk will visit memorials to the fallen and sites connected to both World Wars on Saturday 10 May. Booking is essential; well-behaved dogs on a lead are welcome on most walks. To book, email on tic@ironbridge.org.uk or call 01952 433424; details can also be found on visitironbridge.co.uk/walkingfestival.
Alveley to Enville
Thursday 15 May 10am-4pm at Severn Valley Country Park. A 12-mile guided walk with ranger, taking in Enville Hall and parkland. Wear walking boots and bring a packed lunch and drink. Please call 01746 781192 to book.
Wenlock Olympian Marathon
The third Wenlock Olympian marathon and half marathon take place on Sunday 18 May. Both events will start and end in Much Wenlock and a new circular route has been planned along a mainly off-road route, down to Ironbridge and round through the old Wenlock Borough then back to Much Wenlock. There are still some places left so register now for a great run through the stunning Shropshire countryside. Find entry forms at wenlock-olympian-society.org.uk
Trail race and family fun run
On Sunday 8 June there will be a 5km trail race and 2km fun run at the Severn Valley country park. Call 01746 781192 for details.
Wildflower walk
Thursday 19 June, 1.30-3.30pm at Severn Valley Country Park. Discover the many species of wildflower around the park including yellow rattle, common spotted orchid and adder's tongue.
Riverside walk… plus steam train!
Enjoy a walk along the river from the Severn Valley Country Park to Bridgnorth on Sunday 22 June from 9.15am to 4.30pm, returning via steam train. Book in advance. Adults £10 Children £6, including the train. Call 01746 781192.
Marvellous mammals
Learn how to identify different mammals via footprints and droppings with the Shropshire Mammal Group at Severn Valley Country Park.. Check small mammal traps and review camera footage to see which animals have been active overnight. Saturday 28 June 9.30am-12pm. Adults £3 Children £1.50. Call 01746 781192 to book.
Ramblers Association walks
Car sharers leave Forge Retail Park, Telford at 9.30am. Bring lunch and drink. Call leader to confirm details (essential).
Sun 11 May – Bridges /Long Mynd – Excellent views. Nine miles. Ron 01952 461770
Thu 22 May – Hopesay – Bluebells, hay meadows and superb views. Eight miles. Anne 07903 325011
Sun 25 May (Bank Holiday) – Wenlock Edge. An undulating walk with lovely views. Nine miles. Pamela 01952 242322; 07790 656440
Thu 29 May – Much Wenlock; A leisurely undulating walk; good views. Four and a half miles. Gwyn 01952 254733
Sun 8 Jun – Whittington – Walk via lanes and fields to Hindford, along the Llangollen canal to New Marton. Ten miles. Jane 07814 486632
Thu 26 Jun – Seaside walk – Take 8.59am train from Telford to Borth. Walk follows coastal path to Aberystwyth. Seven miles. Betty 01952 244902