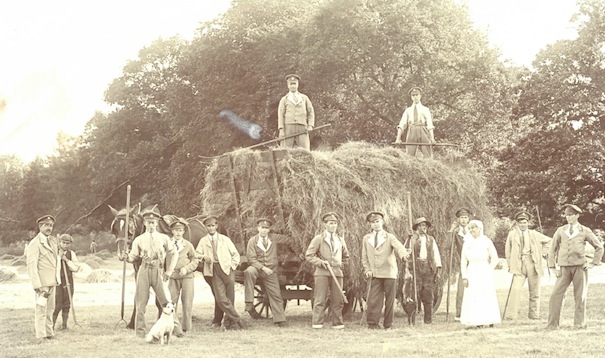 Soldiers returning from the horror of the trenches of Europe found themselves in the tranquil setting of Worfield, where they came to recuperate and be cared for in the village hospital.
As we approach the 100-year anniversary of WW1, a group of local history enthusiasts are paying tribute to the vital role citizens of their parish played in the Great War – particularly in caring for wounded soldiers coming back from the Front. Worfield History Exhibition is a two-day event to be held on 14-15 June at the Lower Hall Garden Rooms, Worfield. The exhibition spans 10,000 years of history from the Bronze Age to the present day, but one of the most fascinating historical eras covered, and also the most evocative and poignant, is that of the First World War.
Worfield played a vital role in caring for the sick and injured, akin to the story and setting of the BBC's new popular WW1 drama, The Crimson Field, which brings to life an army field hospital and the critical responsibility of the nurses who cared for them.
The Voluntary Aid Detachment – or VAD, as it became known – was set up by the War Office to care for the sick and wounded as part of a national contingency plan should Britain go to war. The VAD was coordinated by the British Red Cross Society with the help of the St John's Ambulance Service, and all over the country the response was astonishing as people responded to the call, attending first aid classes and volunteering.
VAD Worfield 42 was under the supervision of Helen Corbett of Stableford Hall. Eleven casualties arrived from the Front in February 1915 and by October the convalescent hospital in Worfield Recreation Room had its full quota of patients. Local people donated gifts of food and tobacco, the grounds of the local big estates, Davenport and Wyken, were made available as places for the men to recuperate, and car rides were provided.
It's hard to imagine how the country would have coped with the influx of wounded soldiers without these VAD hospitals and their volunteers. For the soldiers, it must have seemed like heaven being transported to a beautiful place like Worfield, still now one of the prettiest villages in England, compared with the ghastly experiences they had recently suffered in the trenches.
Worfield History Exhibition is a family event, and will feature a 'walk through' history exhibition, a steam rally, vintage vehicles, costumed characters, teas, flower displays, guided tours and walks, along with a fair. For more information see facebook.com/worfieldhistoryexhibition.