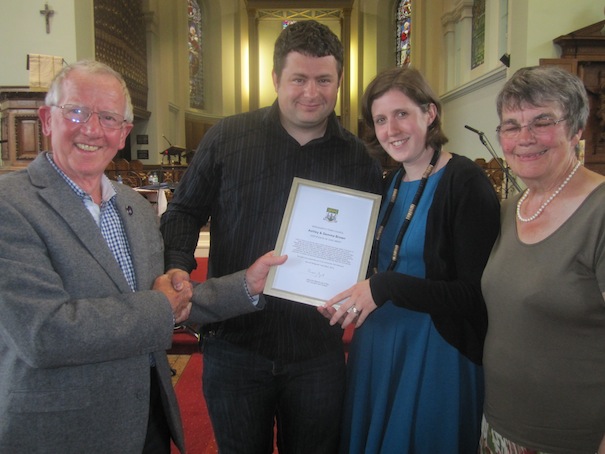 It's surely one of the most impressive of human traits: the ability to turn tragic circumstances into something good and positive, something which will help others and provide a lasting legacy.
That's precisely what a remarkable couple from Bridgnorth have done. Gemma and Ashley Brown lost their son Cameron six years ago when he suffered a sudden asthma attack. Since then, they have turned this heart-breaking situation into a campaign to raise money for Asthma UK (Cameron's Fund) – to help heighten awareness and fund research, and they were delighted to have recently reached the £50,000 milestone. They have been recognised by Asthma UK and by the Town of Bridgnorth, when they were presented with a Certificate of Civic Merit by the outgoing mayor Ray Gill.
At the Mayor Making ceremony in the town hall, Ray Gill addressed Gemma and Ashley directly, saying, "I wish to honour you for the way in which, following the tragic death of Cameron, you have been an inspiration to so many people both near and far. Despite having good reason to withdraw within yourselves, and even become bitter about life, you continued to be outward looking and have given yourselves unstintingly in service to other people. We need more people like you in our community. God bless you."
One of the major fundraisers for Cameron's Fund has been Bridgnorth man Dana Power, who we featured last year as a What's What! Local Hero. Many will have seen Dana running in his 'Puff the Dragon' costume, and the sponsorship collected as he has run various full and half marathons has helped swell the funds by the amazing sum of £15,000. Gemma and Ashley, supported by Rebecca Ballantyne from Asthma UK, presented Dana with a medal to show their gratitude at a recent lunch to celebrate and thank all those who have contributed.
And it's true saying that 'givers get': Happily, the Browns have gone on to have two more sons, Matthew and Jason. Both suffer from asthma, the youngest a particularly complicated form, and in a twist of fate that shows the vital part fundraising can play in medical research, he has already benefited from research conducted using funds raised in memory of his older brother.
A recent report by the Royal College of Physicians has identified that hundreds of asthma patients are dying needlessly, half due to prescribing errors of preventative medicine, and half due to the fact sufferers and those around them were not looking out for or were not aware of the warning signals of an oncoming attack. The money that Gemma and Ashley Brown are raising will go directly to Asthma UK to help raise awareness levels and educate people about asthma, so as to avoid these needless tragedies.