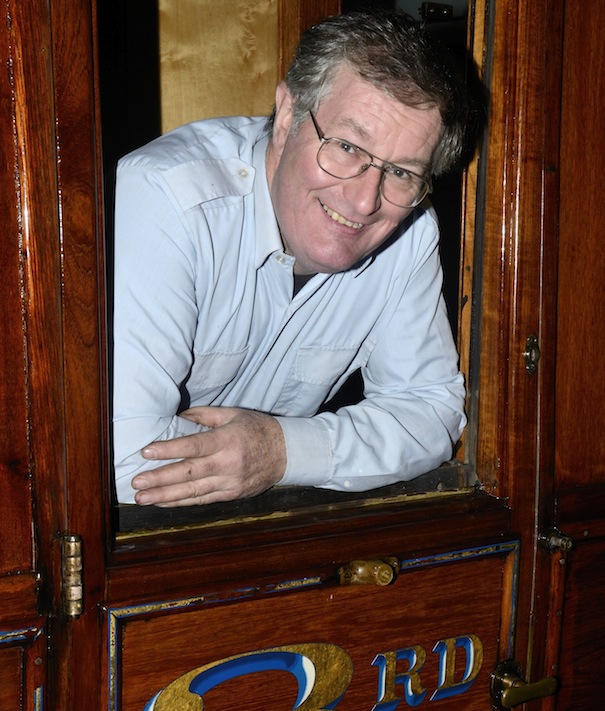 Sally Themans takes a look at one of Bridgnorth's crown jewels and celebrates its guiding light, chairman Hugh McQuade.
Living in Bridgnorth for the last 25 years, I'm sometimes guilty of taking the Severn Valley Railway for granted. Whilst we love showing it off to visitors and treating our little ones, how often do we think about what goes on behind the scenes of this jewel in Bridgnorth's crown?
Hugh McQuade is the chairman of the Severn Valley Railway Charitable Trust and the driving force behind the new Heritage Skills Training Academy, as well as a lifelong volunteer, and he works hard to protect this wonderful piece of working heritage on our doorstep.
A railway heritage
Hugh comes from 'railway stock'; his granddad and uncles all worked at the Darlington Loco Works and as a baby he was taken in his pram to look at trains on the Kings Cross mainline. Hugh saved his pocket money to join a railway preservation society, just as British Railways phased out their final steam engines in August 1968. As soon as he was old enough – in fact the day after his last O Level in 1972 – Hugh arrived at the Severn Valley Railway in Shropshire as a volunteer and was helping to unload a loco off a lorry within the hour.
Hugh joined British Railways and enjoyed a stint at Paddington in the 1970s, first as station announcer and later as station manager's clerk. After a stint of catering training, he rejoined the railways as a freight train guard at Saltley Depot in Birmingham, rising through the ranks to become a coal train coordinator for trains to power stations and collieries.
But Hugh's great love remained the Severn Valley Railway, which he has served for over 40 years as a volunteer, sitting on the board of the charity where, as the only professional railwayman, his experience has been invaluable. He worked up to 40 hours some weeks restoring coaches at Bridgnorth throughout the late 80s and early 90s.
When British Rail was privatised in 1996, Hugh took voluntary redundancy and became a full-time employed coach restorer in the SVR's new paint shop at Kidderminster, doing what he loves best. He is now responsible for the bodywork, upkeep and repair of about 60 working coaches alongside four paid staff and nearly 50 volunteers.
Passing on vital skills
Recently Hugh has been closely involved with setting up the SVR's pioneering Heritage Skills Training Academy, which was established to ensure a new generation had the right skills to secure the Railway's future. "I was aware of the impending retirement of many of the fitters and machinists who restore and maintain the railway's fleet of vintage trains," explains Hugh – so the academy began its pilot year with the first apprentices in September 2013.
As chairman of the Trust, Hugh has been instrumental in leading the railway, which welcomes over 200,000 visitors a year, through a variety of challenges – all with a view to guaranteeing a secure future for the line.
Hugh is still a volunteer guard and still restores coaches at Bridgnorth in his spare time. And when he's not working on trains, he is busy restoring an 18th century cottage at Hampton Loade. "The Severn Valley Railway is 11 feet from the door – so I can keep an eye on things!" chuckles Hugh.
Hugh has that rare quality of seeming to have all the time in the world for people. When he talks about the Severn Valley Railway, he calmly draws you in to a world that he knows and loves so much – small wonder so many of the Railway's new generation of devotees find him absolutely inspirational.
Fifty Golden Years
Back in July 1965, a group of railway enthusiasts met at a Kidderminster pub, with a view to resurrecting a line that had come under the notorious Beeching axe – and the rest is history.
This year marks the 50th anniversary of the founding of the SVR, and there will be special events throughout the year. You can channel your inner Harold Lloyd as you witness the iconic pump trolleys making their way from Bridgnorth to Hampton Loade in a tough team contest on April 27, or join in with a range of events and activities as part of the Golden Anniversary Spring Steam Gala from March 20 to 22. To find out more about these events and others, visit www.svr.co.uk or call 01562 757900.