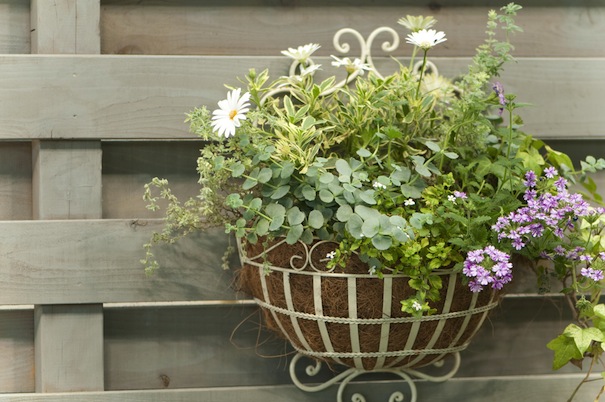 With the onset of May comes the feeling that summer is on its way…. There's plenty to do in the vegetable plot at the moment, so most of us will be itching to get out and get busy.
Keep the food coming…
Plant smaller quantities little and often to keep a steady supply of veg for your kitchen, and sow or plant salad crops fortnightly. If your ground is on the wet side, start plants off in pots and plant into the ground a few weeks later once it's dried out more. Wet ground will stay colder for longer as well, so to encourage it to warm up more quickly, cover cultivated areas with cloches: on a sunny day it will soon warm up and you can then sow seeds under the cloches. Once they've germinated, remove the covers during the day so that heat doesn't build up and scorch young plants. Remember, don't plant out tomato plants or cucumbers until it's much warmer at night – they soon go blue if they're cold! You can start them off inside but they need night temperatures of around 15 degrees – and runner beans shouldn't be put out till the end of May either. Lift early potatoes as they come into flower and earth up maincrop varieties, watering in very dry weather.
Protecting fruit
Spray gooseberries regularly against American mildew and sawfly – they can strip a plant almost overnight. Cover fruit bushes with netting to stop the birds getting your fruit before you do. Spray fruit trees before flowers open and after fruit has set to keep bugs and diseases under control – Provado Ultimate Bug Killer and Systhane are two good ones, but ensure you always follow the directions on the bottles.
Hanging baskets with the 'wow' factor
Start making up hanging baskets and tubs, but don't leave them outside at night until the beginning of June, as a late frost will spoil them. Use a good multipurpose or tub and basket compost that has added moisture control and slow-release fertilizer. Once planted, they can be stood outside if we get a nice warm day, but bring inside at night. Don't be tempted to put them in a dark garage or shed; they need good light levels at the moment to get established. Water your containers every day once the sun starts shining and feed weekly with a plant food such as Miracle Grow All Purpose or Phostrogen. If you dead-head them frequently, your plants will give colour right through to the autumn.
Border control
Top-dress or liquid feed borders regularly. Feeding a weaker solution more often is probably better than one big dose at the beginning of the season, unless you are using slow-release granules, which last for three months.
Watch out for slug damage on young herbaceous plants and summer bedding such as marigolds. Use slug pellets or one of the natural controls that are available. Slug Gone is a relatively new product that is made from wool; it consists of pellets that you put round the base of plants; once dampened, small fibres act as an irritant to slugs.
Colourful bedding
Summer bedding can be planted outside from the end of May onwards, providing there aren't any late frosts. Antirrhinums, asters and lobelia should go in first, leaving marigolds, begonias, impatiens and geraniums until the beginning of June if necessary. Water well to get established, then feed fortnightly and dead-head regularly.
Hoe borders frequently, preferably on a nice sunny day, and any weeds that are beginning to get established will wilt and die off quickly; regular hoeing will also allow air into the top layer of soil and encourage root growth. There's still time to put a mulch round plants if you haven't already done so, but apply a top dressing of general purpose fertilizer beforehand – Growmore, Bonemeal or Fish, Blood and Bone all work well.
Caring for shrubs and roses
Prune spring-flowering shrubs such as forsythia and flowering currants once flowering has finished – this will produce nice long growths for next spring's flowers. Once clematis montana has finished flowering, prune back to encourage new compact growth.
Continue to spray roses fortnightly throughout the growing season against black spot and mildew using Roseclear Ultra or Multirose 2.
Lawns to die for
As the weather improves the grass will start growing and need cutting. Do a light cut first, gradually reducing the mower height over several cuts. Weeds and moss can be treated with products such as Scotts Evergreen Complete, which will fertilize the lawn as well as killing weeds and moss. Never be tempted to rake out moss before killing it… you'll just make the problem worse. MO Bacter the organic moss treatment can be applied to your lawn at any time from March until to September – but bear in mind that the fertilizer releases over a three-month period.
Happy gardening!
– Gardening tips are provided by Ann Winwood of Lealans Garden Centre, Shipley