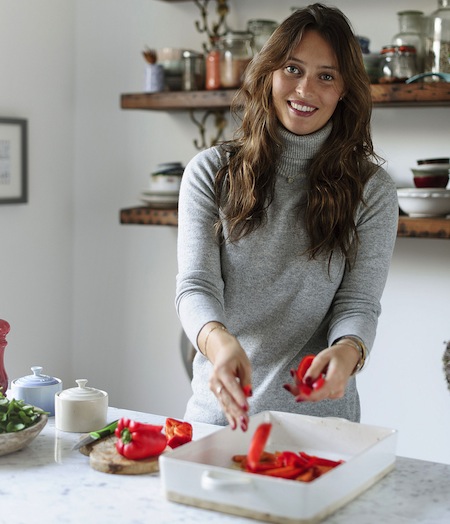 Whether she's whizzing up veggies for a juice or heading to yoga for a morning stretch, award-winning food blogger Ella Woodward glows with good health.
But just four years ago, Woodward's health was waning, and she was diagnosed with postural tachycardia syndrome (PoTS), a potentially debilitating condition which affects the autonomic nervous system. Woodward found that traditional treatments only went so far and decided to completely change her approach to eating, cutting out meat, dairy, sugar and processed food.
"It was a gradual process," explains the 23-year-old, who was inspired after reading about an American cancer patient who found making changes to her diet helped her manage her illness.
"After a few weeks of living and eating differently, I started to feel minor changes. It took 18 months for me to say, 'OK, I feel like I'm really healed'…"
Ella started blogging about her experiences on deliciouslyella.com and last year scored a hefty seal of approval in the form of a Blogger Award from Red magazine.
She's just released her first book, also entitled Deliciously Ella, and we've picked out two tasty recipes for you to try at home.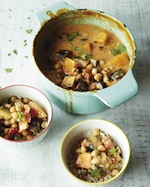 Coconut Thai curry with chickpeas
(Serves 4)
Ingredients
2 x 400ml tins coconut milk
2 x 400g tins tomatoes
2-3cm piece of fresh ginger, peeled and grated
1-2tsp chilli flakes
1 large butternut squash (1kg)
2 medium aubergines (600g)
Handful of fresh coriander, finely chopped
1 x 400g tin chickpeas, drained
3tsp brown miso paste
Method
Preheat oven to 200C (fan 180C).
Put coconut milk, tomatoes, ginger and chilli into a large oven-proof saucepan. Season. Heat until boiling.
Peel squash and cut squash and aubergines into bite-sized pieces. Add to coconut mixture.
Place in the oven for about 30 minutes. Add coriander, chickpeas and miso. Return to oven for 30 minutes or until squash is soft.
Serve with brown rice, if desired.

Sweet potato brownies
(Makes 10-12)
Ingredients
2 medium-large sweet potatoes (600g)
14 Medjool dates, pitted
80g ground almonds
100g buckwheat or brown rice flour
4tbsp raw cacao powder (or use conventional cocoa powder, but double the quantity)
3tbsp maple syrup
Pinch of salt
Method
Preheat oven to 180C (fan 160C). Peel potatoes, cut into chunks and steam for 20 minutes, or until really soft and falling apart.
Place in a food processor with dates. Blend until a smooth, creamy mix forms.
Put remaining ingredients into a bowl. Add potato mixture and stir well. Place in a lined baking dish and cook for 20-30 minutes, until a fork inserted into the brownie comes out clean.
Allow to cool for about 10 minutes. This is really important, as the brownies need this time to stick together!