Clean up your plate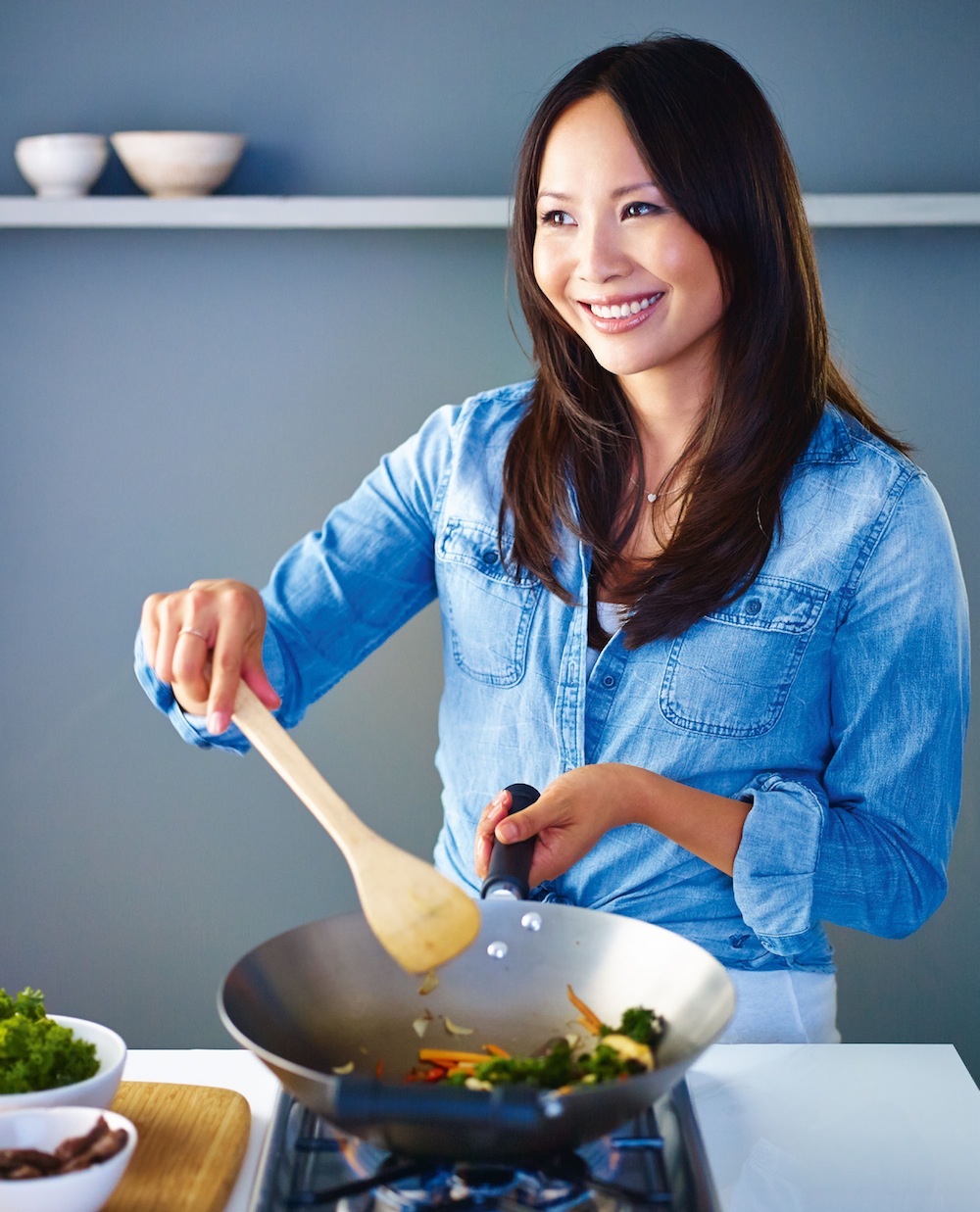 Back in 2011, TV presenter and cookery writer Ching-He Huang began to suffer from allergic reactions, weight gain and tiredness.
As a healthy eater with a balanced diet, Taiwanese-born, London-based Huang couldn't work out the cause of her health problems, and embarked on a diet detox to combat them.
After making changes, ditching processed grub and eating 'clean' – fresh greens, salads, soups and fruit – the self-taught chef started to notice an improvement in just two weeks.
"Through a process of elimination, I found out that it wasn't the actual food or the ingredients I was allergic to, it was what the ingredients were covered or preserved in," she recalls.
Huang discovered it was sulphites – used as preservatives in the production of some food and drinks – that were giving her the reactions.
"We have more food available [today], but actually, when you break that down, most of it's not really food. It's chemicals, it's processed food, it's food that can't be found in its natural form," she notes.
"Just like the planet, we have our own little ecosystem," the 36-year-old adds. "I thought, 'Here I am trying to get people to love Chinese cuisine, but what's more important is people's health, and eating for health', so I decided to clean my own recipes up. Because it starts with you, to share and promote this way of eating that's more mindful of one's own health."
Huang, who moved to the UK with her Chinese parents aged 11, has poured her experience and findings into a book of healthy recipes, called Eat Clean: Wok Yourself To Health.
Dishes in the book include Nourishing Mixed Seafood Miso Broth; Garlic, Basil, Tomato, Aubergine and Soba Noodle, and Smoked Tofu With Dinosaur Kale.
It also contains Huang's advice on eating clean – from a diet made up of 80% plant-based foods and 20% organic meat, fish, dairy and eggs, to using seasonal products and reducing sugar intake – and her top 20 clean foods, which include garlic, dark leafy greens, avocado and fresh chilli.
Despite her passion for healthy eating, the chef – who studied economics and ran her own food production business before becoming a writer and presenter – confesses she's "no saint".
"I have a sweet tooth and that's been the hardest to curb," she says with a laugh. "It's a daily battle, of course it is!" And while she admits eating clean can be technical and "perhaps makes people think about food in an unsexy way", Huang says it's time to face up to what we consume.
"We have to really uncover the best ingredients to sustain our health for the long-term," she adds.
Want to try some of Huang's dishes at home? Here are three recipes from Eat Clean…
Wok-Fried Asparagus, Oyster Mushrooms and basil with Avocado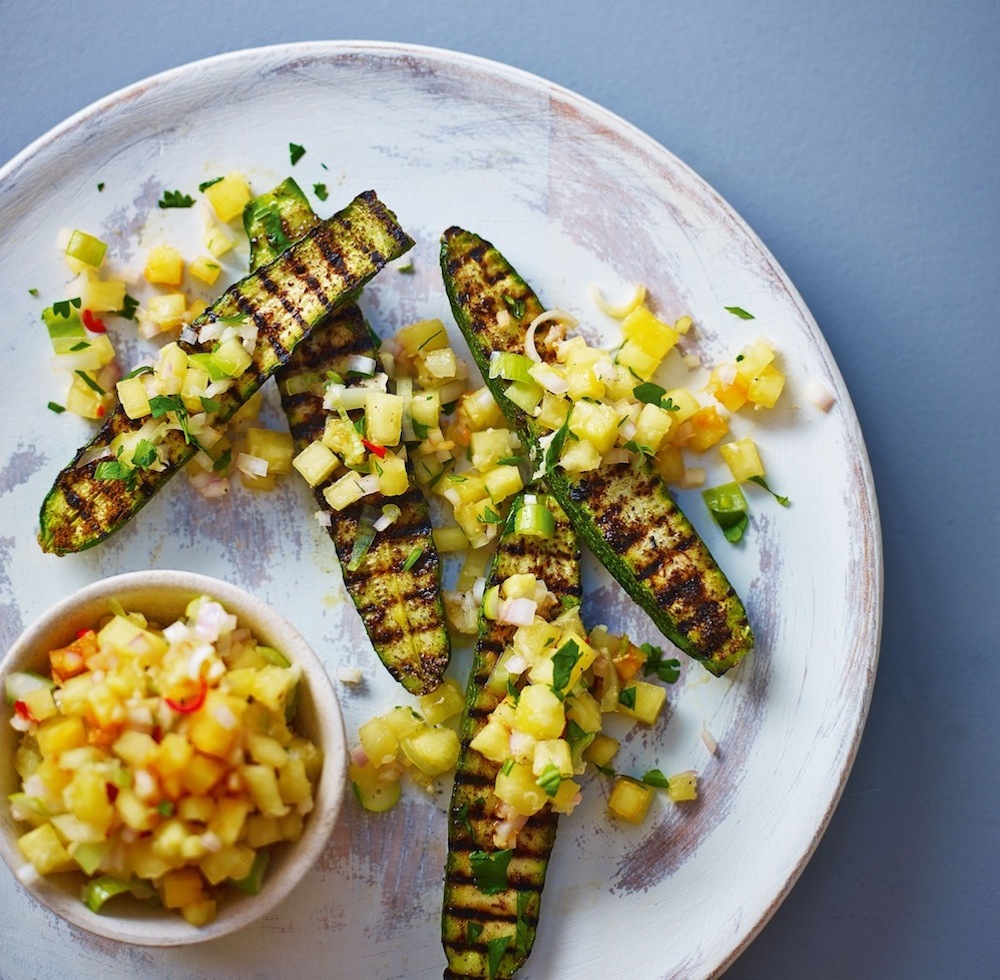 (Serves 1)
1tsp coconut oil
1 garlic clove, crushed, peeled and finely chopped
100g tender asparagus spears, washed and sliced in half, on an angle
50g grey oyster mushrooms, rinsed
3 cherry tomatoes, sliced in half
1tsp low-sodium light soy sauce
1 pinch of cracked black pepper
1 small handful of basil, sliced
1/2 avocado, peeled, stoned and sliced
Method
Heat a wok (or pan) over a high heat and add the coconut oil. As the oil starts to melt, swirl it around the wok.
Add the garlic and stir-fry for a few seconds, then add the asparagus and oyster mushrooms, toss and cook for two to three minutes until the vegetables have softened a little.
Add the cherry tomatoes and soy sauce and toss together.
Season with the black pepper, then add the basil and stir through.
Take off the heat and serve with the avocado.
Grilled Baby Courgettes with Pineapple Salsa Verde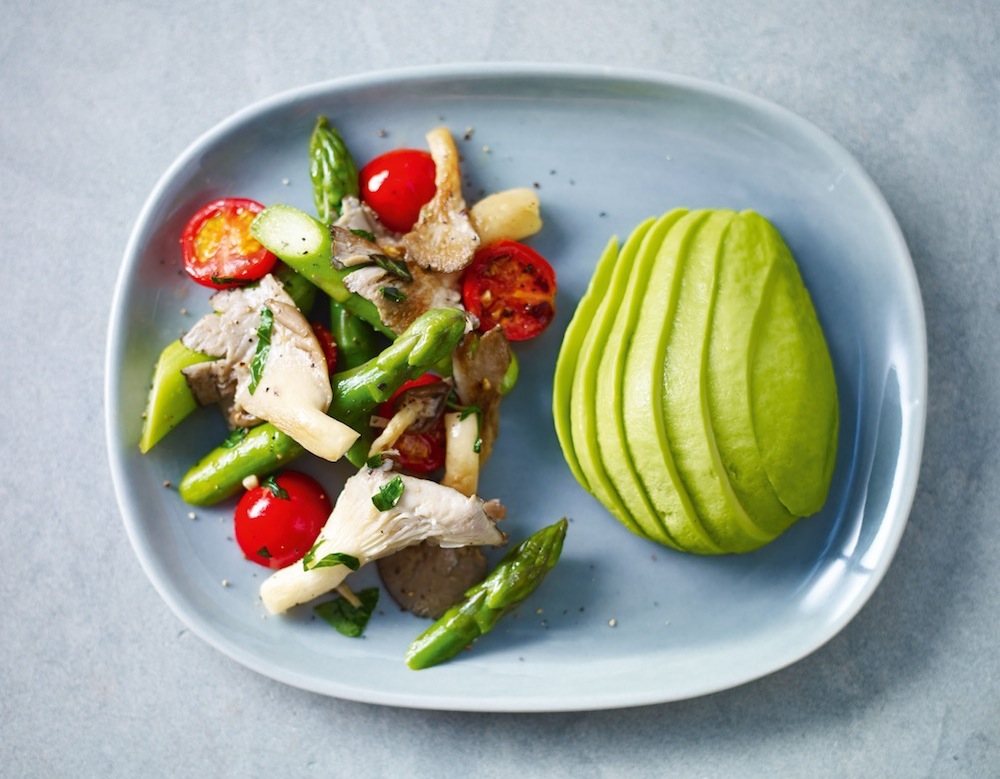 (Serves 1)
2 baby courgettes, sliced in half, lengthways
1/4tsp Chinese five-spice powder
1tsp rapeseed oil
1 small handful of coriander, finely chopped, to garnish
For the Pineapple Salsa Verde:
1 shallot, crushed, peeled and finely chopped
50g pineapple, finely chopped
1tsp freshly grated and peeled root ginger
1/2 green cayenne chilli, deseeded and finely chopped
1/2 red cayenne chilli, seeds in, finely chopped
1 spring onion, topped, tailed, sliced lengthways and finely chopped
2tsp rapeseed oil
2tsp low-sodium light soy sauce or tamari
3tbsp lime juice
Method
Place the courgettes in a large bowl, sprinkle with the five-spice powder and drizzle with the rapeseed oil. Toss the courgettes, making sure they are coated in the oil.
Heat a griddle pan over a medium-high heat. Place the courgette halves on the griddle, cut side down, making sure that the grill lines run across the width of the courgettes. Turn the heat down to medium and leave the courgettes to cook, without moving them, for two minutes.
Then turn them over and cook on the other side for two minutes.
While the courgettes are cooking, prepare the rest of the aromatics for the pineapple salsa verde (if you are a slow chopper, you may want to prepare the aromatics in advance of cooking the courgettes!). Once all the aromatics are prepared, place all the salsa ingredients in a jug and stir to mix.
When the courgettes are cooked, take them off the grill and place on a serving plate. Spoon a teaspoon of the salsa verde over each courgette half. Decant the rest of the salsa verde into a small bowl to serve separately. Garnish with the chopped coriander and eat immediately.