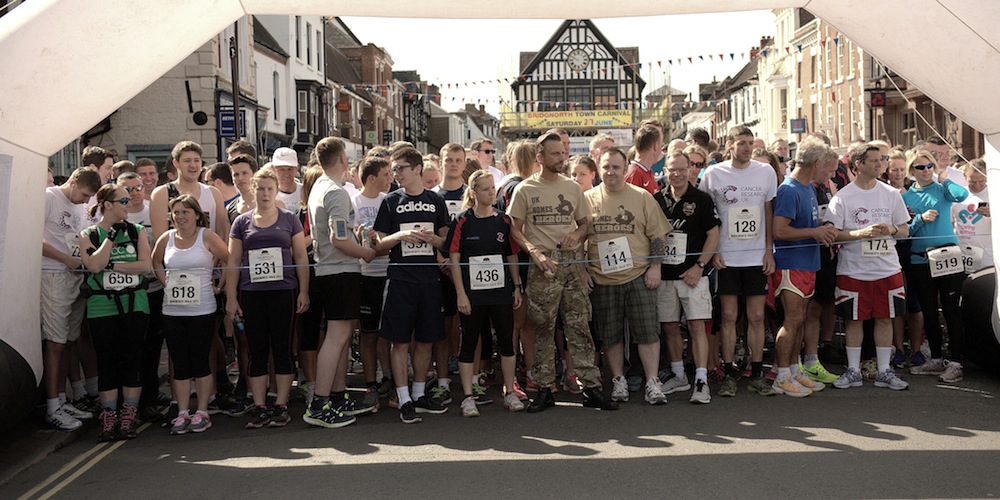 Perfect walking conditions were the order of the day for this year's annual Bridgnorth Walk to the top of the Brown Clee and back. Over 600 walkers assembled at the start line on Bridgnorth High Street, cheered on by a crowd of well-wishers twice that size for the Bank Holiday fundraiser.
The largest teams of walkers were from Northgate Swimming Club, based in Bridgnorth and Much Wenlock, who were raising funds for the Cystic Fibrosis Trust, and the Castlefields School 'crew' but there were a whole host of worthwhile causes which are set to benefit to the tune of £115,000.
Stalwart Andy Rawlings was back with a vengeance having missed a year, and comfortably won the race for the 18th time with last year's winner Andy Simmons having to settle for runner-up spot. First lady home was Annie Annis, also a previous winner, and Bridgnorth Walk veterans Harold Hill and Louise Norgrove took the honours in the amended course.
One hundred and fifty youngsters lined up in Ditton Priors to complete the climb to the summit in the Junior Walk.
Organisers believe the ideal conditions helped speed the walkers on to quicker times. Chairman Peter Davison said, "Without the army of volunteers and marshals, the walk wouldn't run as smoothly as it did, and we're most grateful to those that come forward every year to help."
Our very own What's What! editor Sally Themans, completing the walk for the third time said, "The atmosphere was amazing! Everyone is so encouraging – particularly the marshals and people handing out water – many of whom were familiar faces. It's a great day for Bridgnorth."