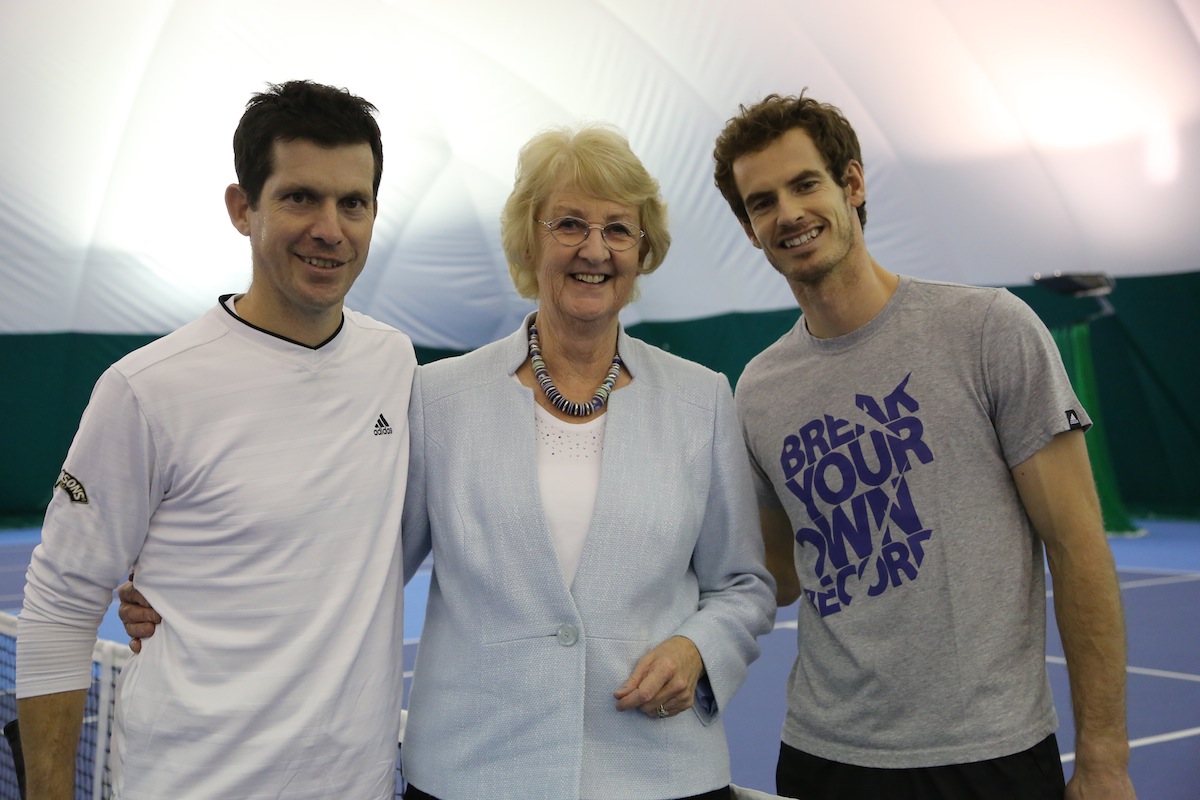 With 21 Grand Slam titles to her name, you'd be hard pushed to find a more likely leading lady of tennis than 2015 Wimbledon champ Serena Williams. But it's not all about glitz, glamour or trophies… delve a little more deeply into the very foundations of the game, and you may be surprised to discover a Shropshire lady who's as integral to tennis as Serena and her counterparts. Sally Themans investigates.
At the heart of the game is the Lawn Tennis Association (LTA), which runs the Wimbledon tournament, considered the defining tennis event. And at the heart of the LTA is a lady who lives and breathes tennis. She can be found a little closer to home than those big-name hitters, that is, when she's not travelling the country in her role as President of the LTA. Drum roll please, for Much Wenlock's Cathie Sabin.
Poise, panache and bonhomie
I was lucky enough to catch Cathie at Wimbledon – not easy, as these are the busiest two weeks of the year for her – as she flitted from the Royal Box to the Members Enclosure making sure everything was running like clockwork, welcoming people and ensuring the right people are being thanked, tended to, and acknowledged at the right time. Cathie's role involves welcoming volunteers, hosting a lunch to promote girls and women in tennis, and of course rubbing shoulders with the great and the good of sport, politics and entertainment and generally all who love Wimbledon.
Everything is conducted in Cathie's friendly, efficient and down to earth style. You get the feeling she treats everyone from ball boys to royalty exactly the same; she makes time for everyone and is keen to focus as much on the grass roots of the game as the star-studded world of its celebrities. She made time for me when she returned to her home town for 48 hours between Wimbledon and the Davis Cup.
Starting young
A PE teacher by training, Cathie is originally from Birmingham, but moved to Much Wenlock when she came to teach at Idsall School in Shifnal. "I've been a tennis fanatic since the age of seven," she tells me. "Playing, coaching refereeing – you name it." She joined Bridgnorth Tennis Club and before long was involved in the county set-up, then the National Council, before becoming Vice President of the LTA board and finally its President, the first ever woman to hold this position in the association's 125 year history. It's a three-year term and she's half way through and gives every impression of loving every minute.
I asked Cathie what it felt like to be on centre court at Wimbledon, welcoming the winner and runners-up on finals day. She told me, "Well, this year was my second Wimbledon. And it still felt a little surreal – how did I get here? And what am I doing here? But the players are absolutely delightful, relaxed (after the game!) and fantastic ambassadors for the sport."
From little acorns
Characteristically always looking at the whole picture and championing those in the background, Cathie is quick to mention that the absolute high point for her was to have two of her ex-pupils from Idsall in the centre court line-up; twins Andrew and Michael Davies had started off as ball boys, graduating to line umpires at 15 and now, in their late 20's, were judging a Wimbledon final.
Whilst Wimbledon is a busy fortnight and a chance to thank the many people who work hard at grass-roots level – "it's all about the thank yous!" laughs Cathie – much of her time is spent working to make tennis an inclusive sport nationally. "Here in Shropshire the future of tennis is looking bright," explains Cathie. "We have a 'tennis army' of volunteers and a community club based in one of the parks in Telford, where anyone can pitch up and play. These sorts of community schemes are really valuable – indeed that's how the Williams sisters started their tennis."
There is now a host of national initiatives to promote the game at primary and secondary schools with tennis now appearing on the curriculum, and girls are being encouraged into the game through the 'This Girl Can' and 'Miss-Hits' initiatives – and, though these young players are more likely to look to Serena for inspiration, they'd find much in Cathie's story to will them on to bigger and better things.
Shrewsbury Tennis Club is hosting the Ladies Aegon Pro tournament which offers the chance to see the top up-and-coming tennis professionals play from 14-21 November. Entry is free.
Tennis is a game for life; at the recent County Week Championships, the top age group was 65+.
Judy Murray – mum of Andy and Jamie – is visiting Shrewsbury Tennis Club on 20 November to promote and run her 'Miss-Hits' programme, which promotes tennis to teenage girls who've never tried the sport before.
Shropshire Tennis is currently training 65 youngsters on its elite programme.
In a charming 'full circle', Bridgnorth tennis clubs coach Holly Mowling was coached by Cathie Sabin when she started aged four. Holly now teaches Cathie's grandchildren.
20,000 teachers have now been trained to teach tennis in schools.
Tennisshropshire.co.uk is the volunteer arm of the LTA and it's dedicated to 'getting more people, playing more tennis, more often'…
Fancy having a go at tennis? In the What's What! area there are active and welcoming clubs in Bridgnorth, Broseley, Cound, Worfield, Claverley, Albrighton, Much Wenlock and Shifnal!