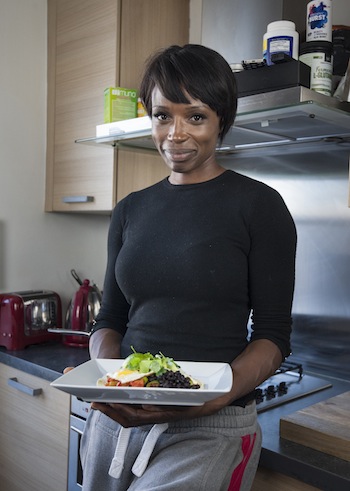 After all the stress and hassle of festive cooking, the temptation is to go out and stock up on ready meals or order in takeaways. But with London-based chef Lorraine Pascale's straightforward suppers, it's just as easy to prepare a delicious, nutritious dish from scratch.
Simplicity is key for Lorraine – "it's the way I live and the way I eat" – and this no-fuss approach is the guiding principle behind her latest book, Easting Well Made Easy. "There's no faff – just chop it up and throw it in.
"I wanted to include recipes that are easy to follow. Most of the ingredients listed you can get from Tesco, Sainsbury's – local shops. That's what I was aiming for."
So if you fancy a home-cooked meal that doesn't destroy the kitchen in a whirlwind of preparation, here are two recipes from Lorraine's book to try at home…
Huevos rancheros with jalapenos and garlic
(Serves 2)
2 soft corn tortillas
2 tbsp olive oil
4 ripe tomatoes, cubed
3 spring onions, finely chopped
2 jalapeno chillies or ½ regular green or red chilli, deseeded if preferred, finely chopped
1 garlic clove, finely chopped
Large pinch ground cumin
½ bunch of fresh coriander leaves, roughly chopped
4 free-range eggs
Method
Preheat the oven to 200C/fan 180C/gas mark 6.
Wrap tortillas in foil. Place on a baking sheet. Place in oven for 10 minutes or until heated through.
Meanwhile, heat 1 tbsp oil in large non-stick frying pan over medium-high heat. Add tomato, spring onion, chilli, garlic, cumin and a little salt and pepper. Cook for five minutes or until tomato begins to break down.
Stir in half coriander. Remove from heat. Cover.
Rinse and dry pan. Place on low-medium heat. Add remaining oil. When hot, crack in eggs, spaced apart. Cook gently for three or four minutes, until whites are cooked but yolks are still a little runny. Remove pan from heat.
Remove tortillas from oven. Place one on each serving plate. Divide tomato mix between them, spreading out with a spoon. Slide two eggs on top of each. Sprinkle with remaining coriander and serve.
Pasta with lemony chicken and kale and cashew nut pesto
(Serves 4)
350g wholewheat pasta
1 tbsp olive oil
3 large chicken breasts, cut into bite-sized chunks
3 sprigs of rosemary, leaves finely chopped (or 2 tsp dried oregano)
Finely grated zest of 1 lemon
For pesto:
100g kale, hard stalks removed
1 garlic clove
50g cashew nuts, toasted
25g Parmesan, finely grated
25g fresh vegetable or chicken stock
1 tbsp extra virgin olive oil
To finish (optional): fresh basil leaves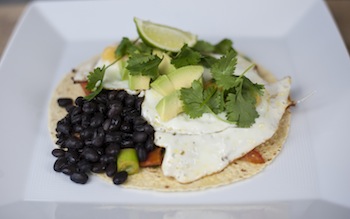 Cook pasta in a large pan, according to packet instructions.
Meanwhile, heat oil in large frying pan over medium-high heat. Toss chicken with rosemary or oregano. Season. Cook for eight minutes or until golden and cooked through, stirring regularly,
Next, whizz pesto ingredients in a food processor or blender to give a rough paste. Season. Set aside. Drain cooked pasta, return to pan and cover.
Tip cooked chicken on top of pasta. Add pesto and zest. Stir to combine. Season and divide between plates. Garnish with ripped basil, if desired.